---
Correction: This article has been updated since its original publication to correct the statement that Waitr is the only Louisiana-born food delivery app. Grabit is another locally owned app that offers errand outsourcing and food delivery.
---
APPS TO KNOW
Waitr
As one of the only Louisiana-born apps in town, it's no surprise Waitr is dominating the food delivery scene. Waitr arrived here nearly three years ago, and its edge on the competition locally is the sheer number of eateries available through its services. More than 600 Baton Rouge area restaurants are available for takeout or delivery. Waitr charges a flat $5 delivery fee.
Uber Eats
Uber Eats launched locally last fall. The delivery-only service offers 20 Baton Rouge restaurants, many of which are fast-food chains. Its advantage over the competition is its sliding delivery fee: It scales based on the distance between you and the restaurant.
Grabit
This Baton Rouge startup delivery service launched last summer. It will fetch your groceries, run your errands and pick up your restaurant takeout orders. Delivery fees start at $4.99, and the average delivery takes less than 40 minutes.
Postmates
Postmates began service here this summer. Around 50 Baton Rouge restaurants are listed for takeout or delivery. Postmates' delivery fees vary by restaurant—its "partners" like Raising Cane's and The Kolache Kitchen cost $3.99, and all others are $5.99. Non-partners aren't officially involved with the app—a driver simply picks up an order there for you. The service currently has nine partners locally. What sets Postmates apart is its ability to deliver groceries and other household goods.
Tapingo
This delivery-only app is primarily focused on servicing college communities. Only a handful of restaurants are currently available through Tapingo, although more restaurants are listed as "coming soon." This service charges a $5 delivery fee.
---
NEXT WINDOW, PLEASE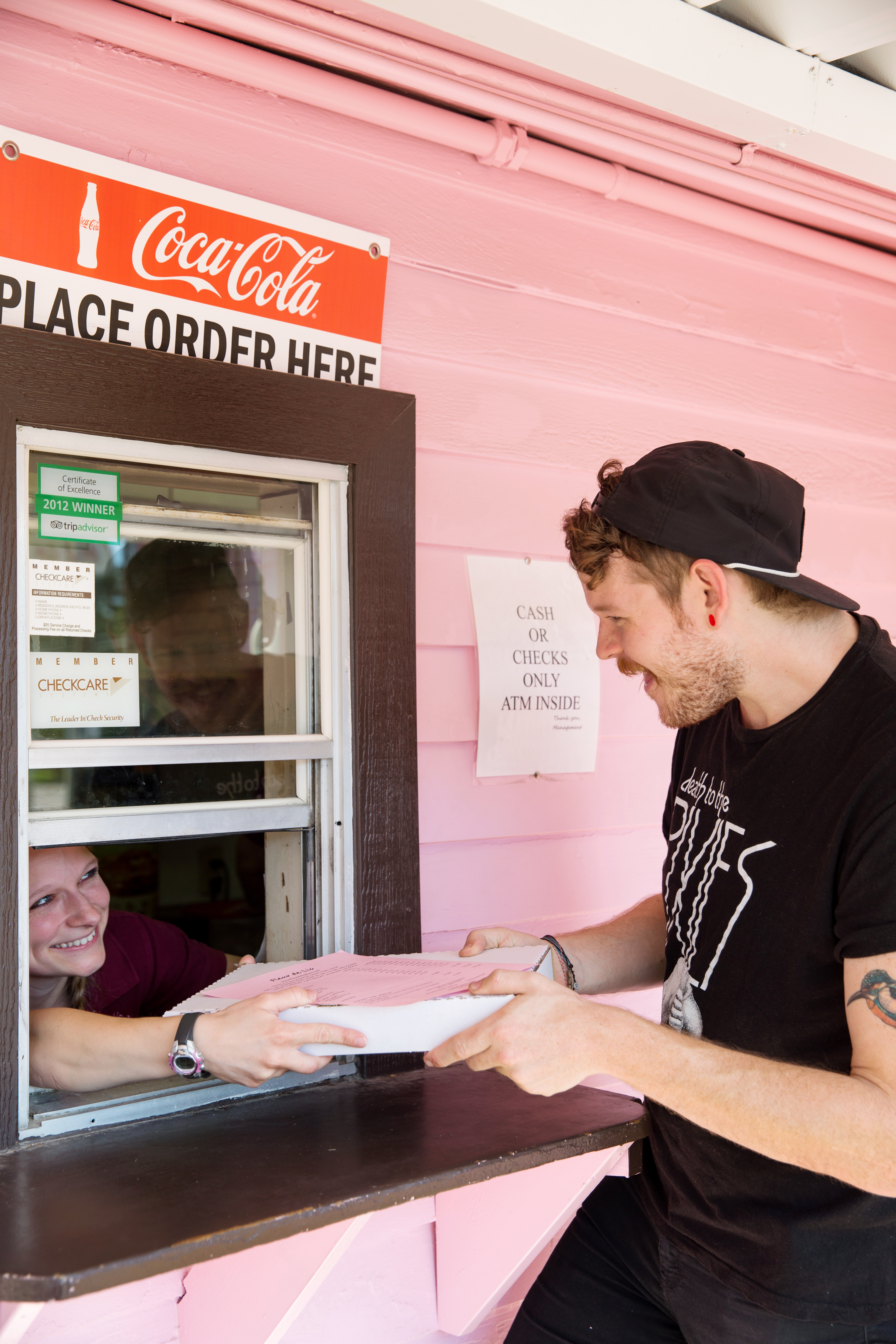 If you wanted to order takeout, you used to have to make yourself look at least presentable enough to enter the restaurant and pick up the food. But thanks to an increasing number of drive-thru windows at full-service and fast-casual restaurants around town, these days you could probably get away with picking up food in your pajamas. Most allow ordering through Waitr, but if not, you could call ahead. Simply roll up to the drive-thru to grab your burger and fries. And no, we're not just talking McDonald's cheeseburgers—these days you'd be more likely to take home a mushroom swiss burger and green chile queso fries from your favorite fast-casual spot.
A few drive-thru windows around town:
• Albasha Express
• Coffee Call
• Fleur de Lis Pizza
• The Kolache Kitchen
• Mooyah Burgers, Fries and Shakes
• Piccadilly to Go
• Po-Boy Express
• Red Zeppelin Pizza
• Serop's Express
• Smoothie King
• South of Philly
• Southfin Southern Poké
What other restaurants have you seen with drive-thru windows? Tell us in the comments section below.
---
KEEP THE CHANGE


With apps, what's the deal with tipping, anyway?
Does the in-app delivery fee cover tips for drivers?
No. "The $5 delivery fee is the cost of doing business," explains Zurben Barras, Waitr's executive director of operations. "It covers administrative costs, app support and driver incentives."
Uber Eats, meanwhile, has a sliding delivery fee scale that increases in cost the farther a customer is from a restaurant. While an unspecified percentage of the fee goes to the driver, it's safe to assume most of it will go to Uber.
Does the in-app tipping option go toward the driver?
Tipping in-app on a Waitr delivery order will pay the driver directly. Tipping on a carryout order will benefit the restaurant employees.
With Uber Eats, after your order is delivered, you'll be given the option to tip in-app. All of this money directly benefits your driver.
How much should I tip?
Waitr delivery drivers make a flat rate of $2.13 per hour, with an additional $2.87 per hour to cover vehicle expenses. The rest of a driver's pay comes from tips.
A delivery tip is meant to be a reflection of what a server in a restaurant would make. That shakes out to an average tip of 15% to 20%, according to Barrass.
Waitr's $5 delivery fee should not discourage you from tipping if you have the means, Barrass says.
"I don't think customers are less inclined to tip drivers because of the delivery fee," Barrass says. "We just want our customers to tip an amount that makes them feel comfortable."
---
This article was originally published in the December 2018 issue of 225 Magazine.
Click here to see more stories from our Order In cover story on the Baton Rouge takeout and delivery scene.