About 225's food critic: Benjamin Leger previously served as managing editor for 225 and was the editor of its Taste section from 2012 to 2021, editing, writing and steering the direction of its food coverage in print and online. He is passionate about all things food and food journalism, and has written about the greater Baton Rouge area's cuisine and culture for nearly two decades.

THE BASICS: Kit Keophommavong-Bradford opened Chai Thai-Lao at the beginning of 2023 in the former location of Kathy's Grill on Jefferson Highway. The 30-seat restaurant serves Thai and Laotian cuisine with the kitchen expertise of Keophommavong-Bradford's mother, Nang Keophommavong, a former owner of Thai Pepper in Baton Rouge who has helped open restaurants in other markets.
WHAT'S A MUST: The Thai Wings are sticky-sweet and addictive as an appetizer. The Pad Thai is a respectable rendition on everyone's favorite Thai restaurant staple. We were wowed by the Khao Soi soup, which comes with a choice of protein in a flavorful coconut curry broth with egg noodles and pickled mustard greens. Wash it all down with a sweet iced Thai Tea.

There are only a handful of Thai restaurants in Baton Rouge, and many of them have been around long enough to each develop their own loyal followings. I was excited when Chai Thai-Lao entered the fray, partially because it's dangerously close to my neighborhood, but also because its owners have ties to other Thai restaurants in the area, like the longstanding Thai Pepper on Florida Boulevard. The restaurant also distinguishes itself by showcasing both Thai and Laotian cuisines.
It's a small space with only a few tables in a blink-and-you'll-miss-it shopping center off Jefferson Highway. But the menu is packed with Thai favorites and some interesting items I hadn't previously seen in the Capital City.
We started our meal with appetizers of Thai Wings and Thai Peanut Cauliflower.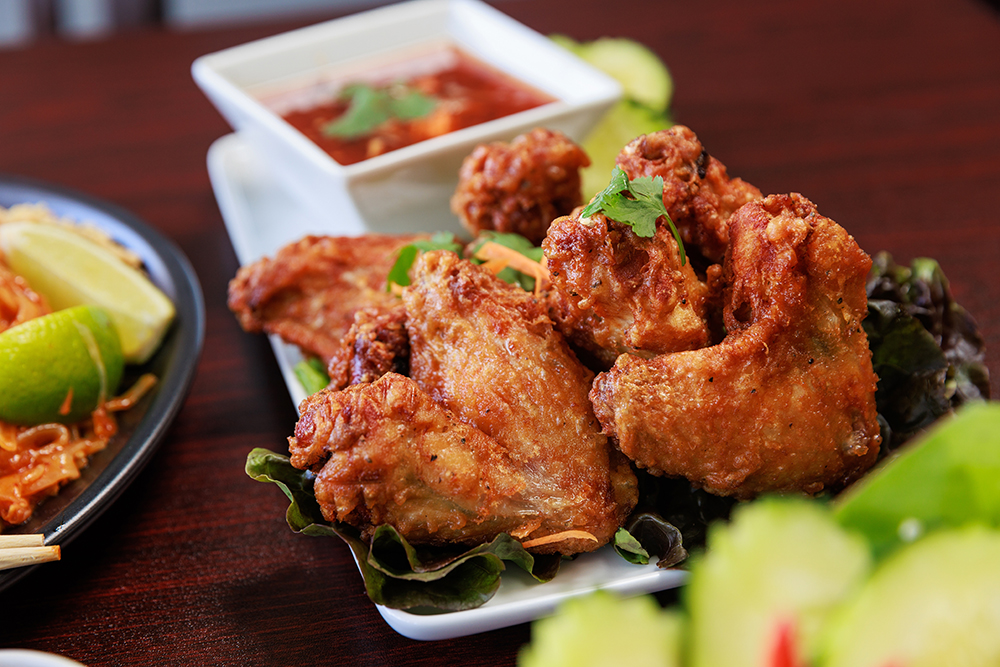 Six battered, fried and sticky wings and drumsticks arrived sprinkled with cilantro. The wings were accompanied by a sweet chili sauce, but they were sweet enough on their own. A garlicky, peppery kick in the marinade made them pretty much irresistible.
The cauliflower came either pan roasted or tempura fried. We went with pan roasted, and while they were fork tender, they were missing any noticeable signs of roasted edges. Still, the pool of peanut sauce beneath them was savory, sweet and nutty.
Next up, we ordered a soup that sounded intriguing: Khao Soi. I'm used to seeing tom yum on local Thai menus, but this one was new to me. I learned there are variations of it found all over Laos and northern Thailand.
The heaping bowl had a yellow coconut curry broth base and a mound of soft and crispy egg noodles. It was served with a choice of protein. I opted for shrimp and was pleasantly surprised to see six large tail-on shrimp in the mix.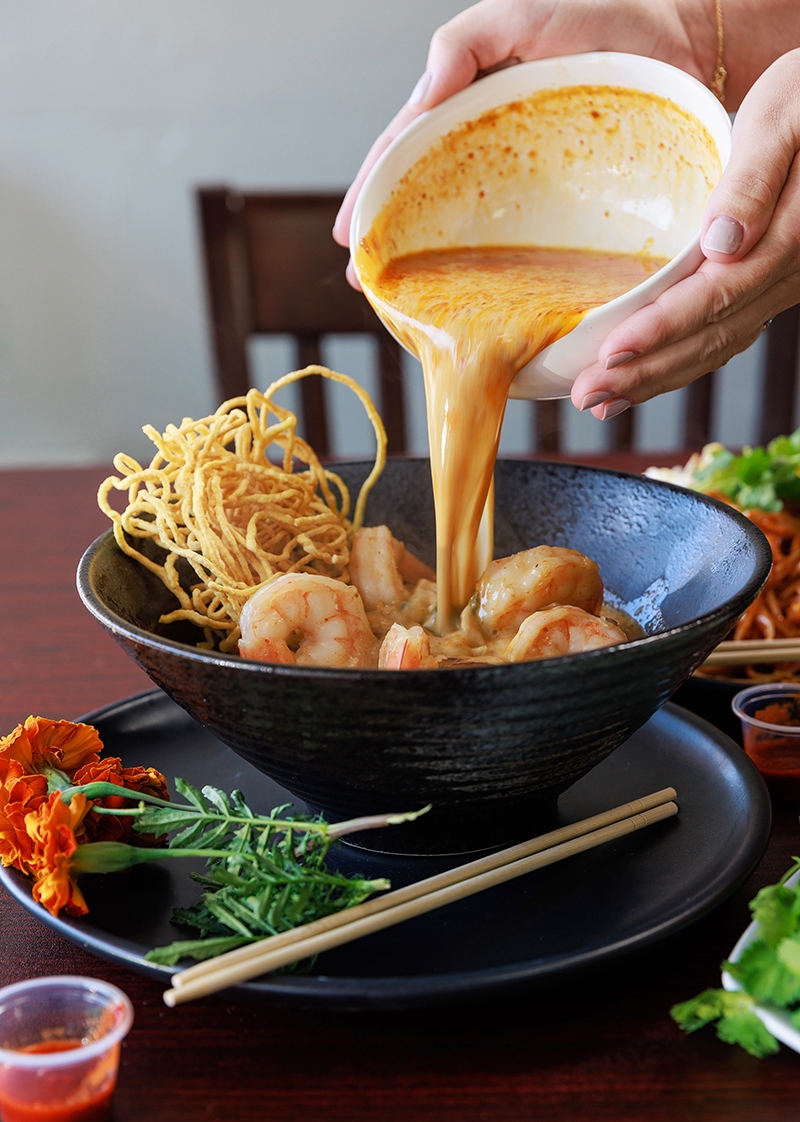 The broth was thinner than a typical coconut curry and had notes of garlic and lemongrass with visible bubbles of chili oil throughout. The flavor was deep and comforting. The egg noodles had that ramen-style curl to them and weren't too chewy or heavy. I was most intrigued by the addition of chopped pickled mustard greens that had been sauteed down a bit but still imparted a sour, vegetal crunch. It made for a delightful component.
Soup lovers, take note: The Khao Soi might be a new favorite for me. It's satisfying and cozy, falling somewhere between the heaviness (but not oiliness) of ramen and the lighter, brighter layers of pho.
---
After all that, we still had entrees to dive into.
Of course, Pad Thai was on the to-do list, as well as an order of Basil Fried Rice. Both came in massive portions that could easily be shared between two people.
The Pad Thai hit all the right marks with its sweet and spicy red sauce that stuck well to the stir-fried rice noodles. Bean sprouts, green onions, scrambled bits of egg and chopped peanuts were scattered throughout, as well as the requested protein of tender strips of pork.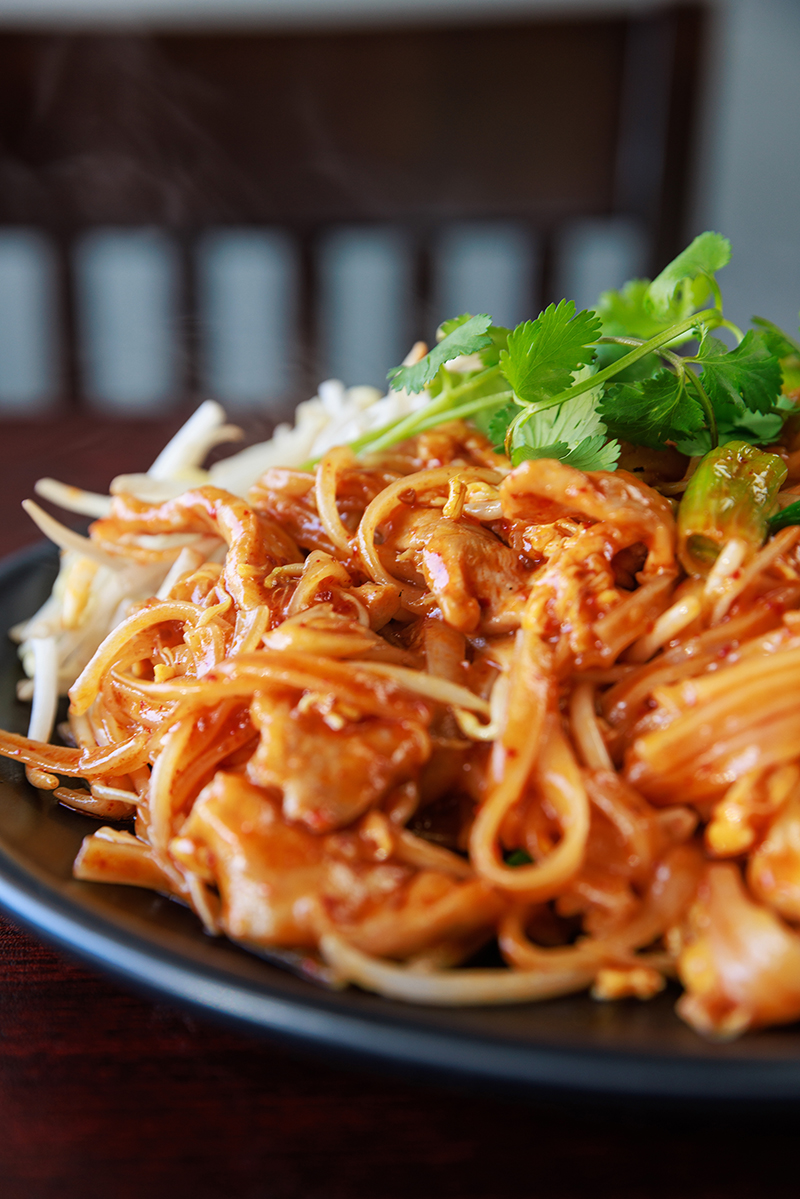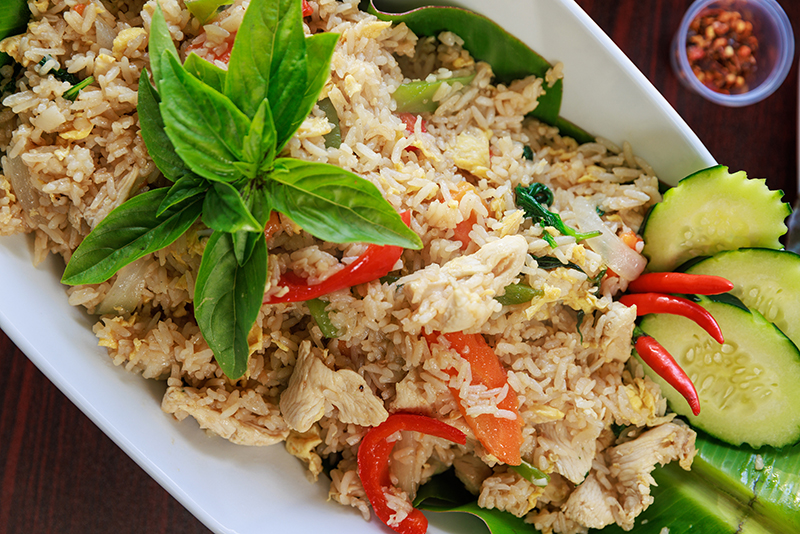 In the Basil Fried Rice, jasmine rice was stir-fried with onions and garlic as well as chopped Thai basil and bell peppers, plus the requested chicken. This entree was the least flavorful of all the dishes we tried. There wasn't enough basil to impart its flavor, and the chicken—though tender—was on the bland side. To brighten things up a bit, I found myself adding dollops of the peanut sauce and chili sauce from our appetizers and mixing it with the rice.
Still, it wasn't enough of a misstep to turn me off completely. We were pleasantly full with all those wonderful sweet and spicy flavors still dancing on our tongues.
On the way out the door, I wanted something sweet to take with me. There wasn't much room left in my stomach for dessert, but the Chai Tea caught my eye.
Iced black tea was mixed with condensed milk, sugar and enough turmeric and tamarind to turn it a lovely burnt-orange color. It was sweet without being cloying, and refreshing without being too heavy on the cream.
I found myself smiling on the way home, thinking I had come across a new hidden gem in Baton Rouge. But it was also the kind of place I want to tell all my friends about and encourage them to try. It's difficult to be the new kid on the block, but I think Chai Thai-Lao has the flavors to stick around.
And I'm ready to join its beginning band of loyal followers.

Lunch: 11 a.m.-2 p.m.
Dinner: 4-8 p.m.
---
This article was originally published in the July 2023 issue of 225 magazine.