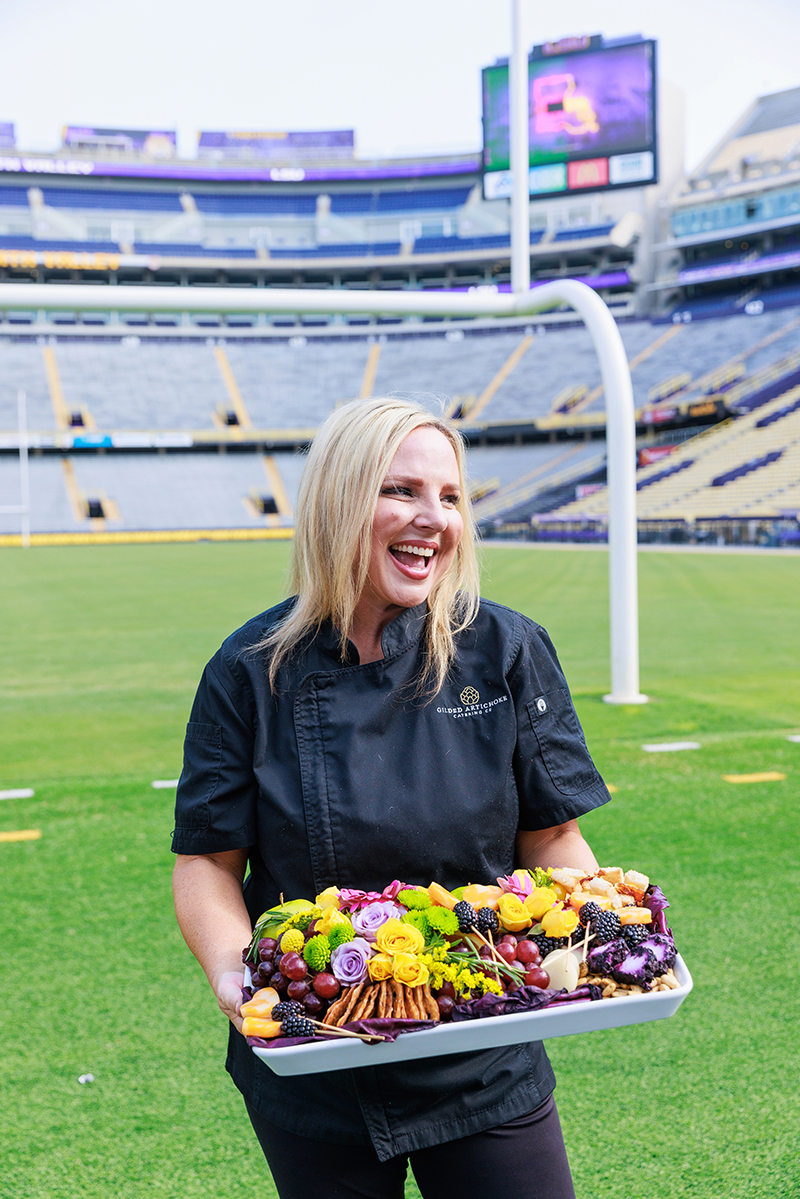 Oyster shooters before kickoff? Cochon de lait nachos with crawfish queso? Game days in Baton Rouge are synonymous with showcasing unique takes on Louisiana cuisine. And long before the fans are Callin' Baton Rouge, caterers are hard at work preparing.
The Gilded Artichoke owner Lisa Boudreaux makes these dishes and more for her "fine catering" approach to tailgating. Her tailored menus and tablescapes are "appealing to the eye and also to the palate." She says her full-service approach mostly attracts corporate businesses hosting tailgates on game days.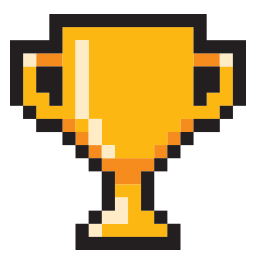 For Boudreaux's team, the process from menu conception to game-day execution can span months. It's not unlike planning for a wedding or large-scale event: The menu selection begins upward of six months before the tailgate. Once the dishes on the table are decided—think options like bacon-wrapped duck bites and alligator fritters—her team begins planning logistics to get them there. This includes scheduling staffing, ordering utensils and confirming headcounts with clients. Two weeks out, the team will do a site walk-through. Kitchen prep and packing begin the week of the event.
Any college football fan knows how a tailgate schedule is at the mercy of kickoff time, and the same goes for catering schedules. Gilded Artichoke will begin deliveries to campus on Friday, hauling necessities like tables and chairs to lighten the game-day load. Between decorations and food, set-up can take over three hours, depending on the scale.
"It's a hectic day, but it's fun," Boudreaux says. "The energy that comes from being there is what pulls you through."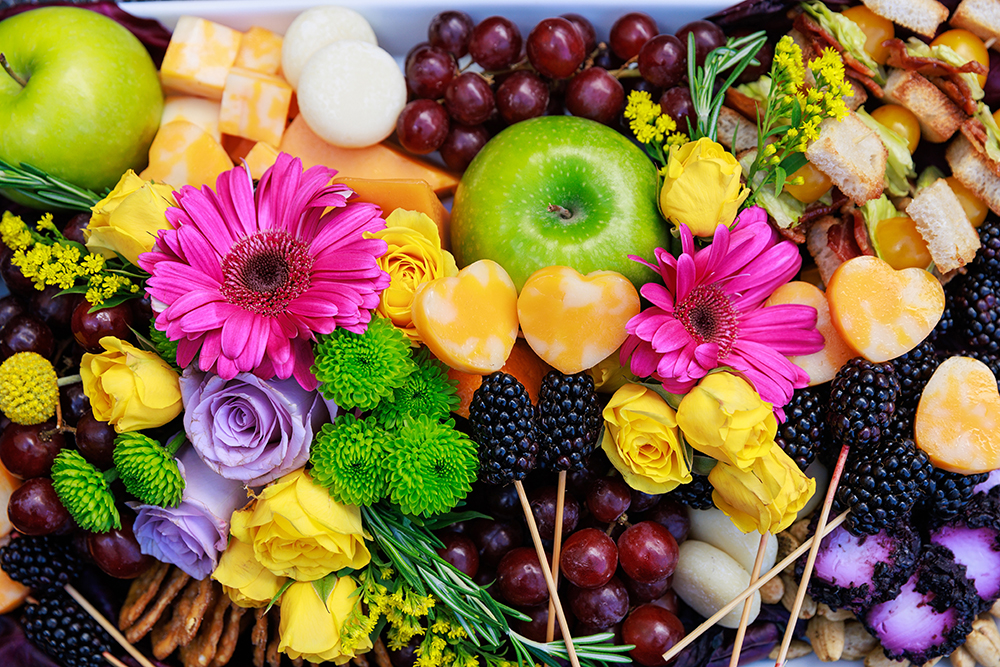 After 27 years in the industry, Boudreaux says it's still empowering to get rave reviews from customers, especially those who are visiting from another state.
"We're bringing that little touch of Southern hospitality to the event. I think that's what guests remember the most," she says.
---
But fans aren't the only ones relying on great meals to power them through a day of football. The players have to eat, too.
Smoke Bayou owner Calvin Collier says LSU Football players enjoyed his beef ribs, brisket sandwiches and other team favorites after select home games last season.
Collier's preparations begin after the team sends Smoke Bayou an "extensive menu" a week in advance. He starts shopping on Tuesday, and on Friday, he preps for the big day by cleaning chickens and smoking brisket. His game days start at 3 a.m., when he focuses on the prep work. However, Collier holds off on finishing the order until around three hours before delivery to ensure it's fresh and warm.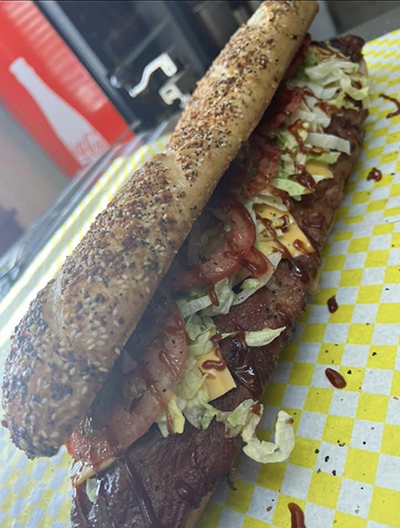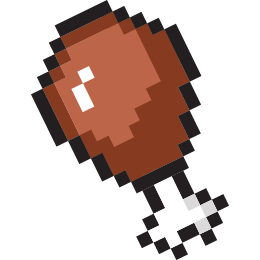 At halftime, Smoke Bayou starts setting up a barbecue spread in the Jeff Boss Locker Room in Tiger Stadium. By the time the clock runs out, the team's post-game meal is ready.
Collier's journey to that locker room started after he contracted malaria while working in Africa. While ill, he decided if he recovered he'd leave his trucking job to pursue his passion: cooking. Since that decision, Smoke Bayou has grown from a popular food truck into a brick-and-mortar business.
Collier is grateful for the opportunity to work with the team—and for the community that's supported his small business.
"Everything that's happened to Smoke Bayou was never in my vision," he says. "I'm just ecstatic about it."

Looking for a caterer?
Start with your fave local restaurant—there's a good chance it has an events menu. Restaurants like Bistro Byronz offer crowd-feeding spreads of sandwiches and snacks, while others like City Pork boast playfully themed menus with names like "Zone Blitz," "Louisiana Saturday Night" and even batched cocktails. Arrangements from brands like Gourmet Girls are stylish and modern, with options like a Caprese Tartine Kit. And you can't go wrong with hearty breakfast tacos from Kolache Kitchen, beef or seafood arancini from Catering Cajun or a tray of mini muffulettas from Culinary Productions. Tell us your go-to game-day caterer at [email protected].
---
This article was originally published in the September 2023 issue of 225 magazine.