MoMo Tea on Perkins Road just got a lot tastier with the addition of two new food items. The tea spot has adapted to serve popular items from California-based Mochinut, like chewy rice flour donuts  and cheesy Korean corn dogs rolled in tasty coatings. 
Adding food to the menu is something that managing partner Ronnie Wong always envisioned as he figured it would complement the drinks and help with overall profit for the store. Wong says bringing a Mochinut franchise into MoMo Tea was two years in the making.
"At the beginning of the pandemic, business basically came to a halt," Wong says. "We had to lay off everybody, and my wife was working by herself. To try to sustain the business, we needed to bring some kitchen items."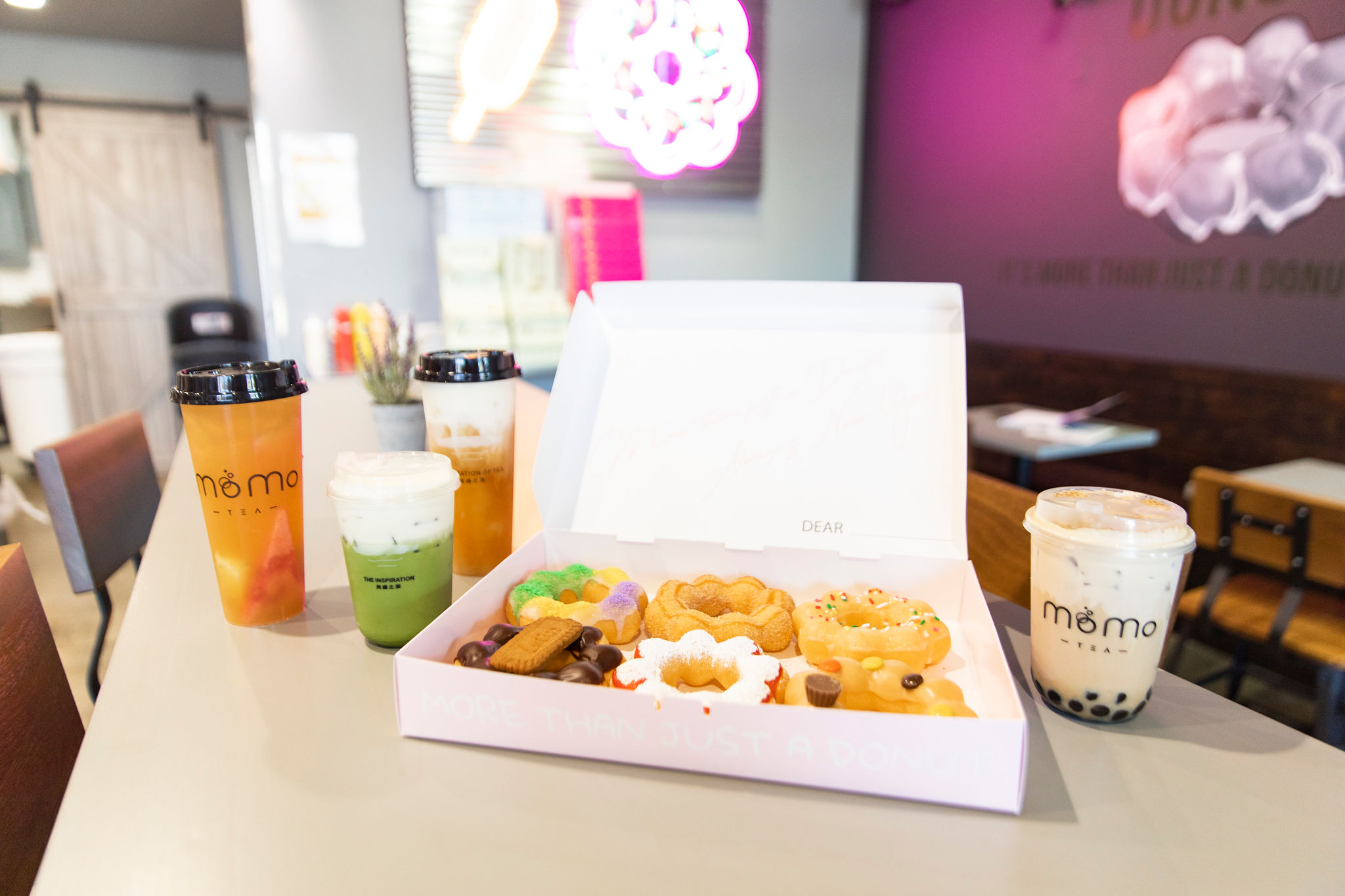 At the time when Wong inquired about franchising with Mochinut, the brand (then known as Chung Chun) only offered Korean Corn Dogs. Wong liked the idea of adding these cheesy treats to the menu after he saw a shaved ice shop in Houston serving them up. 
When he finally heard back, the company had rebranded into Mochinut and had added the mochi donuts to its pre-existing Korean corn dog concept. Wong loved the idea of adding both a sweet and savory food item into the mix, so he signed as one of the first franchisers and began adapting his store for the addition of Mochinut.
Mochi donuts are a cross between the American donut and Japanese mochi. The unique donut hybrids are made with rice flour, which makes them stretchy and chewy in texture. Mochi donuts also have a unique shape of eight poppable spheres, making them perfect for sharing. 
Wong had to add a hood and fryers into the shop's small kitchen space to make the Mochinut recipes. After facing a few supply chain issues, it took almost two years to get everything sorted and into place before the Mochinut officially opened in November of 2022. 
Wong has learned the ropes on how to create and fry up these delicacies. Mochinut taught him how to make the new menu items and equipped him with recipes that he has tried and tweaked for a rotating selection. 
"I'll try to rotate a fruit, a chocolate and whatever else," Wong says. "I'm just trying to play with flavors. We've done ones like cookies and cream, matcha and ube, which have all been very popular. By changing out three flavors a week, I have probably done over 30 flavors already. Pretty much if you can imagine it, you can make it."
Churro, funnel cake and glaze are the mainstay flavors at the new Mochinut outpost, and Wong says he will introduce three rotating flavors every Friday. At the time of our interview, there were Nutella, peanut butter and king cake flavors boxed up with the classic trio.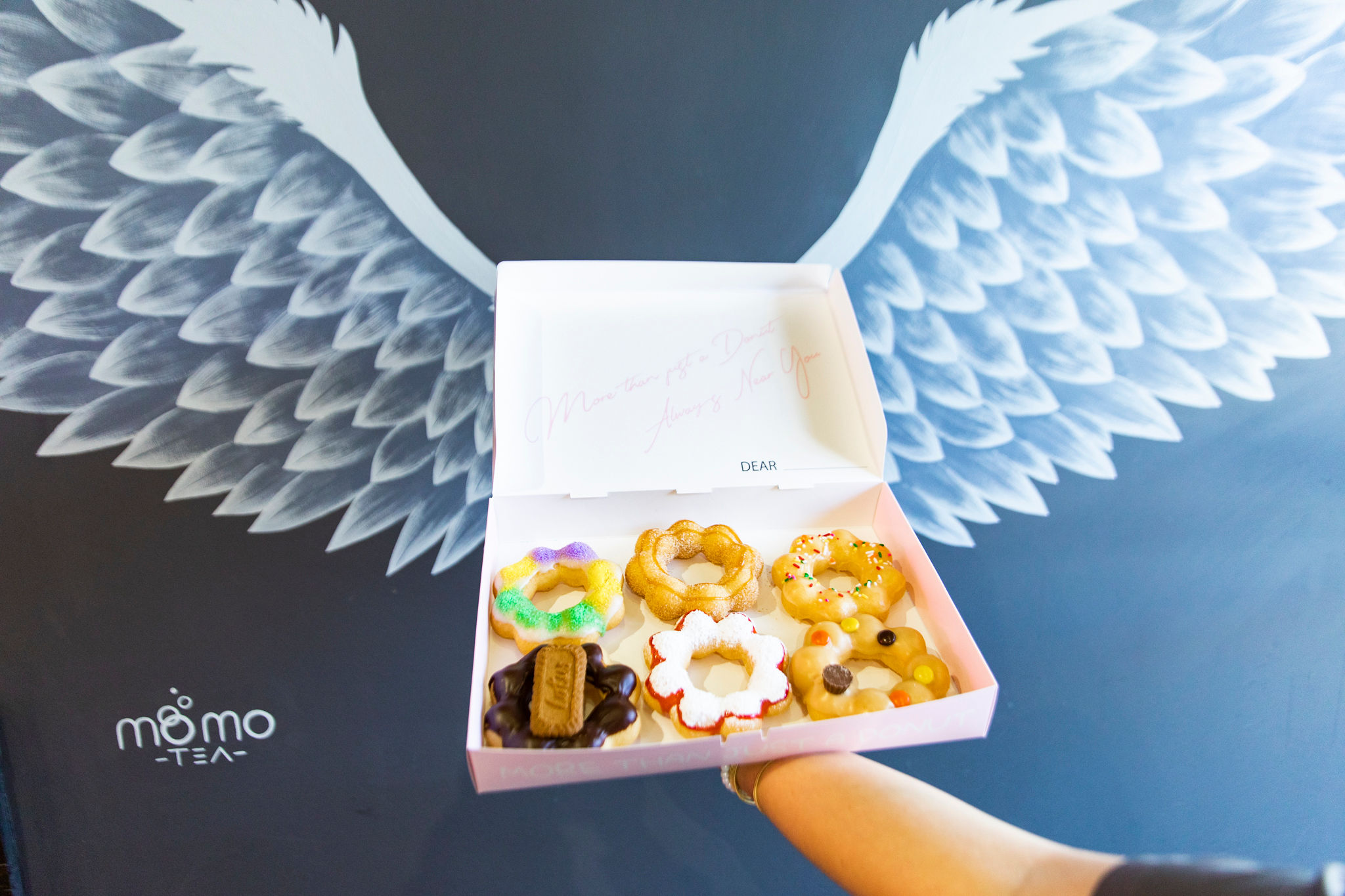 The Korean corn dogs are offered with either hot dog or mozzarella cheese inside. If you can't decide on your filling, there's also an option to order half hot dog and half cheese. You can customize your dog further by getting it rolled in potato pieces, crushed ramen noodles, hot Cheetos or rice cereal. 
To pair with the new snacks, Wong recommends ordering one of MoMo Tea's milk teas. He says milk tea is less sweet, which is better to have when you're indulging in sweet Mochinuts. 
Mochinut is located inside of MoMo Tea at 7673 Perkins Road and is open from 11 a.m. until 7 p.m. every day except Tuesday. Check out the shop's Instagram to see what new flavors are in the weekly rotation.