Is turkey the real star of Thanksgiving dinner? Sure, some passionate loyalists wait all year for the perfect bird. But, to some, a mountain of creamy mashed potatoes, decadent mac and cheese and classic stuffing make the meal.
If you lack time or skill in the kitchen on the big day, consider delegating sides to your favorite local business. Here's a list of Baton Rouge restaurants and grocery stores offering ready-made sides that will be the star of the table.
Be sure to also check out our guide to where to preorder local Thanksgiving desserts. What are your favorite spots for sourcing Turkey Day desserts and sides? Tell us at [email protected].
---
Gourmet Girls
1660 Lobdell Ave., Suite 100
Elevate your holiday spread with Gourmet Girls sides like spinach Katia (a crabmeat spin on creamed spinach) and Grand Marnier-flavored cranberry and satsuma sauce. This fine catering service is taking Thanksgiving orders until Saturday, Nov. 18.
Bergeron's City Market
8200 Jefferson Highway
Chef Don and his team at Bergeron's City Market are taking Thanksgiving orders through Tuesday, Nov. 14. Classic sides from rice dressing to green bean casserole are available in three sizes ranging from four to 12 servings, in addition to bread and salad options.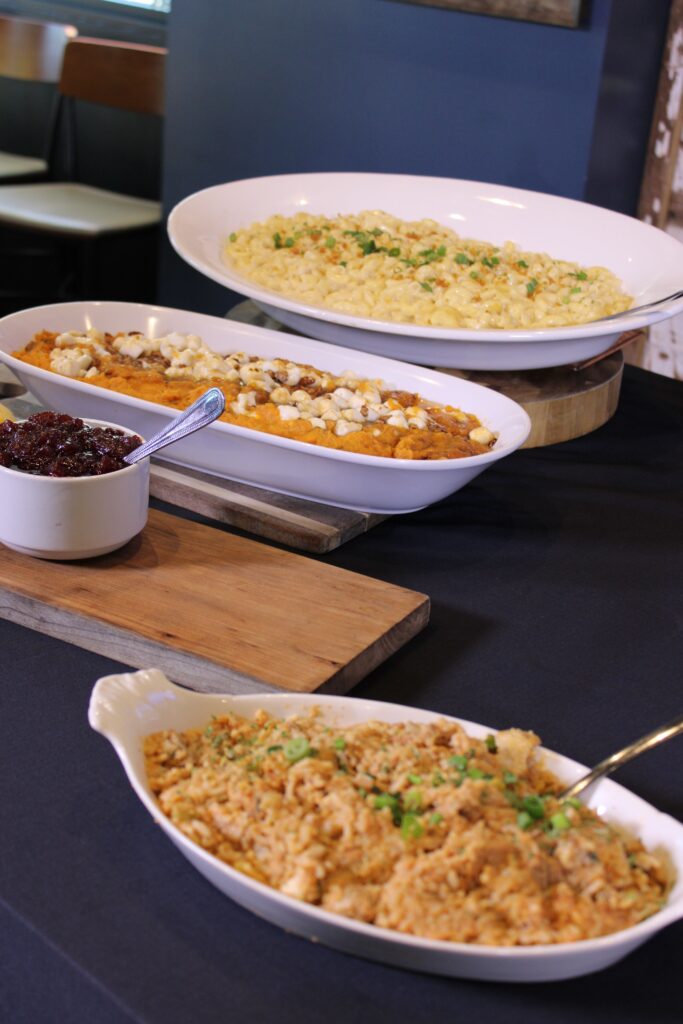 City Pork Catering
2921 Government St.
City Pork Catering has pick-up times throughout the week of Thanksgiving for orders placed before noon on Friday, Nov. 17. Sweet potato casserole, boudin rice dressing and other sides are available in multiple sizes a la carte or in a three-side, one-dessert package.
Maxwell's Market
6241 Perkins Road
18135 E. Petroleum Drive
7620-A Corporate Blvd.
Put a Louisiana spin on your Thanksgiving spread with Maxwell's Market's oyster dressing, made with fresh Gulf oysters and French bread. The market doesn't have a firm end date for orders on its oyster dressing and other sides, but it recommends sending in orders as soon as possible to ensure availability.
BRQ Seafood & Barbeque
10423 Jefferson Highway
This barbecue restaurant may be known for turkey, but don't miss out on its mac and cheese, cornbread dressing or green bean casserole, which each feeds 15-20 people. Thanksgiving catering orders are open until Tuesday, Nov. 21.
Jubans
3739 Perkins Road
How does hot crab dip and maque choux couscous sound for Thanksgiving dinner? Order a la carte sides or meal packages from Jubans through Friday, Nov. 17, to get these sides on your plate.
Frank's Restaurant
8385 Airline Highway
17425 Airline Highway
Frank's is serving a long list of classics for its Thanksgiving catering menu, from buttered carrots to red beans and creamed potatoes with gravy. In addition to traditional Thanksgiving fare, Frank's has chicken and sausage gumbo; seafood gumbo; and crab, shrimp and corn bisque.
Sammy's Grill
8635 Highland Road
Sammy's Grill says it will take orders up to 48 hours before pickup time for its pepper jack crawfish cornbread dressing and spinach and artichoke Madeline, among other sides.
Chris's Specialty Foods
3075 Millerville Road
17357 Airline Highway in Prairieville
Chris's Specialty Foods' Thanksgiving Feast: a la carte menu is available for pickup through most of November with 48 hours' notice, making its butter cream potatoes and smothered ham and bacon green beans perfect for an early Friendsgiving. 
Iverstine Farms Butcher
7731 Perkins Road, #100
This butcher's Thanksgiving catering menu is not restricted to just meat. Bacon mac and cheese, boudin rice dressing and more are open for online orders now.
Rocca Pizzeria
3897 Government St.
An unlikely Thanksgiving hero, Rocca Pizzeria has herbed focaccia, potato au gratin, meatballs and more available for pickup. Preorder by Sunday, Nov. 19.