---
Githeri is a nourishing stew from the Kikuyu tribe in Kenya. It is made up primarily of beans, corn and tomatoes, along with onions and spices like hot curry powder and smoky paprika. Veggies, such as kale and potatoes, are often added to the Githeri as well. It is traditionally prepared with dried beans, but swapping for canned red kidney beans or pinto beans help to make this an easy, quick one-pot meal. This is a well-balanced, healthy dish and the perfect meal to make any night of the week.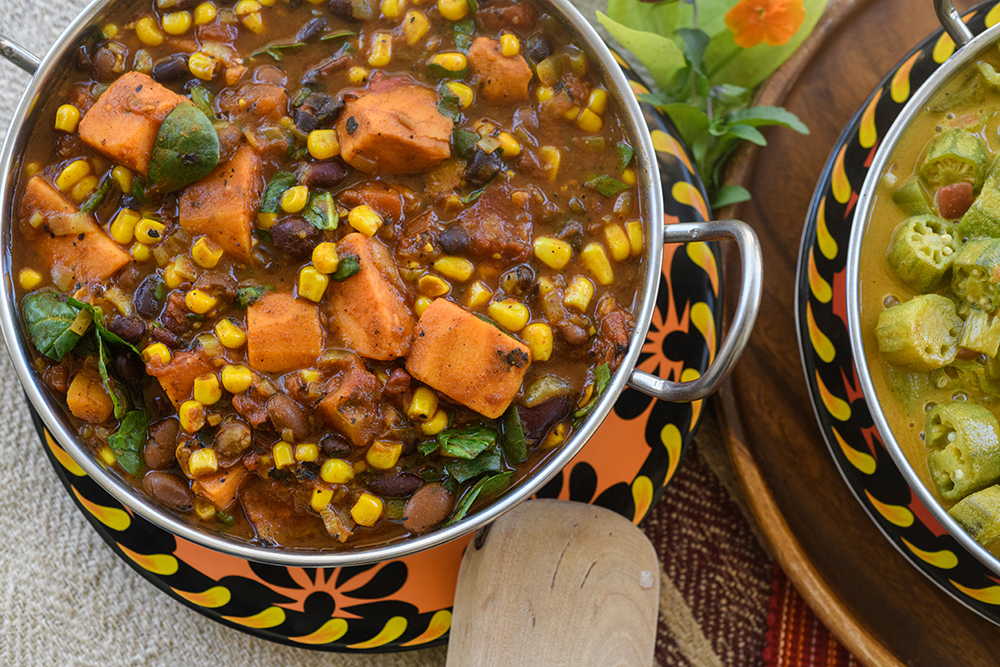 Servings: 6
1 medium sweet potato
3 tablespoons olive oil
½ cup chopped onions
2 cloves minced garlic
1 teaspoon kosher salt
2 teaspoon hot curry powder
2 teaspoons smoky paprika
1 (15 ounce) can fire-roasted diced tomatoes 
1 (15 ounce) can red or pinto beans
1 cup frozen corn
1 cup chopped fresh spinach or kale
½ cup vegetable broth or water
Bring a 2-quart pot of water up to a boil. Peel and cut the sweet potato into chunks. Drop it into the boiling water and blanch for 2 to 3 minutes. Drain it and run it under cold water to stop it from cooking. Set aside.
Heat the olive oil in a heavy pot. Add in the onions and sauté for 2 to 3 minutes or until they are translucent.
Stir in the minced garlic, salt, curry powder and smoky paprika. Keep sauteing, stirring constantly for another 15 to 20 seconds.
Pour in the tomatoes, beans, blanched sweet potato and frozen corn. Stir to make sure nothing is sticking to the bottom of the pot and pour in the chopped greens and broth. Bring the Githeri up to a boil, and then reduce the heat to medium low.
Cover the pot and simmer for 20 to 30 minutes, stirring every few minutes to prevent it from sticking. Serve the Githeri with Ugali or grits.
---
This article was originally published in the January 2023 issue of 225 magazine.