---
Whether you're planning a romantic date night or filling your cooler for a tailgate party, go local for all your beverage needs.
---
516 Moore St.
3Tails Wine and Cheese
It's almost impossible to leave empty-handed at this stylish shop across from White Star Market in Square 46. You'll learn about wine and how to pair it with cheese and meat at this spacious gem for craft wine, small-batch cheeses, deli meats and all your charcuterie board necessities. 3tailsbr.com
—
3911 Perkins Road
Bin Q
Stock your bar cart with unique and diverse beer, wine and liquor at this locally owned liquor store. Home brewers can purchase brewing equipment and supplies at the shop. Find Bin Q on Facebook
—
7949 Jefferson Highway, Ste. C
Churchill's
Casually sip whiskey while puffing a fine cigar Winston Churchill-style at this liquor and cigar store and bar. Toast to your liquor and vintage wine finds with a smooth Padron cigar and a cocktail, a glass of wine or beer in one of the two cozy back rooms. churchillswine-cigars.com
—
17524 Airline Highway
Hokus Pokus Liquor
Get your spirits lifted at this Prairieville family-owned liquor and cigar store. It has been serving generations of Louisianans for decades—its first location opened in Alexandria in 1940. Find Hokus Pokus Liquor on Facebook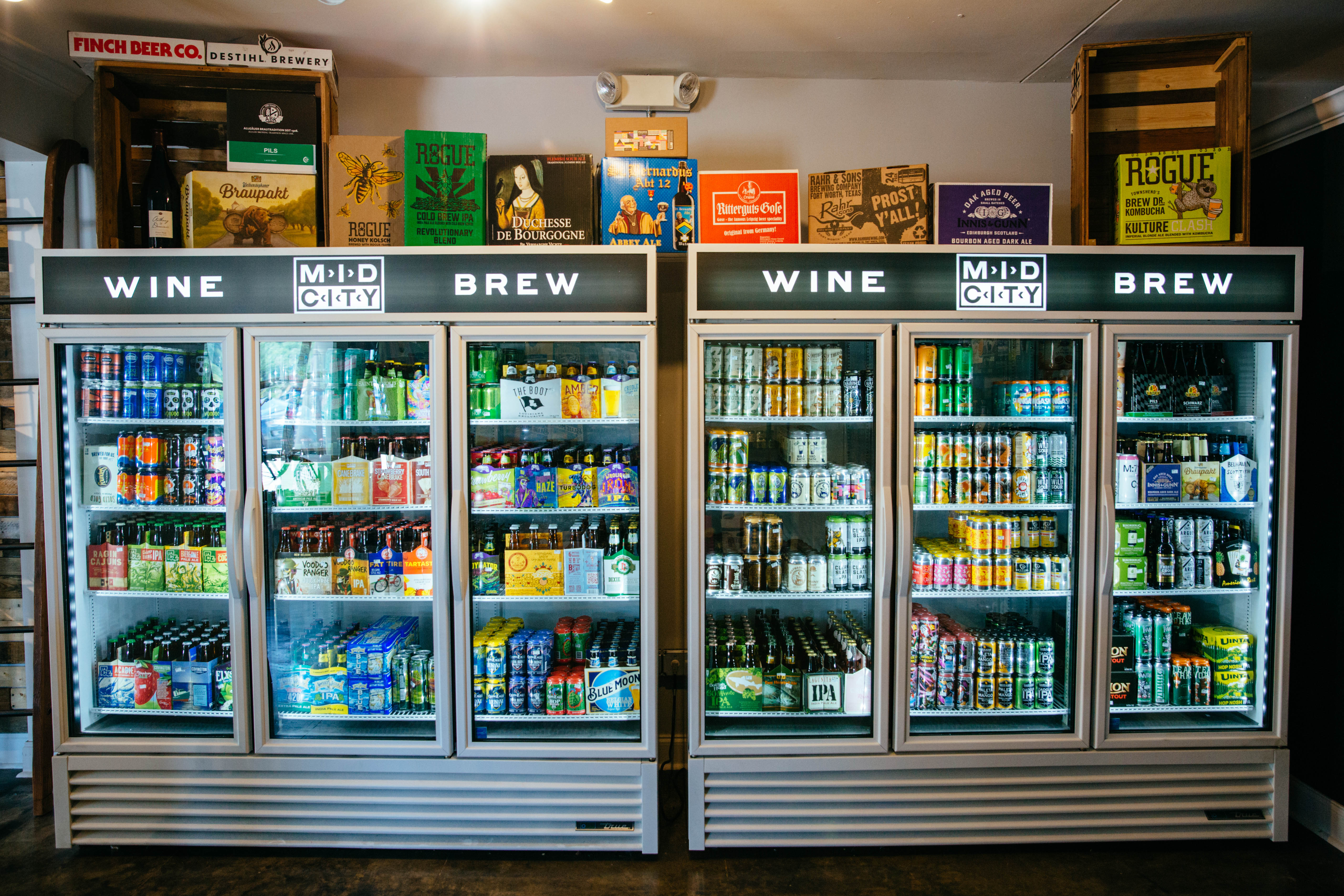 7987 Pecue Lane, #7G
LA Homebrew
Find all of your homebrewing needs at this local shop. It is stocked with a wide selection of fresh hops, brewing yeast, fermenting equipment, brewing starter kits and other brewing equipment. lahomebrew.com
—
711 Jefferson Highway, Ste. 1C
Mid City Craft Wine and Brew
The weekend starts early at this easygoing craft wine and beer shop with free wine tastings on Thursdays. It's also a great spot to get adventurous with your drink choices any day of the week. Forego the bottled wine, and fill up your shopping basket with canned ciders, Moscow Mules and French 75s. midcitycraft.com
—
7248 Perkins Road
1670 Lobdell Ave., Suite 101
Martin Wine Cellar
This local brand has come a long way since its early days in New Orleans back in the '40s. It now has five locations across the state, including a shiny new shop in Baton Rouge's Studio Park. Impress your dinner guests—or host—with a rare wine, specialty spirit, craft beer or a customized wine and cheese gift basket. martinwine.com
—
6908 Florida Blvd.
The Beverage Store
Teal painted walls, neon signs and black-and-white checkered floors in this 22-year-old shop bring classic vintage liquor store vibes to Mid City. Fill up your mini fridge with affordable beers, liquors and wines at the locally owned shop. Find The Beverage Store on Facebook
—
8556 Scotland Ave.
Vince's Liquor Store
Before tailgating at a Southern Jaguars game, stop by this local liquor store near Southern University for low price, no-frills beer, wine and spirits.
---
LOCAL GROCERY AISLES
From Mid City grocery stores like Calvin's Bocage Market and Calandro's Supermarket to downtown shops like Matherne's Supermarket and Spanish Town Market to Highland Road's Alexander's Highland Market, locals can shop for alcohol at every corner of the city. At Rouses Markets all over town, find assorted wine, beer and spirits and plenty of fresh produce, seafood, desserts, and cheeses for pairing. Watch for popular wine dinners and sales at the stores.
---
Click here to read our ultimate guide to shopping in Baton Rouge.
This article was originally published in the September 2019 issue of 225 Magazine.