Just last month, Tre'Jan Vinson, Avery Bell, Corey McCoy and Jared Johnson brought their crispy, saucy wings to Baton Rouge all the way from Lafayette. Pop by Electric Depot, and it's easy to see the KOK Wings and Things—the development's latest arrival—has already taken flight. KOK has been drawing large crowds of locals willing to wait for plates of wings, sliders, loaded fries and more. 
The eatery started back in 2016 while the owners were fraternity brothers in college. While throwing house parties, the group figured they could make money by selling home-cooked food at the gatherings. 
Partygoers enjoyed the offerings so much that CMO Vinson and his friends decided to start a restaurant concept focusing on fresh, seasoned wings and housemade sauces, and KOK Wings and Things was born. The team built their own food truck on top of a trailer and brought their product to customers at different events and festivals.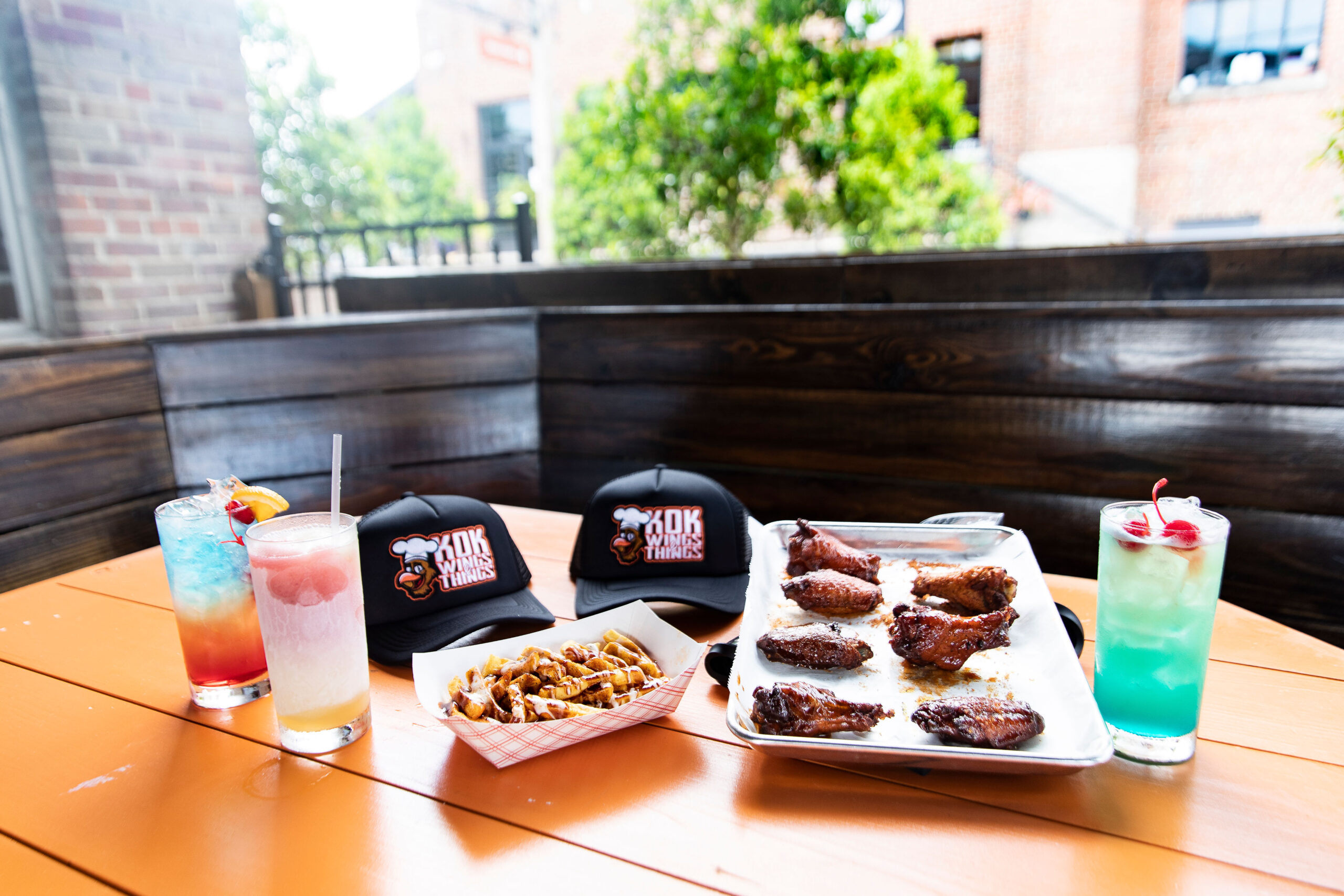 Vinson says he and his business partners have had their sights set on a Baton Rouge location of KOK since the pandemic. Now, it has finally come to fruition with plenty of patrons filling up tables each night since opening day back in May. 
"We've known that we wanted to move to Baton Rouge for a while," he says. "Moving up from a smaller market to a bigger market was something that was very important to us. We had only moved to either lower markets or in Lafayette." 
As the "things" part of the name implies, Vinson says KOK offers so much more than just wings. Some non-chicken menu highlights include fried fish sliders offered with your choice of sauce and loaded fries that are generously drizzled with homemade ranch and barbecue sauce. To wash it all down, KOK also has a bar with a stacked drink menu including boozy cocktails and KOK Punch.
"We try not to put anything on the menu that we don't have the recipe for," Vinson says. "So we don't serve any frozen food." 
Vinson say KOK's wings are always large in size and delivered fresh, never frozen. The chicken is then marinated anywhere from five to seven hours in house-made seasoning blends. 
"You're going to get a high-quality tasting chicken," he promises. "The goal for our wings is that they should taste good plain. Any product should taste good at its base." 
Of course, most like their wings drenched in sauces or thoroughly dusted with dry rubs, which Vinson says are all made in house. KOK has a variety of flavors ranging from sweet to spicy with the hot sauce known as Sin being a customer favorite in Baton Rouge. Vinson says new jerk sauces will be making an appearance on the menu, too.  
Vinson says the restaurant stays busy even during the night as it is currently one of the few spots on Government Street with late hours. With such a high demand for wings and other menu items, Vinson says orders take time to complete, especially during busier hours. 
"We're trying to curb that concept that we take long," he says. "It's just that we're full. If we seat 144 people and we have 350 people on the waiting list, it's really nothing we're doing. We try to combat that on social media by saying, 'Hey it's not us, it's you! You're supporting us too much!' We love it, though. It's a great problem to have." 
Though the Baton Rouge location is still new, Vinson says he and the other owners are always trying to adapt KOK to make it better. 
"We're just trying to make sure the brand co-aligns with the community and what Baton Rouge needs," he says.
If you haven't yet gotten a taste of this new wingery, you can stop by Sunday through Thursday from 11 a.m. until midnight and Friday and Saturday from 11 a.m. until 2 a.m.