---
Over the past four years, Louisiana farmer Galen Iverstine has won over a growing number of patrons with his locally raised heritage-breed pork, grass-fed beef and seasonal poultry at the Red Stick Farmers Market.
Beginning in August, those items and others will fill the counters of a new freestanding meat market, Iverstine Farms Butcher, under construction at 4765 Perkins Road.
Iverstine has attracted die-hard locavores, the health-conscious, environmentalists and home cooks looking for big flavors. Routinely, customers chat with Iverstine about new ways to prepare his high-quality cuts of Berkshire pork, known for their marbling, while also telling him about dishes they've concocted in their own kitchens.
"The home cook is really our target market," Iverstine says. "Being able to talk to people and explain how to cook our products has helped us build a following."
Iverstine's Springfield, Louisiana-based farm has more than doubled in size since it launched in 2011. The Central native wasn't born into farming, but he represents a new generation of young farmers going into it willingly.
His journey into ranching started in 2009, when he was a political science major at LSU trying to figure out what to do after graduation.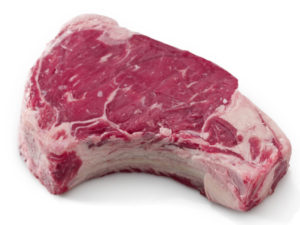 In a college English class, Iverstine began reading about large-scale farming and its damaging consequences. It prompted him to research apprenticeship programs in sustainable agriculture. After graduation, he spent six months on a farm in New Boston, New Hampshire, studying agricultural methods that encourage healthy soil quality and provide livestock with nutrient-rich grasses. It was the antithesis of the methods used in mass production and factory farming.
Iverstine returned home and, with his father, decided to apply what he'd learned to raising livestock. The family bought an initial 60 acres but have since added more land. Iverstine continues to use sustainable methods as he works a growing herd of humanely raised pigs, cows, chickens and turkeys.
Opening the upcoming meat market was a natural extension of their presence at the Red Stick Farmers Market, he says.
The store will sell a variety of Iverstine-raised items, from steaks and ribs to ground pork and smoked sausages. Iverstine says he and his team will also make authentic hog's head cheese. And look for a revolving door of other charcuterie in the butcher counter, including terrines, pâtés and fresh German-style sausages.
So-called nose-to-tail cooking, common among sustainability advocates nationwide, calls for creative uses for all parts of the animal—a departure from the idea of slaughtering animals for the sake of harvesting premier cuts and grinding what's left.
Iverstine can accommodate the new mindset by making use of nearly every part of the animals he takes such care to raise. After slaughter, they'll be broken down in the butcher shop and sold on-site. Customers will be able to buy a pork tenderloin at Iverstine's, but they can also pick up bones for soups and stocks and leaf lard, the delicate rendered pork fat beloved among serious bakers.
"Leaf lard is great for producing really flaky crusts," Iverstine says.
He'll also have regular lard for deep-frying. And he plans to turn organ meats into dog treats.
The store will sell not just pork, but lamb, seasonal poultry and two breeds of grass-fed beef. In the fall, Iverstine will offer broiler chickens and heritage breed turkeys.
An onsite smokehouse will produce smoked sausage, bacon and hams. The butcher shop will also sell daily specials and sandwiches.
Still, Iverstine Farms will continue to have a booth at the market on Saturdays even after the butcher shop is completed. iverstinefarms.com