Editor's note: This article has been updated to correct the titles of two Hot Tails staff members.
Known for their 2017-2018 Food Network show Cajun Aces, south Louisiana chefs Cody and Samantha Carroll quietly opened a third location of their signature restaurant Hot Tails in Zachary in late August.
Situated at the corner of Zachary-Slaughter Road and Church Street, it joins the Hot Tails flagship in New Roads, which opened in 2010, and a Prairieville location that opened in 2021.
The concept is known for fried seafood and Cajun specialties with punchy flavors, along with seasonal boiled crawfish sourced from Cody's father's crawfish ponds in his hometown of Batchelor, Louisiana.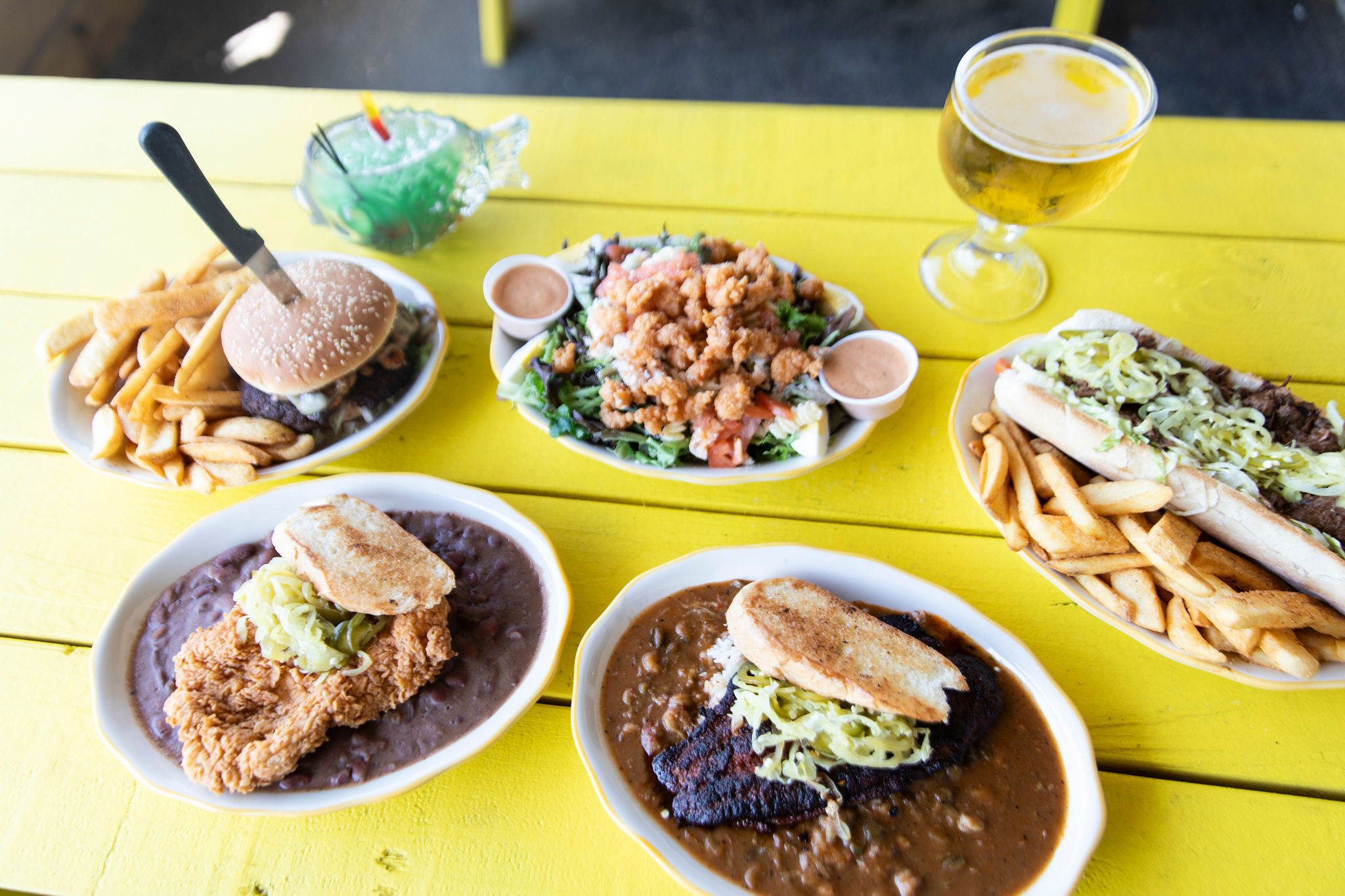 "We'd been having a bunch of customers come in to New Roads who are from Zachary begging us to open a place in Zachary," Cody says. "We finally delivered when we found this location."
The Carrolls lives in Gonzales, and Cody says they're trying to keep new locations to within an hour drive of their home.
Opening the Zachary restaurant also created a window to overhaul the 13-year-old New Roads eatery, now temporarily closed for renovation. Its staff, including executive chef Oscar Ayala Jr., general manager Brooke Major and front of the house manager Regina Weston, were instrumental in opening the Zachary location. They'll continue to work there until New Roads reopens in a few months, ideally in time for crawfish season, Ayala says.
"I've enjoyed getting to know the Zachary customers, and I've been seeing a lot of our New Roads customers also make the trip," adds Ayala, a New Orleans native who began working for Hot Tails in New Roads 10 years ago at age 16.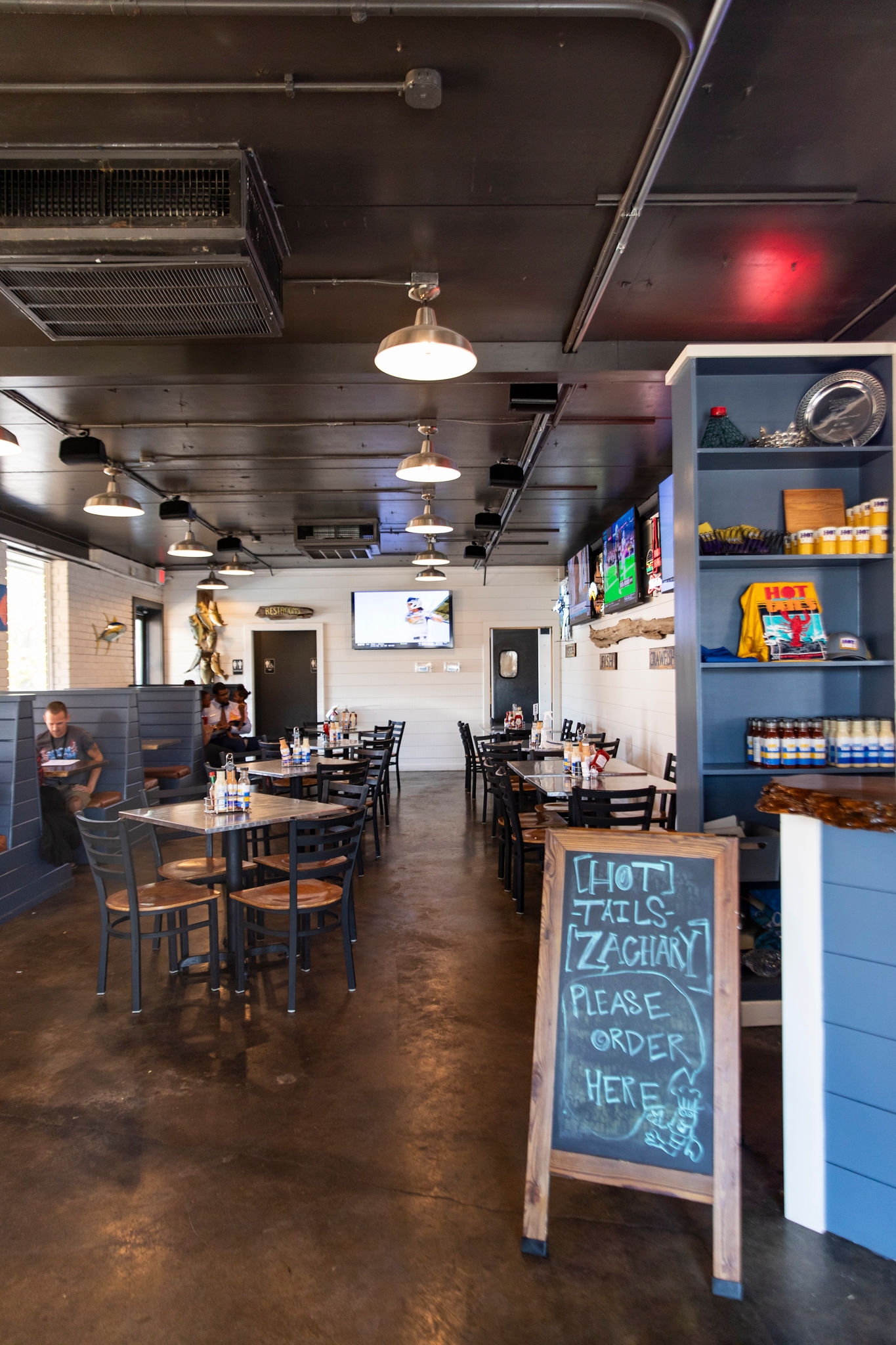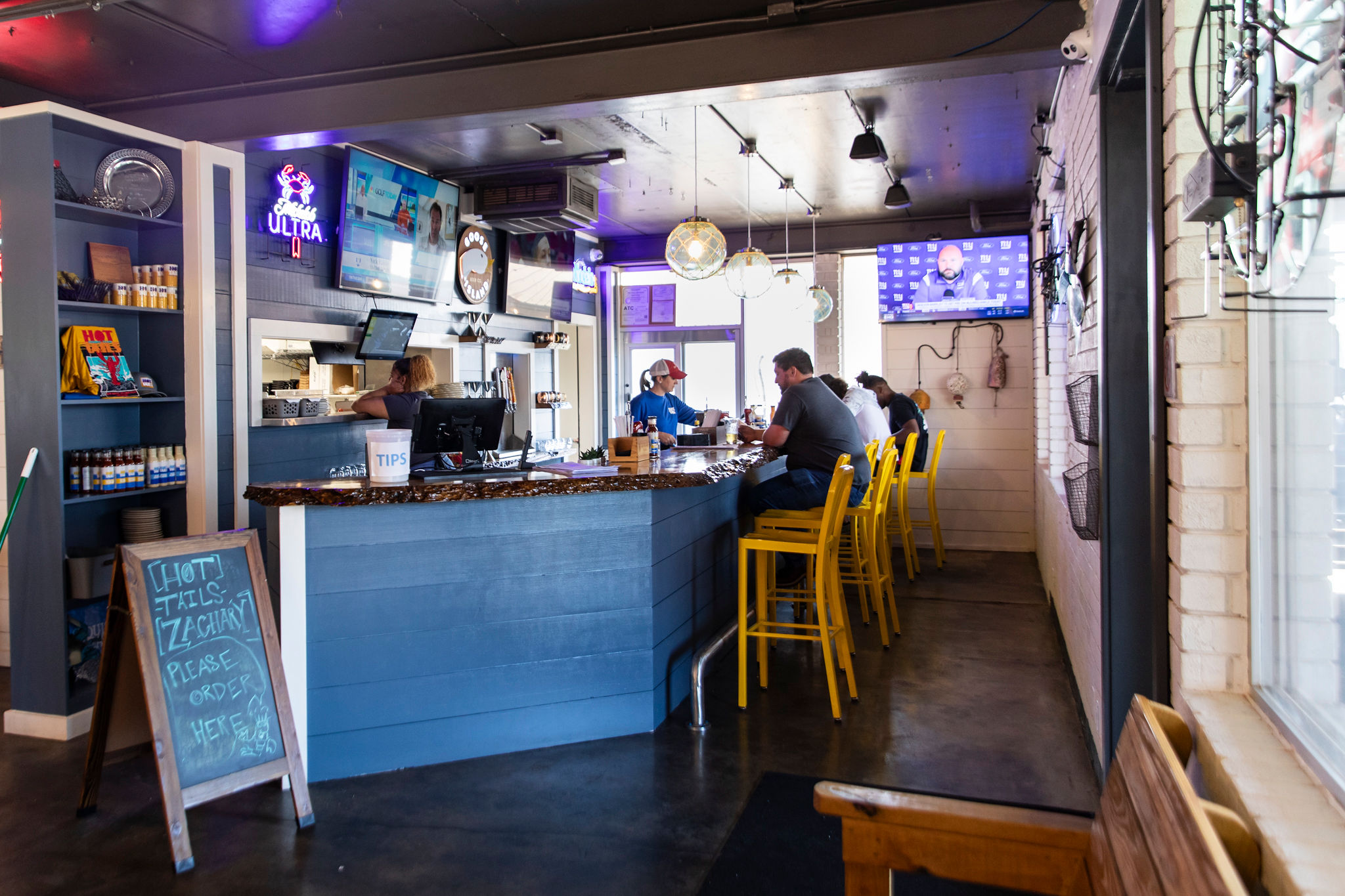 Casual and rustic, the Zachary Hot Tails has a stylish fish camp vibe with counter service ordering and a high-gloss cypress bar that reads old-school seafood house. Splashes of bright yellow and blue lend a fresh, fun feel, and a covered front porch makes for pleasant outdoor dining when the weather is nice. A drive-through is in place for to-go orders.
The menu is an ode to south Louisiana favorites with the Carrolls' housemade stamps. Dishes get a dose of the couple's trademark spice blend (for sale on the merch shelf), and pickled peppers, sliced and brined banana peppers and jalapeños that adorn many of the dishes.
"We're going for more robust flavors," Cody says. "That's just how we've always cooked. We always thought we wanted to be more flavorful than the fried seafood joint down the street."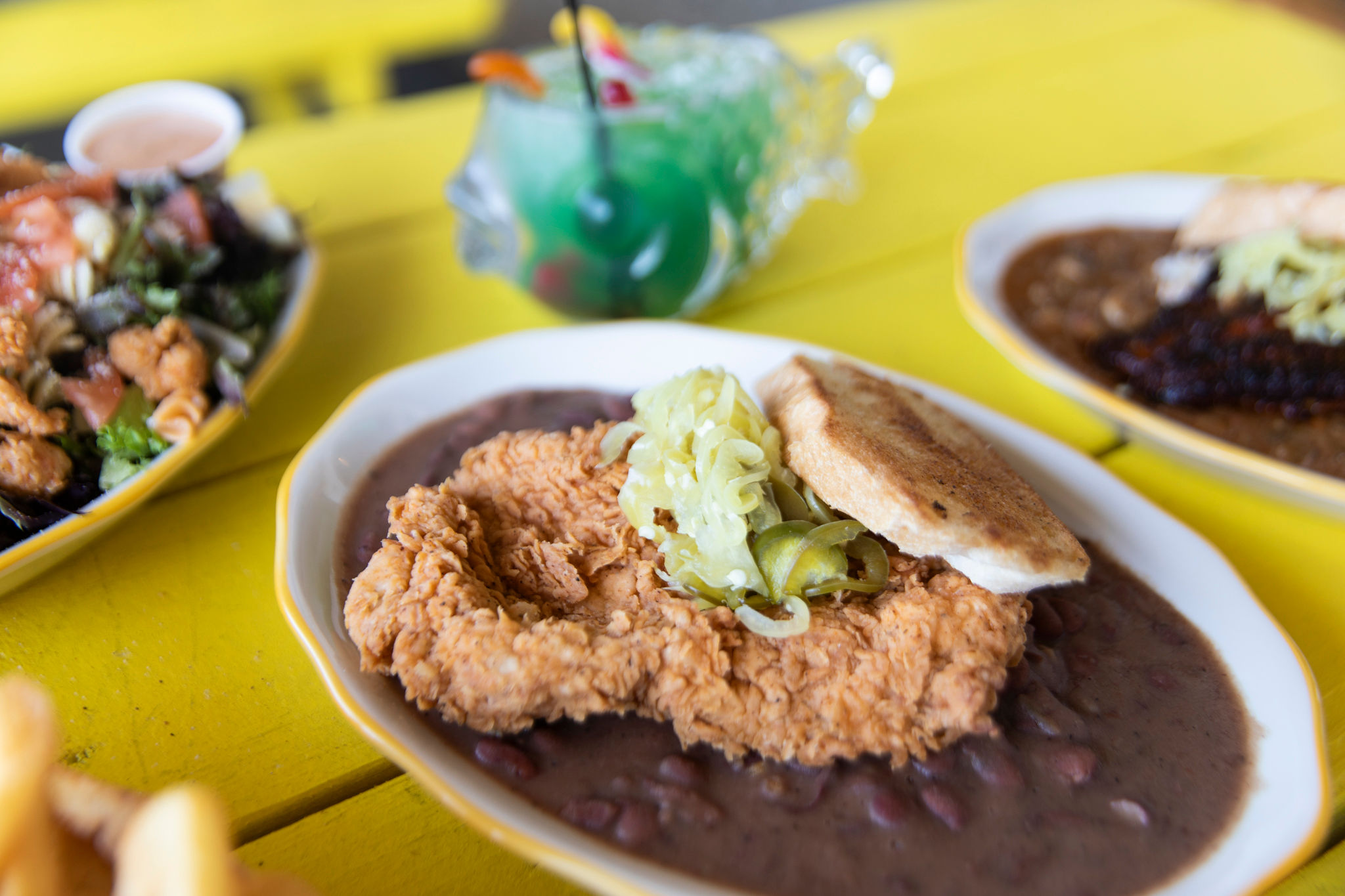 Bring your appetite. The menu is stacked with a variety of shareable appetizers like crawfish croquettes with pepper jelly, and crawfish bread, hollowed out French bread stuffed with artichoke and spinach dip and topped with fried crawfish tails. Po-boys are made with Leidenheimer bread and come in stalwart flavors like fried shrimp (the most popular), crawfish tails, gator, fish and oyster. Roast beef was also recently added.
"I'm a sucker for roast beef," Ayala says.
Behemoth burgers made with half-pound beef patties include a range of curated toppings. The Crawfish Cajun Burger, for example, is gilded with sauteed crawfish, onions, pepper jack, lettuce, tomato, pickles and the eatery's spicy remoulade-inspired Spillway sauce. Matching the burgers' heft are Hot Tails' steak fries, long, thick potato planks dusted in house seasoning.
Of course, the place offers lots of different fried seafood platters, and it also features newish dishes that were introduced in Prairieville, including red beans and rice served with a crispy pork chop. Ayala says the chop is pounded and dredged, first in wet tempura batter and then in dry flour, before being dropped in the fryer.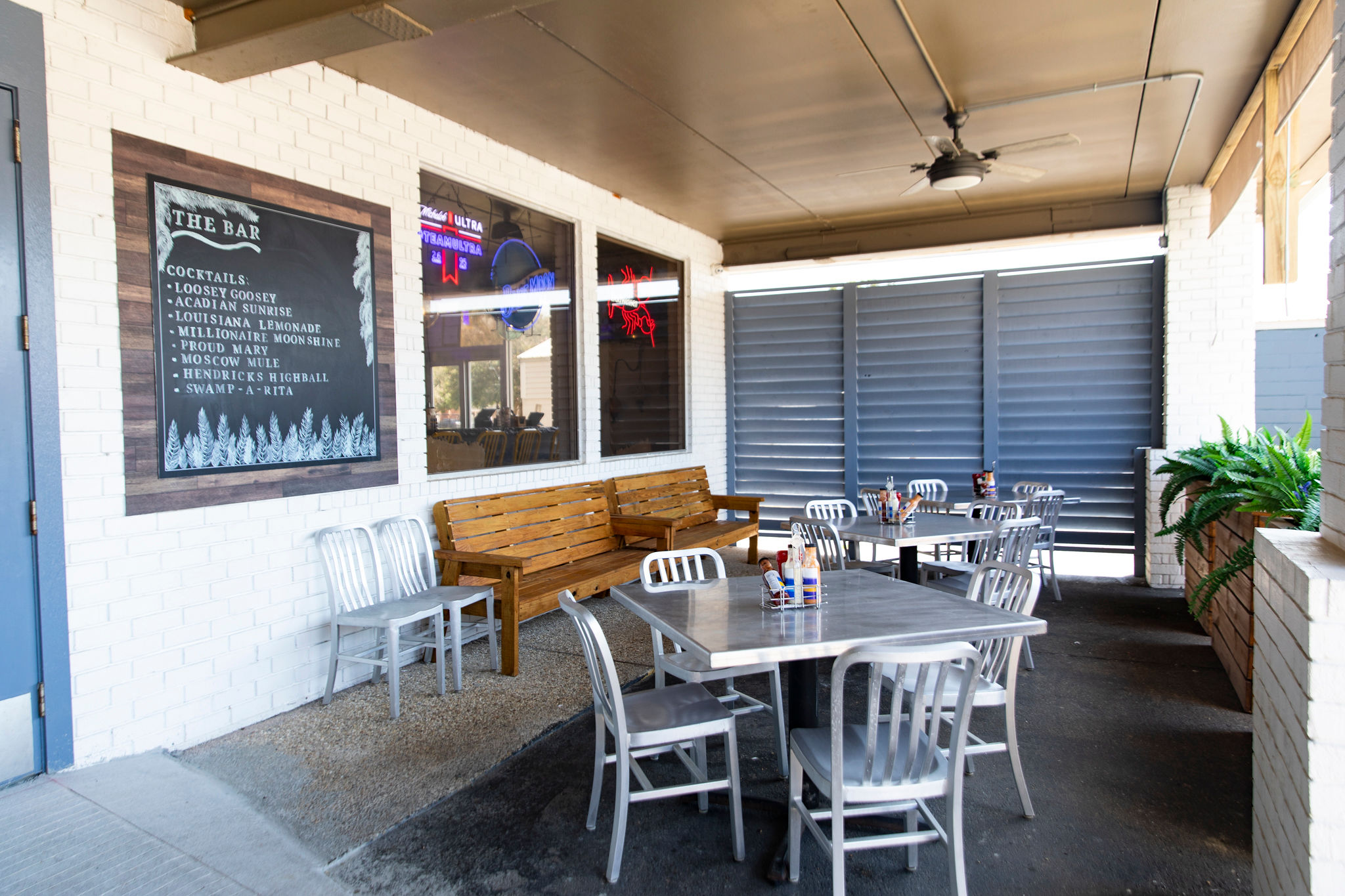 Come crawfish season, the restaurants will serve the Carrolls' well-received mudbugs, raised on the family's private ponds to their specifications. They're prepared in three steps, Ayala says. After a purging, they're boiled without seasoning and drained, then soaked in spices. Ayala says the restaurant goes through "tens of thousands of pounds" every season. He says he's looking forward to seeing which restaurant will sell the highest volume.
Hot Tails in Zachary is open Monday through Saturday, 11 a.m.–9 p.m. It is at 4696 Zachary-Slaughter Highway. Find more info about it and the other locations at hottailsrestaurant.com.