Waffles are a classic breakfast item, and we enjoy making them at home using a waffle iron. There are several good waffles mixes on the market you can buy. But in just a couple of steps, homemade waffles are a cinch to make and are unbelievably delicious. This is an easy recipe made from everyday ingredients that can be prepped ahead of time and then blended together right before dropping the mixture into the waffle iron. This recipe works well with any kind of waffle iron, and the ginger maple butter makes these easy waffles the perfect, sweet Christmas morning breakfast treat.
Servings: Yields 6 waffles
1¾ cups flour
1 tablespoon baking powder
1 teaspoon salt
2 tablespoons sugar
2 eggs
2 cups 2% milk
1⁄3 cup vegetable oil
2 teaspoons vanilla extract
Sift the flour, baking powder, salt and sugar in a large mixing bowl and set aside.
Separate the eggs into two bowls. Beat the egg yolks, milk, vegetable oil and vanilla together. Add the wet ingredients into the dry and mix until well blended.
Heat the waffle iron. While the waffle iron heats, use an electric mixer to beat the egg whites until stiff peaks form.
Gently fold the beaten egg whites into the waffle batter. Carefully pour the batter into the heated waffle iron according to the manufacturer's instructions. Once golden brown, remove and serve the waffles hot with the ginger maple butter and maple syrup.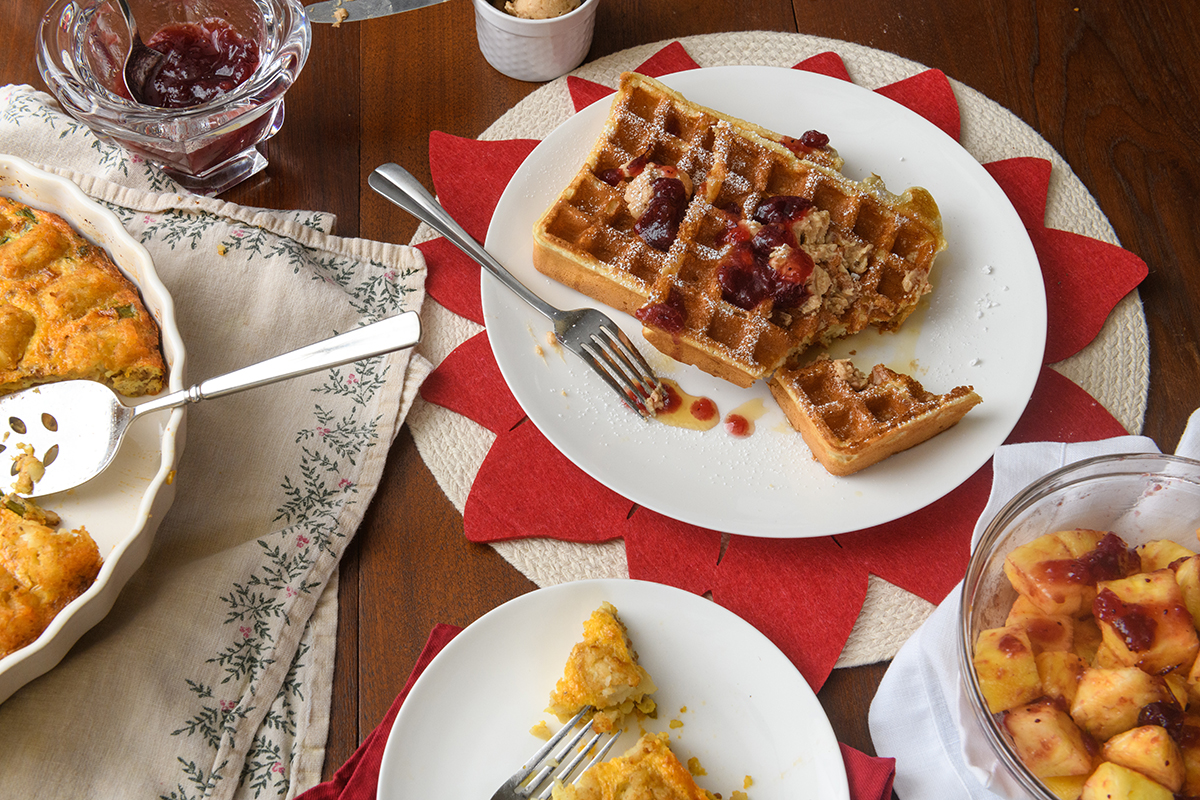 For the Ginger Maple Butter
Servings: Yields 6 ounces
1 stick softened butter
2 tablespoons candied ginger,
finely chopped
½ teaspoon ground ginger
¼ teaspoon ground cinnamon
¼ cup pure maple syrup
 In a small mixing bowl, cream together the softened butter, candied ginger, ground ginger and ground cinnamon.
Add in the maple syrup and stir until well blended.
Keep the ginger maple butter at room temperature to make it easier to spread on the hot waffles.
Store the leftover butter in an airtight container in the fridge for up to 2 weeks. Reheat the leftover butter in the microwave for a couple of seconds to help it soften up.
---
This article was originally published in the December 2021 issue of 225 magazine.