When Ruffino's corporate chef Jeremy Langlois starts using words like "funk" and "bark" to describe the cut of meat he's about to serve, you might take pause.
But sink your teeth into a tender cut of prime beef that's been dry-aging in-house for up to 50 days, and it suddenly all makes sense.
That funky bark, or crust, he carves off the aged meat before grilling it gives the cut a rich, dense flavor hard to come by—and it comes by way of a custom salt wall built inside the meat cooler in the restaurant's kitchen.
Langlois, who joined the Ruffino's team a year ago, remembers feasting on the popular dry-aged steaks the restaurant used to purchase and serve up—until now. "But over the years, the suppliers just weren't able to have a consistent supply at all times," Langlois says. "Some people would ask for it, and we didn't always have it, so [co-owner and chef] Peter [Sclafani] said, 'Hey, let's cut out the middle man. What if we did it ourselves? Maybe that could be the next big thing for us.' And here we are."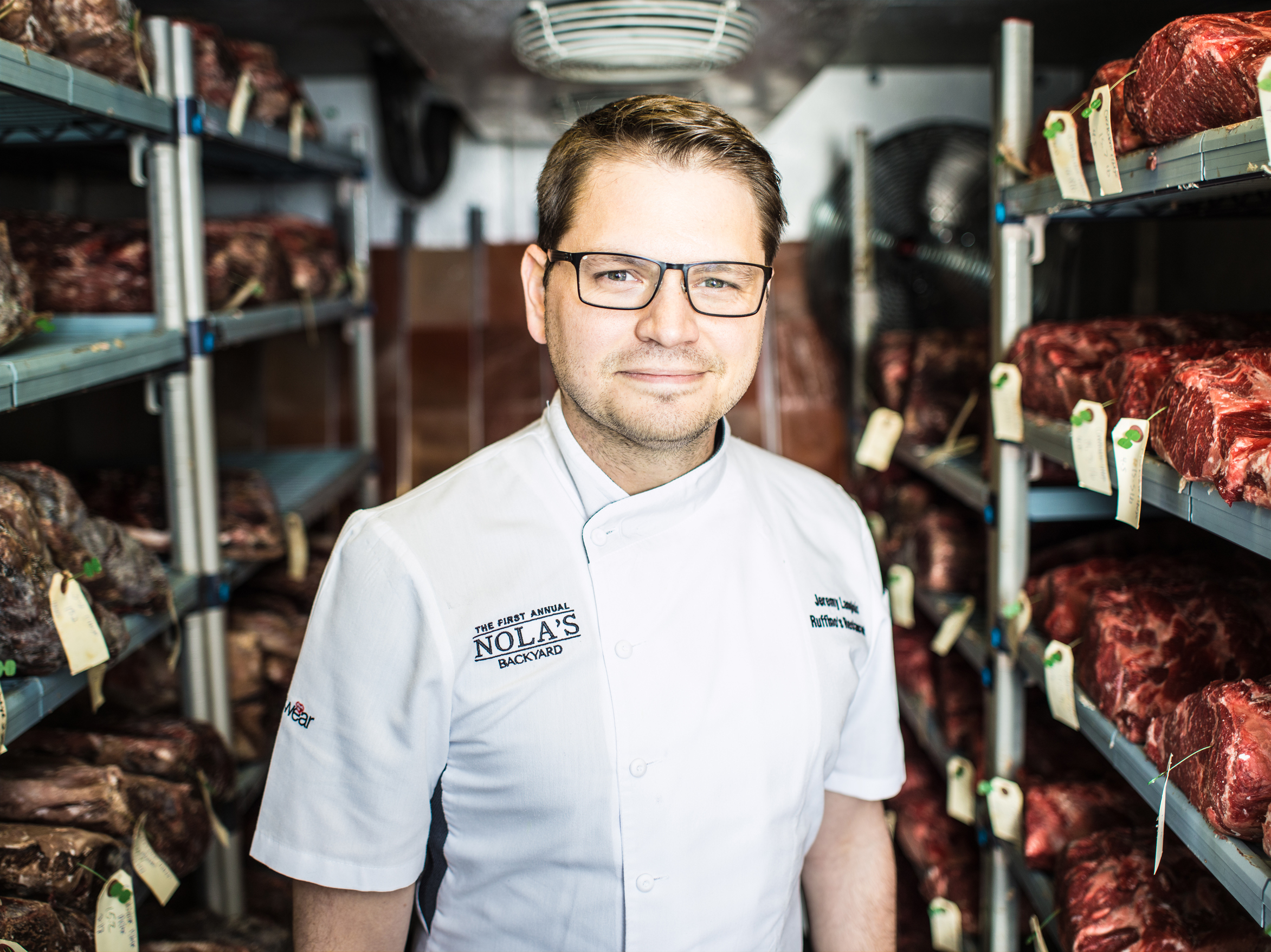 The team refurbished the interior freezer room with new shelving and a powerful fan and constructed a wall at the back entirely from Himalayan salt blocks—the same kind they use to serve a briny seared-tuna appetizer. The salt blocks help control humidity and unwanted bacteria and impart a unique and subtle nuttiness to the meat.
Each cut of fresh rib-eye, bone-in rib-eye and New York strip comes from Creekstone Farms in Kansas. It's tagged, labeled and left to sit on its laurels in the salty freezer, rotating regularly for better distribution. Once that's finished, the exterior crust is trimmed and all that's needed is a little seasoning with sea salt and cracked pepper before it's cooked to perfection.
"The dry-aging process itself just naturally tenderizes the meat … so you get a different kind of concentrated flavor in it," Langlois says.
The three cuts (each aged for different periods up to 50 days) are now showing up on menus at the Baton Rouge and Lafayette locations, and are also available on the catering menu. ruffinosrestaurant.com