---
Growing up in Houston, entrepreneur Will Edwards was accustomed to breakfast tacos and kolaches, items the LSU alumnus brought to the Capital Region with his fast-growing concept, Kolache Kitchen. Nearly 10 years later, the restaurant has six locations—three in Baton Rouge, two in New Orleans and one in Key West. 
"We opened with breakfast tacos and kolaches, and to this day, the breakfast tacos remain just as popular as kolaches at every location," Edwards says. "They're probably 25% to 30% of our sales."
Simple and portable, Kolache Kitchen's made-to-order breakfast tacos include scrambled eggs combined with cheese and options like bacon, sausage, chorizo, potatoes, broccoli or spinach. The ingredients are folded into a flour tortilla and rolled in aluminum foil. The extant warmth helps the soft flour tortilla adhere. Each is accompanied by a container of the restaurant's house-made red salsa for dipping. The restaurant's success with breakfast tacos eventually led it to serve street tacos for lunch.
"(The breakfast tacos) just really took off," Edwards says. "They were a fast, affordable breakfast alternative to fast food or donuts."
Edwards' timing was right. Over the last decade, breakfast tacos (and breakfast burritos) have grown in popularity—so much that diners see them as commonplace as benedicts and omelets. thekolachekitchen.com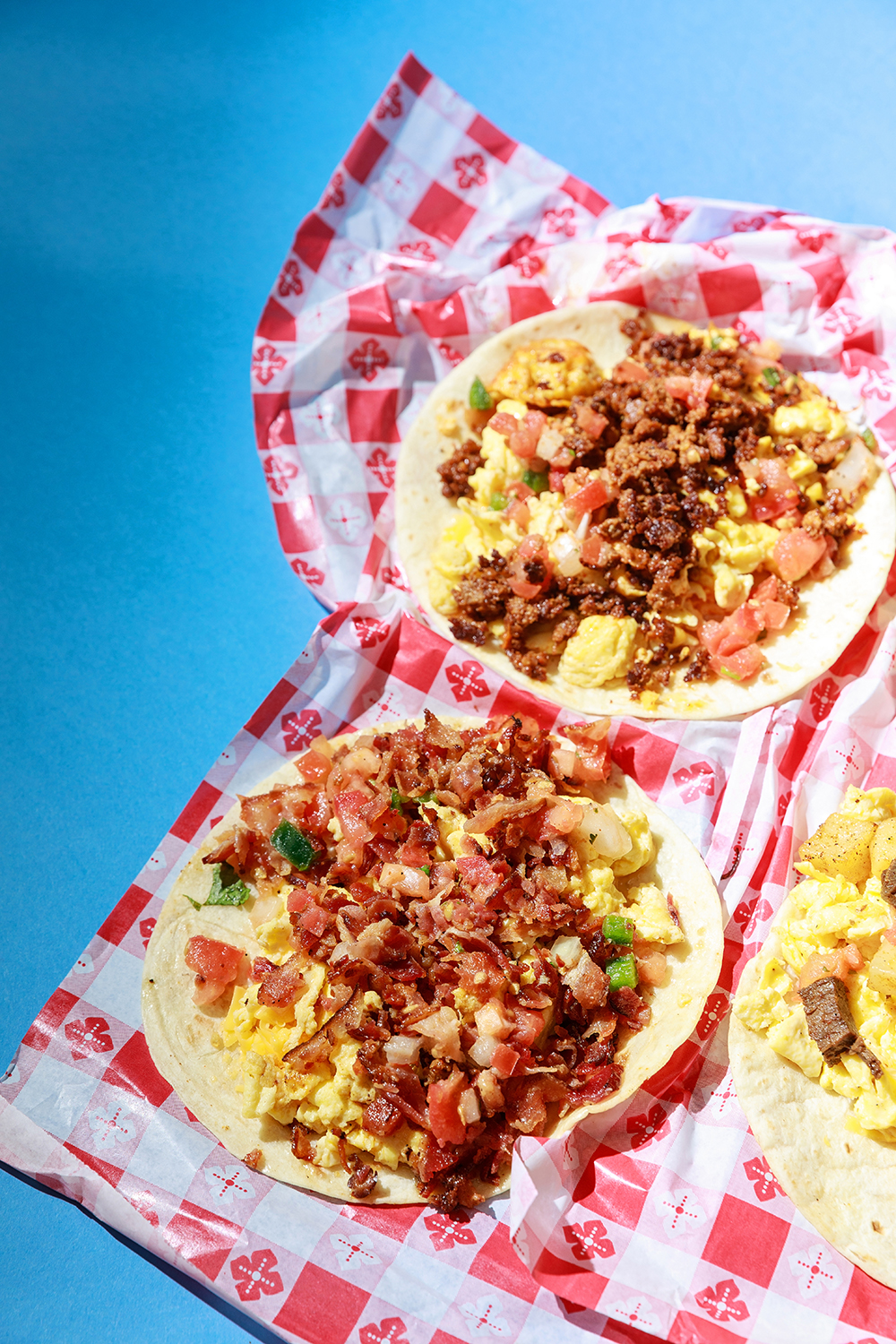 More breakfast tacos
Mason's Grill
At this venerable brunch spot, three flour tortillas are filled with scrambled eggs and chorizo, homemade breakfast sausage and jalapeños. A topping of shredded cheddar cheese and avocado finishes things off. masonsgrill.com
Superior Grill 
Breakfast tacos include scrambled eggs and a choice of chorizo, ham, beef, chicken, bacon, brisket or potato, while the frittata tacos feature tortillas filled with frittata, pico de gallo, queso fresco and a choice of protein. batonrouge.superiorgrill.com
Uno Dos Tacos
At this Denham Springs and Baton Rouge concept, breakfast tacos are served with bacon, chorizo, sausage or brisket on tortillas made with a combination of cornmeal and flour. myunodostacos.com
Torchy's Tacos 
The Austin-born chain, which started as a food truck, includes a large breakfast taco menu featuring options like the Migas, combining eggs, cheese, green chiles, corn tortilla strips and avocado; and the Ranch Hand, in which eggs and cheese meet marinated brisket. torchystacos.com
---
This article was originally published in the November 2022 issue of 225 magazine.