Every weekday morning since 1993, Maria Perez has arrived at Tío Javi's Fresh Mex Bar and Grill (formerly Ninfa's) for one reason: to make tortillas.
Using an old-school recipe and deft handiwork, Perez mixes a fresh batch of dough—usually about 50 pounds or so—and carefully measures it out into 2-ounce balls she rolls by hand. She flattens each one precisely and evenly with a rolling pin before searing it on the restaurant's flat top. These tortillas, made with flour, vegetable shortening, baking soda, salt and just the right amount of hot water, are the backbone of the restaurant's menu.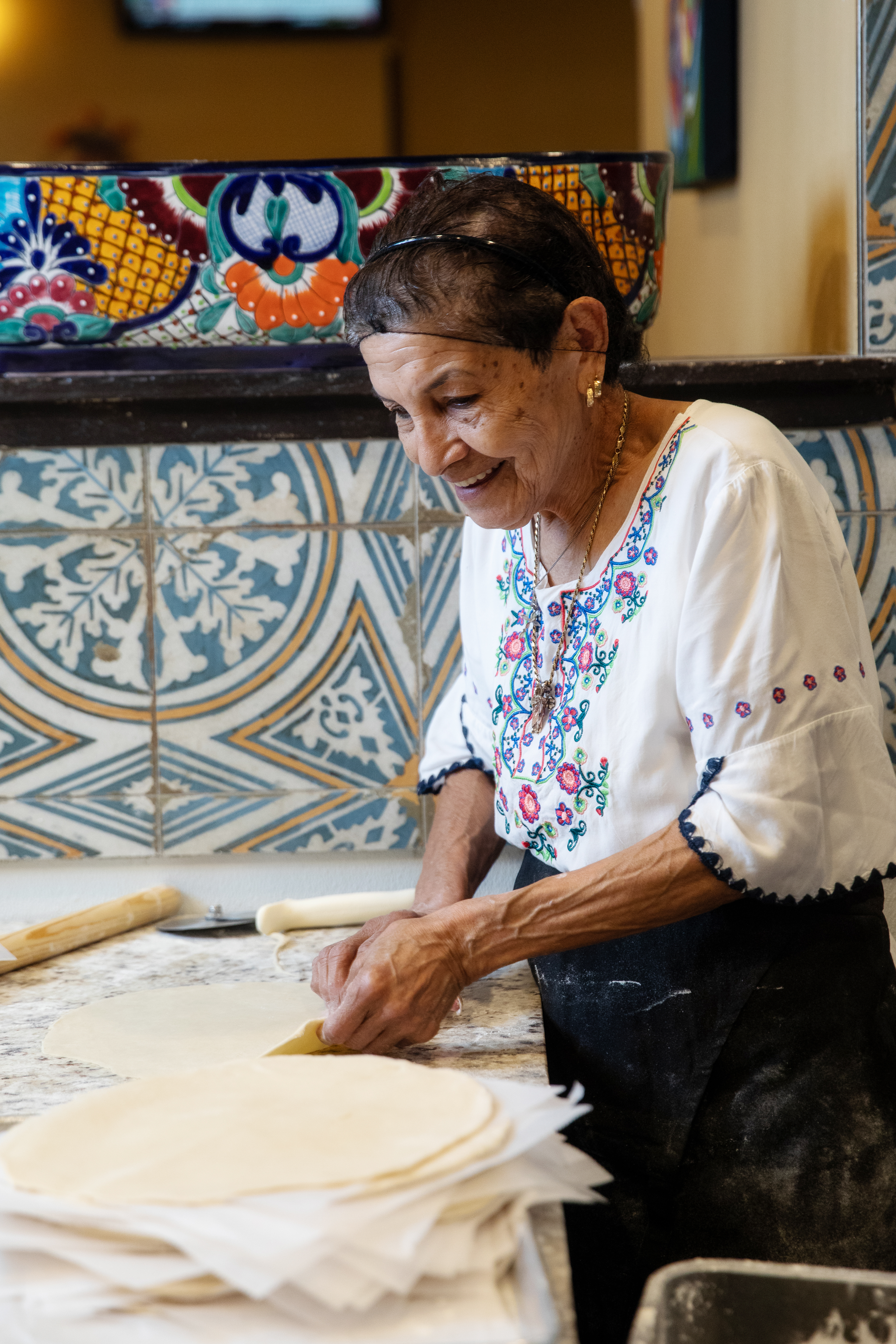 "We use them in everything," says Tío Javi's manager Carlos Betancourt. "Burritos, fajitas, soft tacos, you name it. Fajitas are our biggest seller, so we go through a lot of tortillas; and we've recently added a lot of new street tacos to the menu that use them, too."
Perez has trained others at the restaurant, so that fresh tortillas are available all week. She and the team also make corn tortillas using masa harina, or corn flour.
Taking the time to make homemade tortillas makes a big difference in flavor, Betancourt says, especially today as diners have become more interested in authentic and inventive Mexican fare.
You can find housemade tortillas at several eateries in Baton Rouge, including some small, authentic taquerias and the new Blue Corn Tequila & Tacos in Ichiban Square, which makes flour and corn tortillas fresh daily.
Even restaurants that don't make tortillas onsite have found a much fresher option in Hola Nola tortillas, the small batch, non-GMO tortilla maker in Gonzales. Mestizo Louisiana Mexican Cuisine and Gov't Taco in White Star Market both deploy Hola Nola tortillas.
Superior Grill on Highland Road is another restaurant that's invested in making fresh tortillas onsite, says assistant general manager Andrew Lugo.
"It definitely takes more time and more room in the restaurant, but it's something we've been doing in New Orleans since day one," Lugo says. "When we opened on Highland, we made it a priority."
A team of tortilla makers prepares the doughs for both flour and corn tortillas at Superior. Flour tortillas are the biggest sellers, demanding about 35-50 pounds of dough, or about 300-400 individual tortillas per day for use in the restaurant's fajitas, tacos and more. Once the dough settles, the tortilla makers separate it into two-ounce balls with their hands, flattening them with rolling pins before they're warmed on the griddle.
"We do it for the quality," Lugo says. "They're not sitting in a plastic bag. They're as fresh as we can get them."
---
This article was originally published in the May 2019 issue of 225 Magazine.