---
Stepping inside the former Burbank location of Hello Sushi, the first change you'll notice is the color palette. Gone are the jewel-toned tables and walls, traded for a more modern, chic combination of white walls and white tables with polished black floors and tiny potted succulents scattered throughout the space.
The bar, once hidden behind a massive artistic structure, now shines from the corner as soon as you step through the door, with a dozen beer taps and tokurris and tiny cups for serving sake. A server brings you a glass of water in a mason jar. Though Japanese cuisine is still the name of the game within these walls, Umami Japanese Bistro has breathed new life into its location.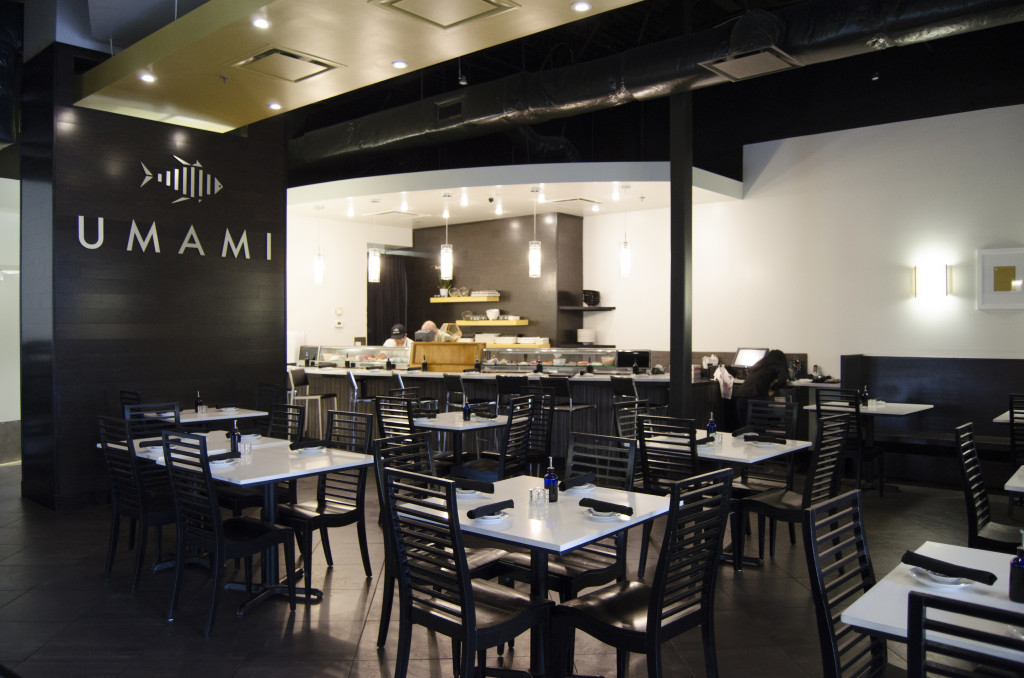 ---
Hello Sushi's chef of eight years, Cong Nguyen, purchased the restaurant with his wife, Thom, in summer 2015, and has since overhauled the interior and built a new menu from the ground up. Umami's menu features small plates, soups and salads, nigiri and sashimi, Japanese entrees and 34 sushi rolls. The Nguyens aim to bring an elevated take on Japanese cuisine without alienating customers at any price point—a crucial strategy, given their close proximity to LSU's campus.
A longtime fisherman raised on Japanese cuisine, Cong's first spark of inspiration to create his own restaurant came from a trip to Austin a few years ago, where he was struck with the breadth and diversity of Austin's culinary scene, as well as its variety of creative and locally sourced ingredients. The menu he's crafted combines traditional Japanese food and brings it into a more current context with modern techniques and Southern flavors.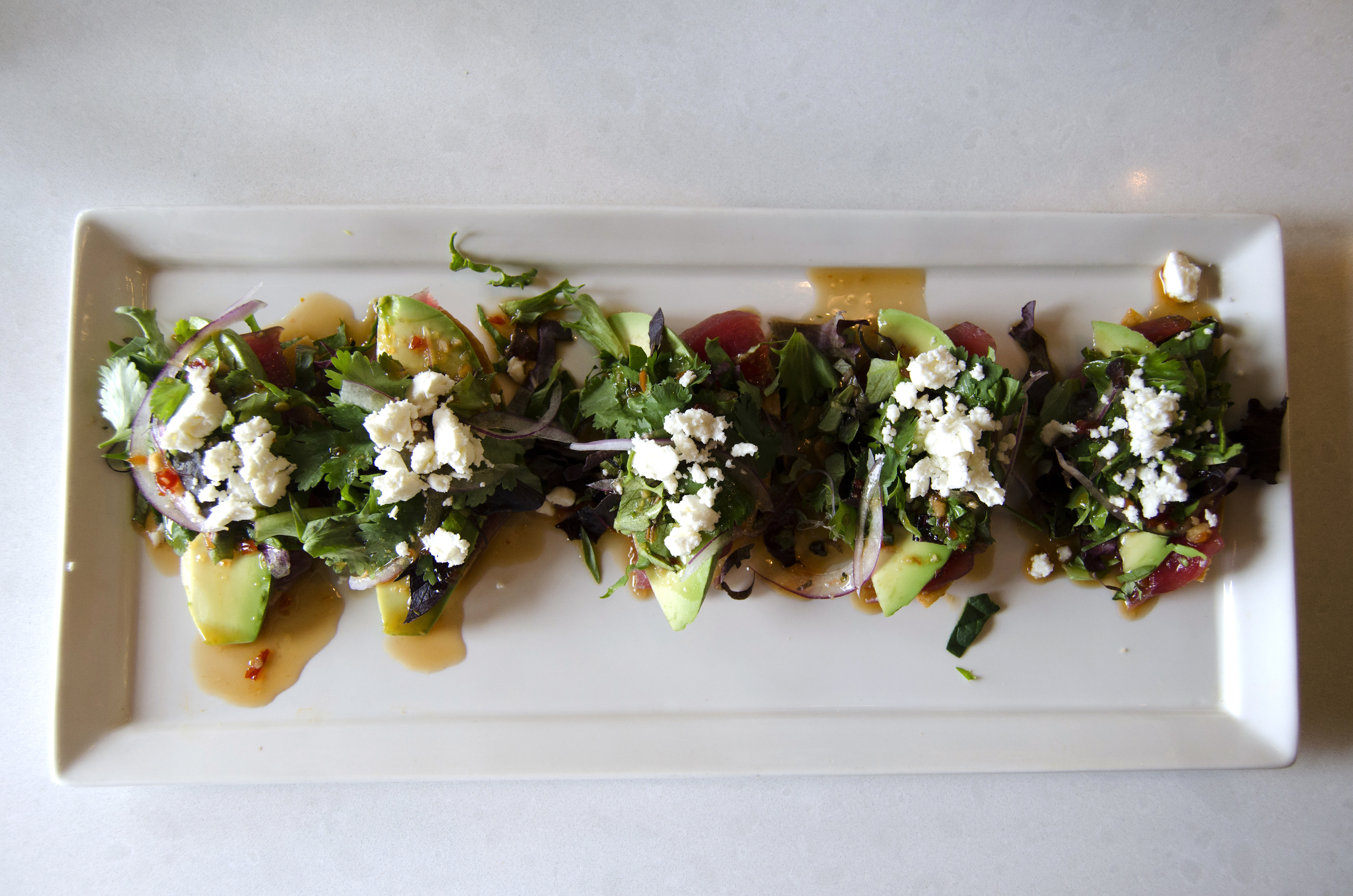 ---
Cong's style of cooking food and serving customers is hands-on, and he's not shy about popping up at a customer's table to offer suggestions.
"With new customers, what I like to do is get them to trust me and make small bites for them like Japanese tapas, and for them to let me take them through eight, nine courses," Cong says. He begins with asking for any allergies or dietary restrictions and is quick to point out many vegetarian and vegan options on the menu if necessary. For us, he's got eight dishes lined up.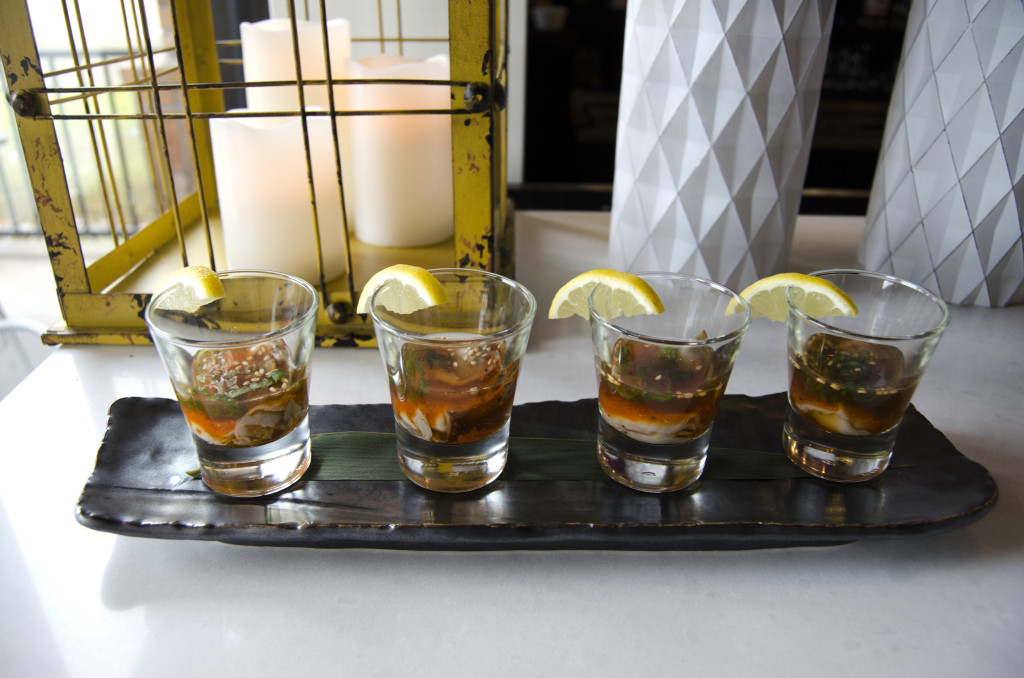 ---
Small plates begin with the popular tuna crisp, which layers fresh tuna, red onions, avocado, mixed greens, cilantro and feta cheese over fried corn tortillas, all drizzled in a sweet chili glaze. Next comes a round of oyster shooters, each glass filled with a raw Louisiana oyster, Tabasco vinaigrette, masago, scallions and roasted sesame seeds. The last small plate is a Brussels sprouts dish that converted the former Brussels-hating Cong into a believer—the sprouts are flash-fried and tossed with cilantro and red onions in a sweet chili glaze.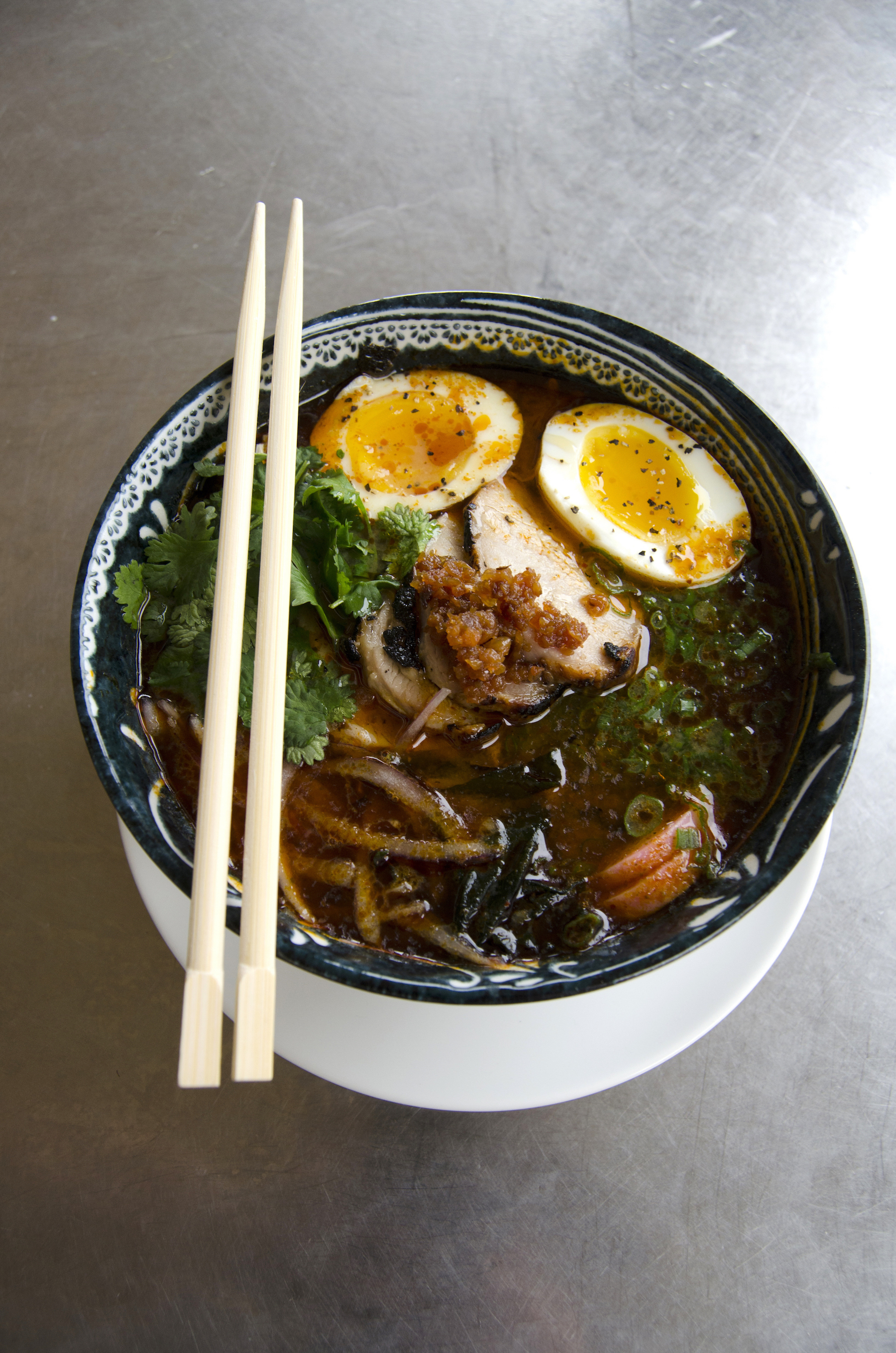 ---
For the next round, there's another best-seller: a rich and spicy from-scratch ramen with marinated pork, seaweed, a soft boiled egg, scallions and garlic oil called The Hangover that tastes like exactly the kind of post-drinking cure its name suggests. The earthiness of the enoki mushroom nigiri that comes around the same time tempers the spice nicely.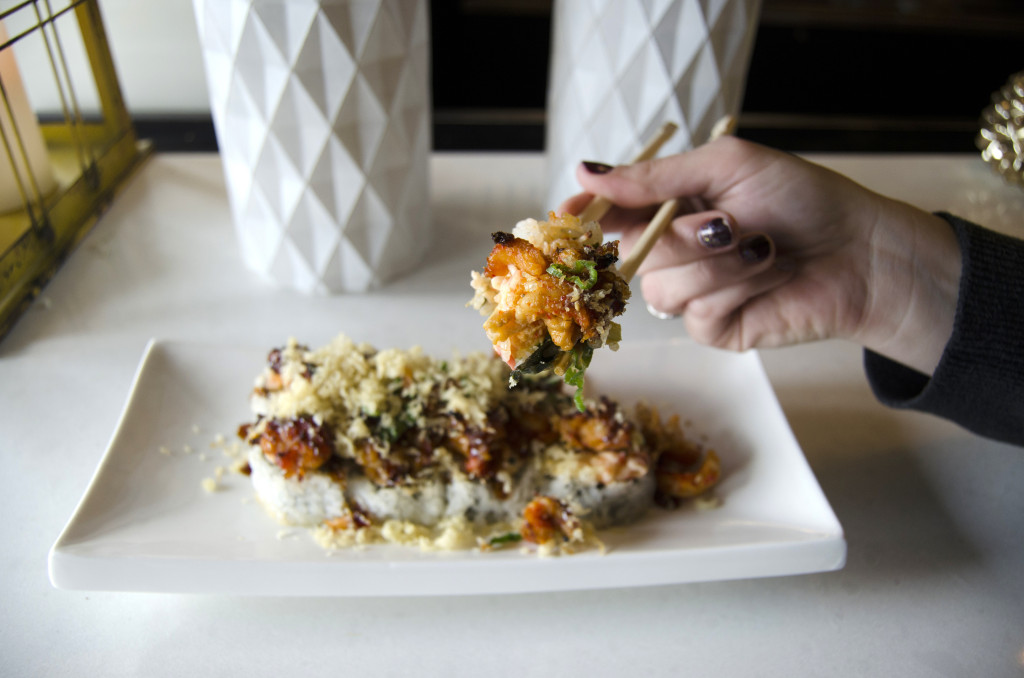 ---
Two signature Umami rolls fill out the meal, both full of flavor and plated elaborately. The bright and airy Geisha Roll comes with fresh tuna, salmon, whitefish, snow crab, masago and avocado wrapped in soy paper and topped with thinly sliced lemon. Meanwhile, the hearty Cajun Roll combines snow crab, cucumber and avocado before being smothered in spicy crawfish, baked in house-made Creole sauce and topped with eel sauce, tempura crumbs, green onions and sesame seeds.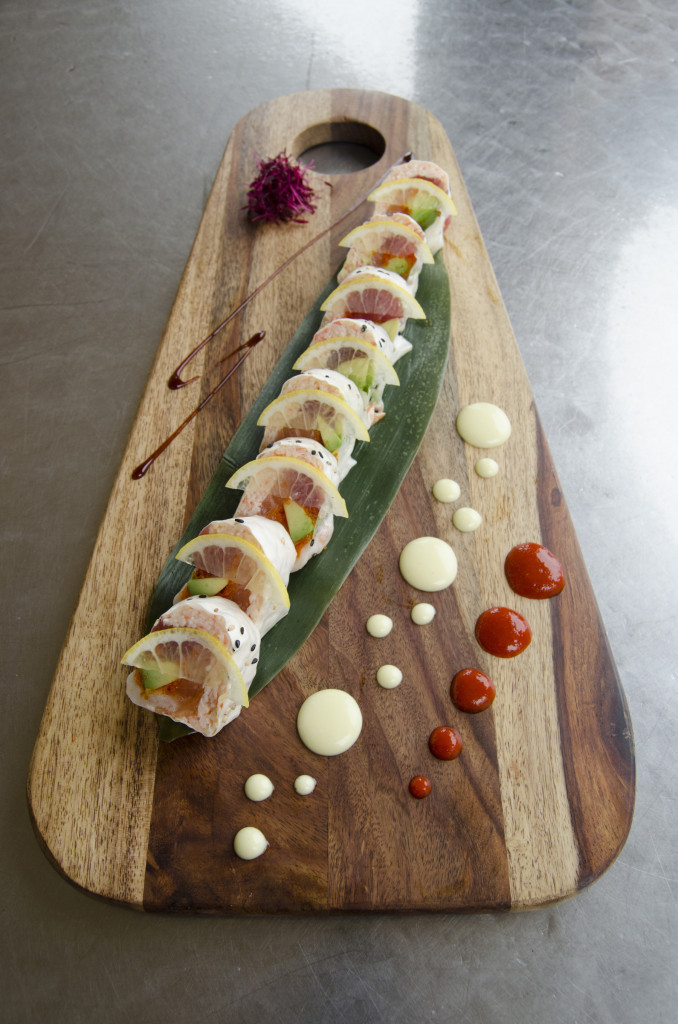 ---
For the final course, Thom brings out her signature dessert, a 12-layer green tea crepe cake with green tea mousse between each layer and a dusting of matcha tea on top.
In flavor, creativity and style, Umami has brought something truly fresh to Baton Rouge's table. As a man who loves a challenge, Cong welcomes new customers to join him for a meal and try something different from the familiarity of a typical sushi restaurant menu. With dishes this carefully crafted, he's confident he won't lead them wrong.
Umami Japanese Bistro is at 3930 Burbank Drive. It's open Monday-Saturday for lunch and dinner and Sunday 4-9:30 p.m.