Something hot is coming to Burbank Drive courtesy of the Moreaux Restaurant Group, which also owns the local chain Off The Hook. The new concept, Jude's Hot Chicken and Shrimp, focuses on spicy, fried chicken and shrimp just like the name implies.
It will take over the former Off The Hook location at 3930 Burbank Drive with a grand opening set for this Friday, Sept. 22. 
Partner Paxton Moreaux says the idea for the restaurant came about after realizing there were few places around town that focused solely on fresh, locally sourced shrimp as the menu's main protein. Knowing some people may not like the crustacean or may have a seafood allergy, Paxton and his partners decided to add fried chicken to the menu to cater to everyone.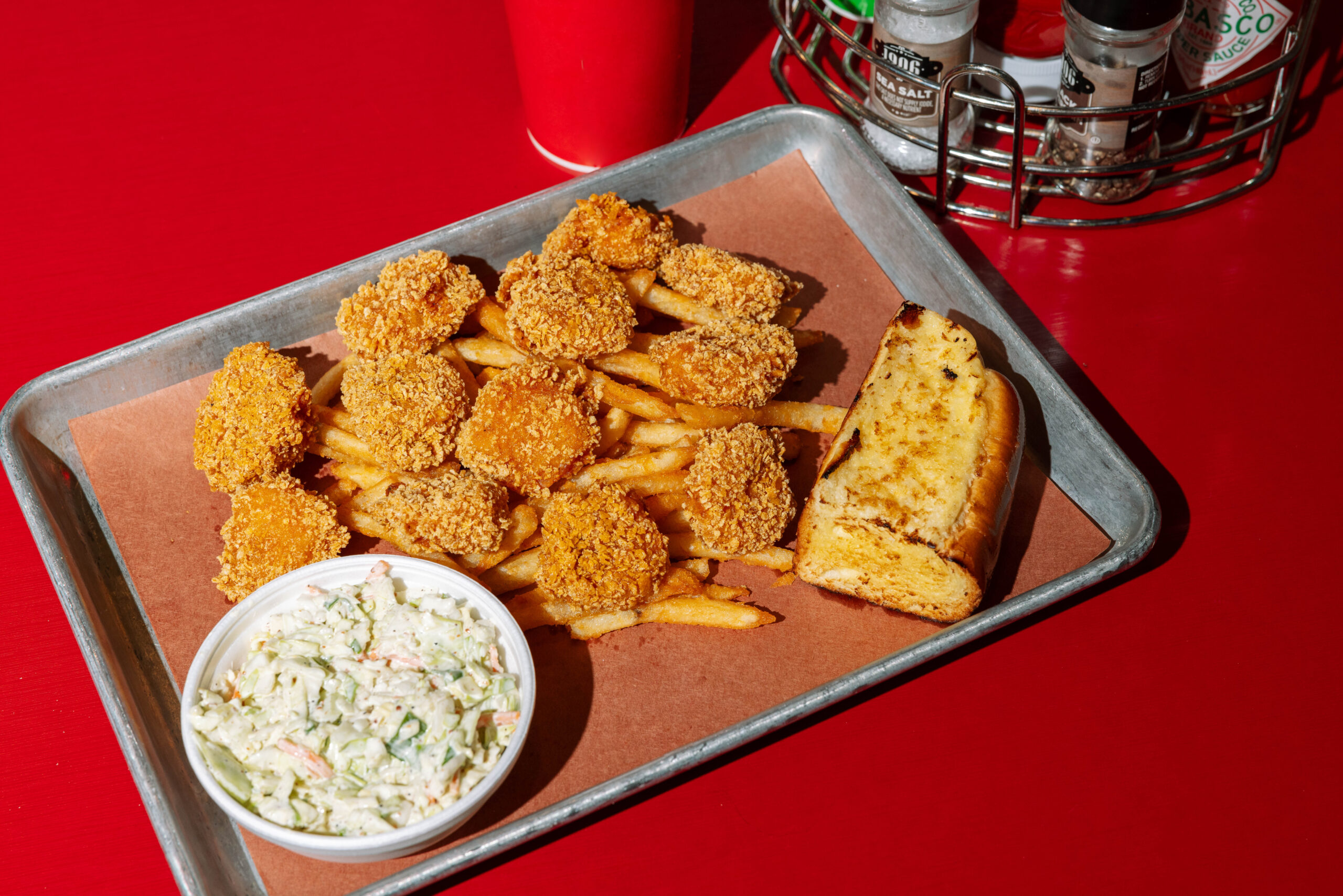 "The idea started because at Off The Hook we sell a lot of shrimp and a fair amount of chicken," he says. "We wanted to have a place where shrimp was kind of the star but also backed up by the chicken tender because everyone likes chicken."
The rest of the menu is kept simple with other items reusing the menu's main duo. Chicken and shrimp can be ordered as platters, wraps and sandwiches. Sides include mac and cheese, crispy shoestring fries, coleslaw and buttery toast. Of course, no menu is complete without sweet options, and Jude's offers four hand-spun milkshakes with classic flavors like vanilla, chocolate, strawberry and cookies and cream. 
"The goal is to be really simple and really good at everything we do," Paxton's brother and managing partner Jordan Moreaux says. "We do a couple of things and we do them all really well."
The shrimp and chicken are battered, rolled in cornflake crumbs and fried until golden. Paxton says the addition of cornflakes in the breading gives a unique and crunchy texture. From there, patrons can choose from five different spicy sauces to complement their protein of choice: Nashville Fire, Nashville Hot, Nash Honey, Orange Honey and Mango Jalapeño. 
"We work closely with John Folse for Off The Hook, and we've worked closely with him when developing these sauces," Paxton says. "We tried probably 30 different sauces, or more than that, and narrowed it down to the five we do have. We felt like these achieve the mission of what we're trying to accomplish here."
The restaurant also offers three handmade dipping sauces for drizzling, slathering and dunking. Paxton says these sauce options are great on fries, chicken, shrimp or just about anything from the menu. Sauces like barbecue, ranch and Jude's signature GPA sauce, or garlic pepper aioli, work for a quick dip or to bring relief from the peppery kick of the other spices.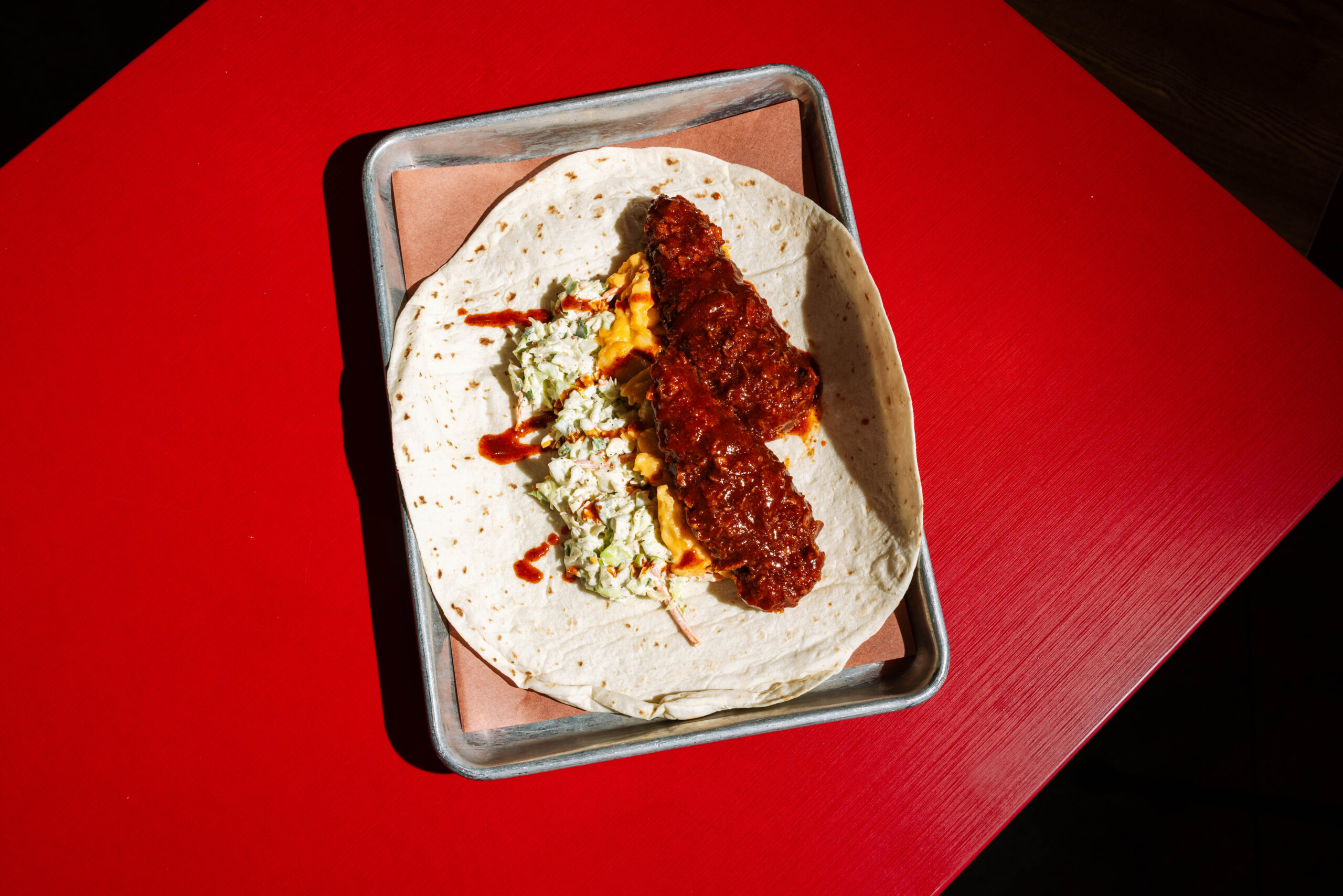 The fast-casual restaurant includes a counter for ordering, tables for dining and a drive-thru window outside for to-go orders. Inside, work from local artists adorns the walls including a larger mural from Marc Fresh Art depicting a purple, three-eyed tiger on a leash. Paxton says Jude's close proximity to LSU drove the vision and vibe of the interior. 
"Here, we skew much younger, a little hip and edgier—just a little more fun, free flowing than Off The Hook. " he says. "Off The Hook was kind of a take on getting your seafood but we buttoned it up a little bit. Jude's is unbuttoned, ripping your shirt off and much more casual. Just polar opposites."
Jordan agrees. 
"It's different than anything else around here," he says "It's going to be really fresh and fun, and it's going to taste delicious."
In the future, Paxton says he hopes Jude's can expand to include more locations. Also, through the new restaurant, Paxton, Jordan and the brand's COO John Lush say they hope to get more involved in Baton Rouge and with the student community at LSU. 
"As far as community involvement, that's our number one initiative at Off The Hook, and we want to continue that on here as well," Paxton says. 
Jude's Grand Opening is set for Friday, Sept. 22. Jude's will be open daily from 10:30 a.m. until 9:30 p.m. and is located at 3930 Burbank Drive, Suite M.