Americanized halal food has arrived in Baton Rouge. Debuting the first location for Baton Rouge (and the fifth for Louisiana), The Halal Guys opens its new space at 320 Lee Drive this Friday.
The Halal Guys started as a hot dog cart in New York City in 1990. When founders Muhammed Abouelenein, Ahmed Elsaka and Abdelbaset Elsayed realized there was a market for Muslim cab drivers in search of a halal meal, they switched directions, and the concept exploded from there. The word "halal" translates to good, and it is used to indicate food that complies with Islamic dietary laws.
Nearly three decades later, they have more than 225 franchises worldwide.
The Baton Rouge restaurant's industrial interior is an ode to the chain's food-cart roots. The red tabletops, stainless steel and exposed kitchen are designed to imitate the original food cart, says Louisiana marketing director Elizabeth Fletcher.
"They try to keep it related to the food cart … and keep that vibe going to resemble the food cart feel that was originated in New York," she says.
Black and white photos throughout the store remind you of the restaurant's early days, with a floor-to-ceiling mural depicting a line of people waiting around the block for a meal from The Halal Guys food cart.
The fast-casual eatery's menu is simple, with chicken and beef platters and gyros, falafel, fries, hummus and baklava. As the first Americanized halal food chain, The Halal Guys' slogan on its website is "We are different."
Its famous white sauce is what sets them apart, Fletcher says. Not to be confused with tzatziki, the white sauce is a game changer—like a seasoned mayonnaise sauce—and comes with every item on the menu, along with hot red sauce.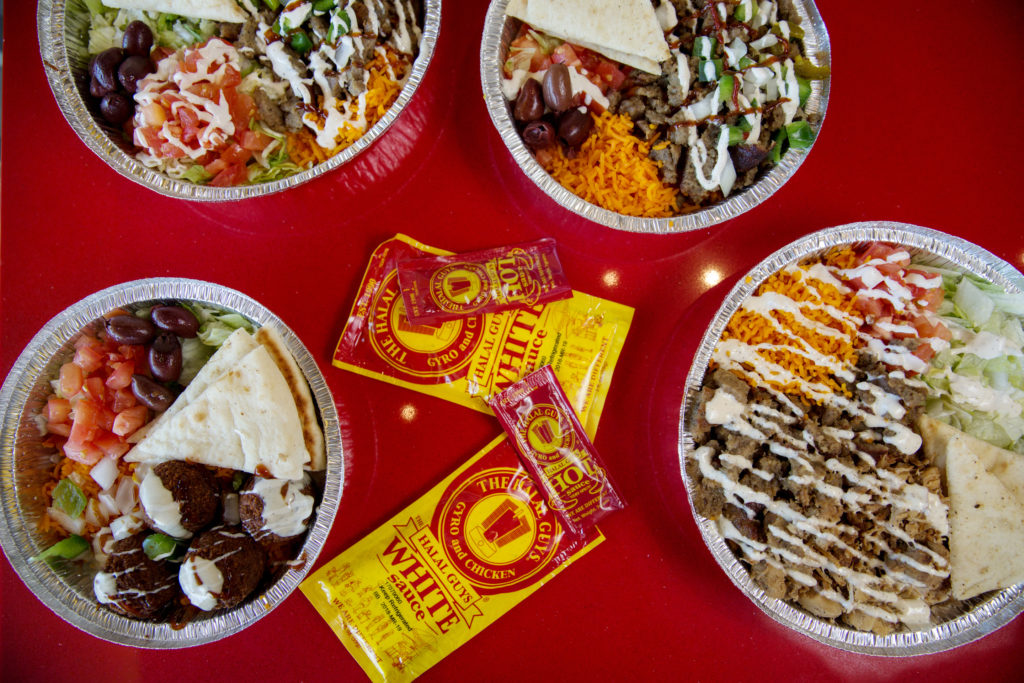 "I think being open-minded to trying a new concept that's not like anything you've had is the ultimate way to walk into the restaurant," Fletcher says.
Franchisee Logan Trotter has three locations in New Orleans and one in Shreveport. Expanding to the Capital City was the next step, and the Lee Drive location draws on the strong residential and LSU-adjacent atmosphere of the area.
The Middle-Eastern franchise is designed to appeal to millennials, Fletcher says, with an informal atmosphere. The location is looking to push late-night eating and will be open 10:30 a.m.-1 a.m. Sunday-Wednesday and 10:30 a.m.-3:30 a.m. Thursday-Saturday.