Classic Southern charm is the vibe that hits you on first entering BRQ Seafood and Barbeque, which opens to the public Tuesday, June 6. The butcher block tables with wrought-iron legs, the long white benches hugging the walls, the chalkboards highlighting down-home daily specials like red beans and rice or country-fried steak, plus whole pies for sale.
But look a little closer, and it isn't all prim and proper.
That diagram of pig and cow parts on a large chalkboard has become trendy to the point of overdone at many barbecue and Southern food-focused joints. But here, the labels say things like "Where we get bacon," "Ass meat" and "Steak?"
The tongue-in-cheek theme goes even further in the bar area, where a diagram of a copper still assures diners it is "not a bong."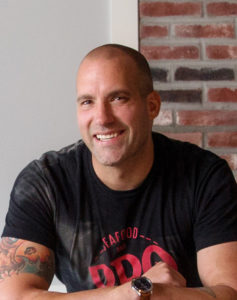 For chef and partner Justin Ferguson, that's all part of the goal with his new restaurant.
"I want to be able to really create an atmosphere and a restaurant that's maybe a little bit more unique, a little more fun," he says. "There are several fine dining and high-end restaurants around here, and by all means that is not what this is."
Ferguson and general manager Jonathan Nunez have been working on BRQ for more than a year, brainstorming what would work best for the Baton Rouge scene. Both are locals with experience in other cities—Ferguson was one of the first graduates from Louisiana Culinary Institute and went on to helm corporate restaurants in Boston and Chicago—and they wanted to bring their skill sets back home.
"When I came back, the question was, 'What kind of restaurant do you want to do?' And that could have literally been anything," Ferguson says.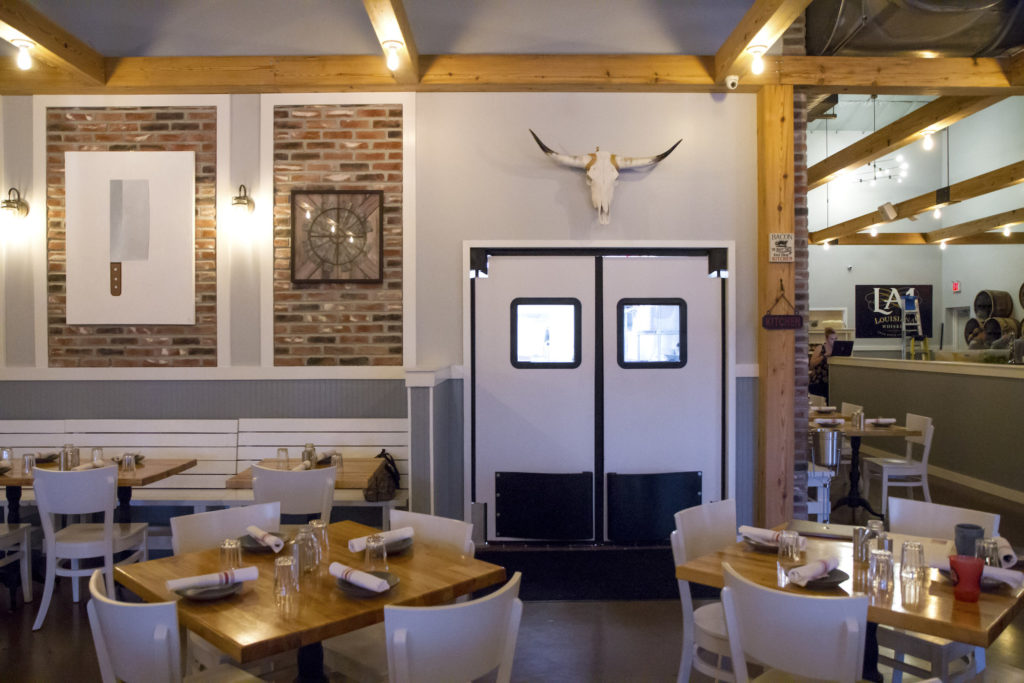 He narrowed his focus to two pillars: barbecue and Southern cooking, with a dedication to sourcing as locally as possible and making everything in house.
The menu's "From the Pit" section features platters of pulled pork, pulled chicken, smoked chicken and brisket, andouille and seasonal sausage all slow-cooked and smoked on the patio behind the restaurant. If you're truly serious about barbecue, there's a competition-style smoked ribs section of baby back, St. Louis and black Angus beef ribs. The price points are higher there, but so is the time and effort put into these flavorful ribs.
"I felt doing true competition-style barbecue is not what anybody else is really doing here as far as barbecue goes—a real true hickory and applewood smoked 14- to 16-hour brisket and doing it right and slow with the ribs," Ferguson says. "And then I also wanted to take what we grew up having from our moms or grandmas that had cooked really traditional food from a farm and giving it a modern approach as far as the flavors and the plating style."
To that end, the Southern nods can be seen in the daily specials with sides like smoked brisket gravy or stewed okra, shrimp and grits or blackened Gulf fish, or starters like cast-iron drop biscuits, fried green tomatoes or blue crab deviled eggs. Besides sourcing local proteins and produce, the kitchen staff will be able to pluck herbs and vegetables from the garden out back that they share with back-door neighbors Louisiana Culinary Institute.
The twists on tradition are scattered about the menu just as they are in the decor. Buttermilk fried frog legs are served with corn maque choux and a pepper jam, housemade boudin is served with aioli and a smoked chicken jus, the Whistle Stop BLT features house-cured bacon and a habañero dill ranch, and the fried chicken comes with a drizzle of black-peppercorn honey.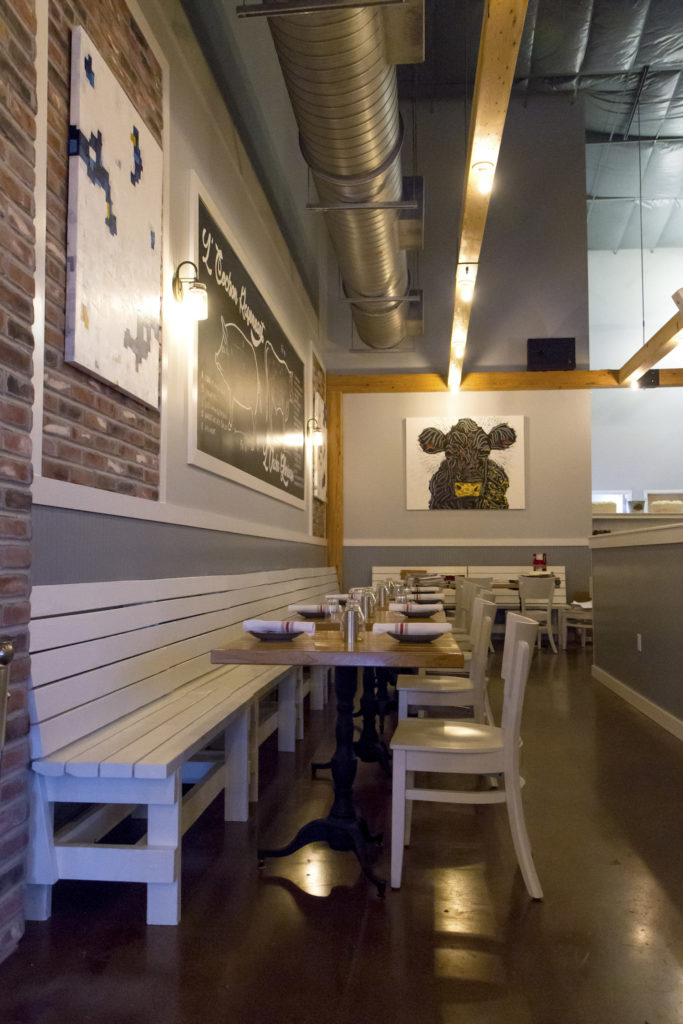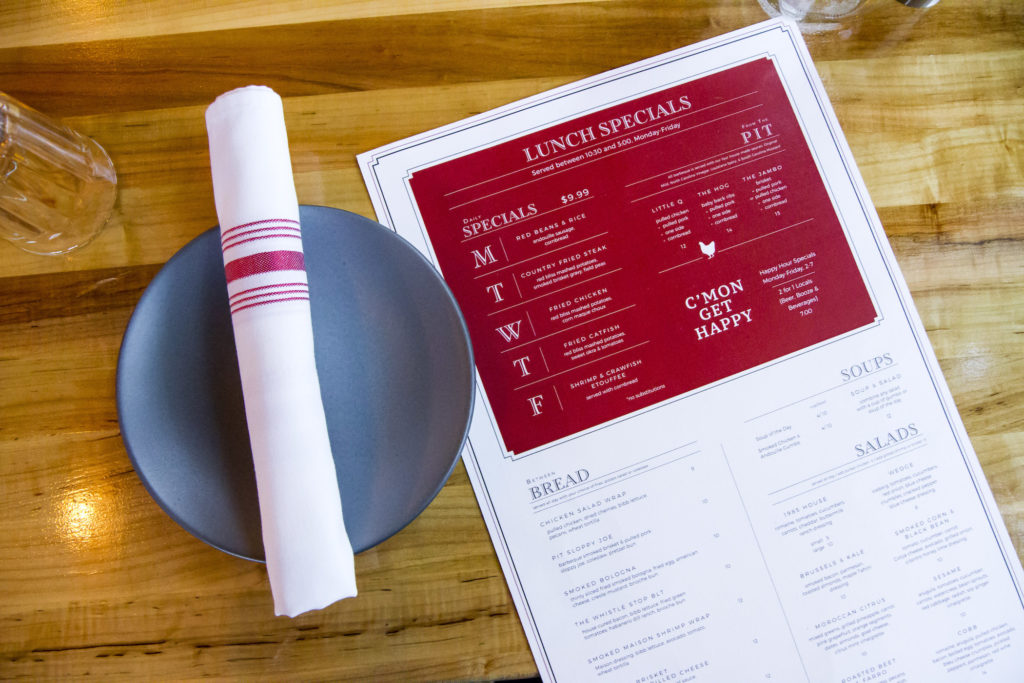 It's clear the team has put a lot of thought into every aspect of the menu and the restaurant space itself, right down to putting a display case near the entrance for whole pies and sweet treats such as chocolate brownies with sea salt and brown-butter rice crispy treats.
The long bar features plenty of stools and a veritable library of liquor, as well as table seating to accommodate the happy hour crowd. Nunez took the lead on the bar front, promising inventive cocktails, daily happy hour specials and flights to highlight breweries and distilleries of the month.
For a restaurant offering up so many options, and factoring that it can seat up to 180 patrons inside, plus a few more on the front porch, this is a huge undertaking. But Ferguson and Nunez seem ready to take on the challenge and showcase everything they have to offer, full-service and full-menu from day one.
"I've opened restaurants in the past where we say, 'Oh, we're just going to do dinner and then we're going to bring lunch later,'" Ferguson says. "What I've been pushing for with these guys is that if you're going to do it, you've got to do it from day one. So really, opening day is no turning back."
And opening day, FYI, is Tuesday, June 6. BRQ will serve lunch 10:30 a.m.-3 p.m. Monday-Friday and dinner until 10 p.m. all week. Brunch will be served 9 a.m.-3 p.m. Saturdays and Sundays. BRQ Seafood and Barbeque is at 10423 Jefferson Highway.