If you've ever found yourself craving a frozen margarita and a Hallelujah Crab at the same time, there's now an answer to your prayers: Adrian's Restaurant & Bar.
The flavors of Juban's have long been at the heart of Baton Rouge, but now the brand is bringing them out to a new part of town with a fresh, casual twist. Joining the brand's other holdings, Beausoleil and Christina's, Adrian's carries over Juban's faves like the Hallelujah Crab, Redfish Adrian and pork belly cassoulet along with its own unique dishes. The menu is broad, featuring more than 65 individual dishes that range from small plates to sandwiches and po-boys to pasta to signature entrees and fresh fish.
"We wanted to bring the flavors that we grew up with as kids, so we have things like the seafood sauce picante, short rib fricassee," says director of operations Scott Callais, who developed the menu. "We wanted to bring the flavors of south Louisiana as far as comfort food is concerned. And we wanted to have it as a family atmosphere, where you could bring family for sandwiches, steaks, seafood, pasta and just all-around comfort food."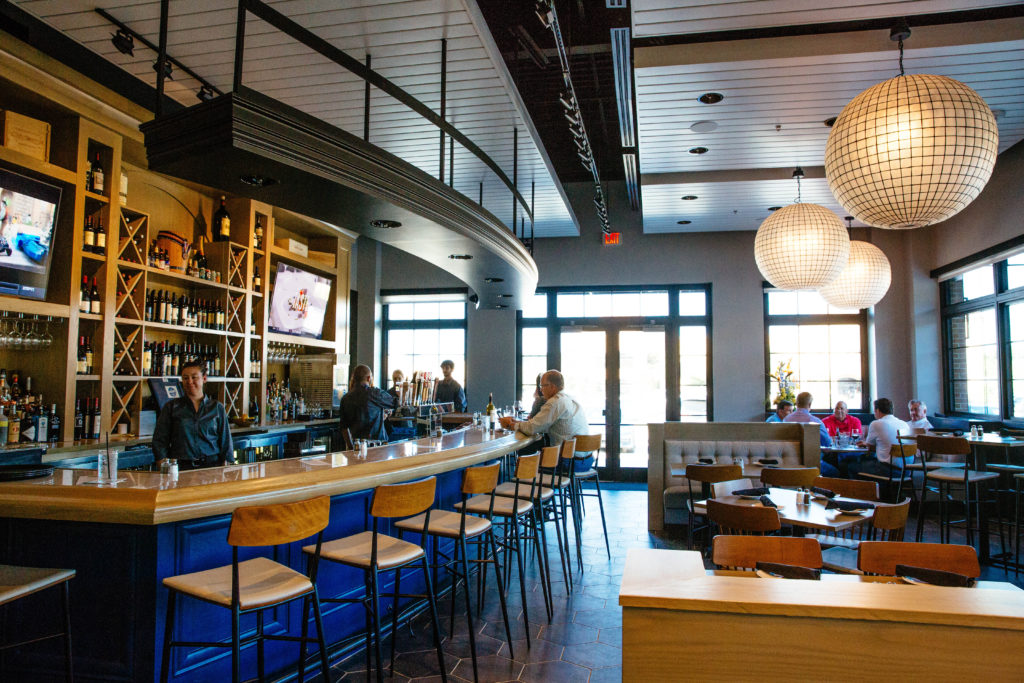 Nestled in one corner of Highland Park Marketplace, the restaurant is strategically located to draw customers from the Country Club of Louisiana, Santa Maria and Bayou Manchac subdivisions, plus a rapidly developing Prairieville. Owner Michael Boudreaux is banking on families, businessmen, older couples and housewives to fill up the expansive warehouse-chic space, which can seat up to 225.
"There's a little bit of everything for everyone," Boudreaux says of Adrian's offerings.
For the refined palate, there's the raw bar, one of the features that sets Adrian's apart from its mother restaurant: a cold bar serving up carpaccio, ceviche, oysters on the half shell and chilled seafood platters. For the barflies, there's the Blue Bar, a full-service bar complete with a machine churning out Adrian's signature beverage, the Honey Bourbon Freeze (the party version of Juban's famous Honey Bourbon). For families, there's plenty of space, including patio seating. For a diner who's just looking for some fresh vibes, there are plenty to be found in the high ceilings, marble countertops and warm tones of the new digs.
For now, Adrian's is only open for dinner service seven days a week, with the bar opening at 3 p.m., the kitchen at 5 p.m. and both closing at 10 p.m. Expect to see expanded hours, including a Sunday brunch, in coming months. Keep up with the restaurant on Facebook, and visit it at 18143 Perkins Road East.