The news brought shrieks of excitement, rapid texts to family and friends, and Facetimes to besties revealing the surprise—Poke Loa had arrived in Baton Rouge.
The New Orleans poke giant, which was the first poke chain to appear in Louisiana, has crafted a tremendous following. That following did not falter on opening day in Baton Rouge. Tables were full as people documented the opening of Poke Loa right outside LSU's North Gates at the College Row shopping center. Phone cameras were busy as guests captured picturesque, hefty bowls of chopped raw fish and toppings, brightly colored drinks and smiling lunch dates.
We're already fans at the 225 office of Baton Rouge's own poke giant, Southfin Southern Poké. So I couldn't help but wonder how would Poke Loa would compare. And while the restaurant clearly made a name for itself in New Orleans, could it do the same here? Would Poke Loa bring something new to the table?
Luckily for all poke lovers, the answer is yes. While Southfin prides itself on Hawaiian-inspired dishes with a Southern twist, Poke Loa sticks to Hawaiian traditions. Poke Loa's authentic toppings include various kinds of tobiko, cilantro and edamame radish. The restaurant's marinades and dressings like sesame oil or wasabi aioli are more subtle.
Cecile Hardy Tanguis, one of the seven owners of Poke Loa, explains that sticking to the basics took a lot of research for the team. After deciding they wanted to bring poke to Louisiana, the group began a poke tour of the West Coast, trying bowls and speaking with chefs to determine what exactly went into authentic poke. They even met with celebrity chef and "King of Poke" Sam Choy to learn about the history and evolution of the dish.
Their research inspired bowls that are as fresh as they are authentic. I began my Poke Loa experience with the restaurant's largest and most popular dish, the King Loa Bowl. The bowl features four heaping scoops of salmon and tuna, cucumbers, crab salad, seaweed salad, three different kinds of tobiko, avocado and lemon miso aioli.
The first thing that hit me was the fantastic texture of the combination. The tender fish, crisp vegetables and crunchy tobiko made every mouthful exciting and left me wanting more. I was also impressed with the freshness of the ingredients. Poke Loa staff hand chops every ingredient daily, and the light and refreshing lemon miso aioli pumped up that freshness in every bite.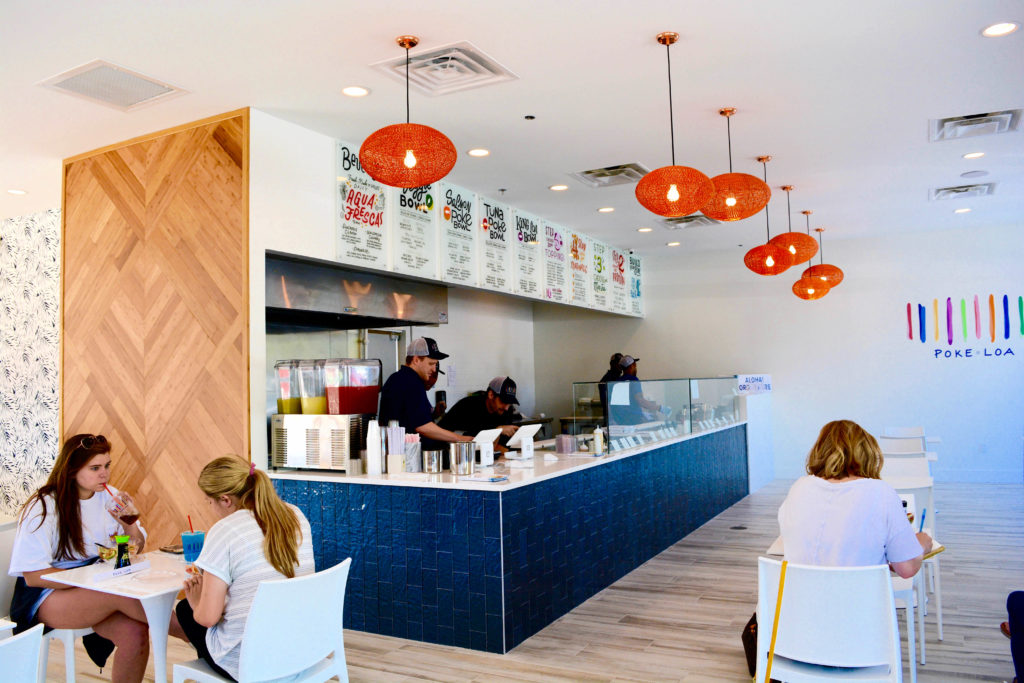 Poke Loa also serves up agua frescas made with real fruit, with flavors like pineapple cilantro and watermelon cucumber. They pair perfectly with the bowls without being overly sweet.
While Poke Loa is serious about the authentic experience, the owners also seem to understand who they are serving in their new location. Making its new home near LSU, the restaurant expects to serve a lot of students and families, and owners have expanded the menu and interior to reflect that. Poke Loa serves up Poke Nachos and Poke Tacos using fried wonton chips for the shell. It's a fun and different way to enjoy the raw sushi. They also plan to add the Pineapple Bar, offering healthy cocktails made with fresh fruit.
For me, at least, Poke Loa lived up to its hype. Its appearance on the Red Stick food scene gives Baton Rougeans another amazing option for poke, while also differentiating itself from the available options.
Poke Loa is at 3260 Highland Road, and open daily, 11 a.m.- 9 p.m.