MJ's Cafe is joining the White Star family. Owner Mary-Brennan Faucheux recently announced the vegan and vegetarian restaurant will be moving to White Star Market in July.
The cafe originally opened in 2011 on Jefferson Highway and has always been focused on creative and delicious plant-based meals. Faucheux says she was approached by White Star Market in May and thought the move would be a great way to reach more people looking for healthier options in Baton Rouge.
Upon deciding to move, the MJ's team has been hard at work revamping the restaurant's menu and adding some new dishes.
Although the menu is not finalized, it is expected to be almost completely vegan and gluten-free, with new dishes like a falafel waffle salad, bowls and more. Faucheux says she wanted to make the transition for those who have allergies or simply want to eat better.
"It allows for a lot of people who either want to be heathier or have dietary restrictions to have something really wonderful," she says. "And they don't have to worry about if they are going to have a reaction."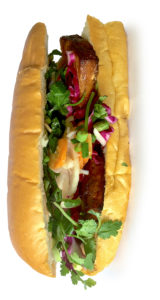 This transition has meant restructuring the MJ's classic lunch menu, as well as creating those new dishes and making some of its regular vegan specials (like its vegan banh mi, we hope) into permanent menu items.
On top of their lunch options, MJ's will be rolling out a completely new breakfast menu with artisan toasts made with vegan and gluten-free bread, a fruit tart with an almond-date crust and a pistachio-matcha filling, and a vegan scramble bowl complete with eggless scrambled eggs and vegan sausage.
Once the restaurant gets settled into the new space, MJ's will also start offering an all-vegan dinner menu on weekends.
But fear not, MJ's loyal fan base: Not everything is changing. Faucheux says the restaurant will still be offering its popular lunch duo of salads, soups and sandwiches. It will also be bring all of its vegan desserts to the new location.
"We have a really great customer base, and we care so much and they care about us," she says. "At the end of the day I could not be happier to know that we have customers that love what we are doing and supporting us no matter where we go."
Faucheux says she wants to teach Baton Rouge that having a vegan option can be delicious and healthy.
"If I can create something that you love, and you are not missing meat at all, then I think I've fulfilled what I am setting out to do," she says.
The new MJ's Cafe location is set to open next to Counterspace BR in the market July 17. The food stall will be open Tuesday-Sunday, 7 a.m.-4 p.m. Once the dinner menu is released, hours will be extended Thursday-Saturday serving 7 a.m.-9 p.m.