When restaurateur Peter Sclafani was developing the dessert menu for his 2-year-old eatery, SoLou, he was thinking about Instagram. He wanted to create a showy interactive dish—the kind begging to be filmed.
"SoLou is about inspired comfort food with a twist, and I don't know anything more comforting than a s'more," Sclafani says. "Then I thought, 'What if we did it at the table? That would be fun.'"
Diners prepare their own s'mores at SoLou courtesy of a tiny, concrete tabletop fire pit and a DIY kit of chocolate and housemade marshmallows and graham crackers. Purple and gold marshmallows are now on offer for football season.
"People love things that are on fire,"  Sclafani says. "They want an experience. The food has to be good, but it also needs to be something you'll share on social media—even better if you can get video."
The recently reimagined Jubans, where Sclafani is also a partner, got into the act with a tableside flambéed dessert last year. Jubans' Chef Chris Motto created a modern version of the classic Cherries Jubilee. Both dark and Bing cherries are flamed in brandy at the table, then poured over vanilla ice cream perched on a housemade blondie.
And when diners see someone ordering an eye-catching dessert, Sclafani says they're inclined to want one, too.
"As soon as the first couple go out," he says, "you see an increase in sales."
Where do you go when you want a little drama with your dessert? Here are a few ideas. makingravingfans.com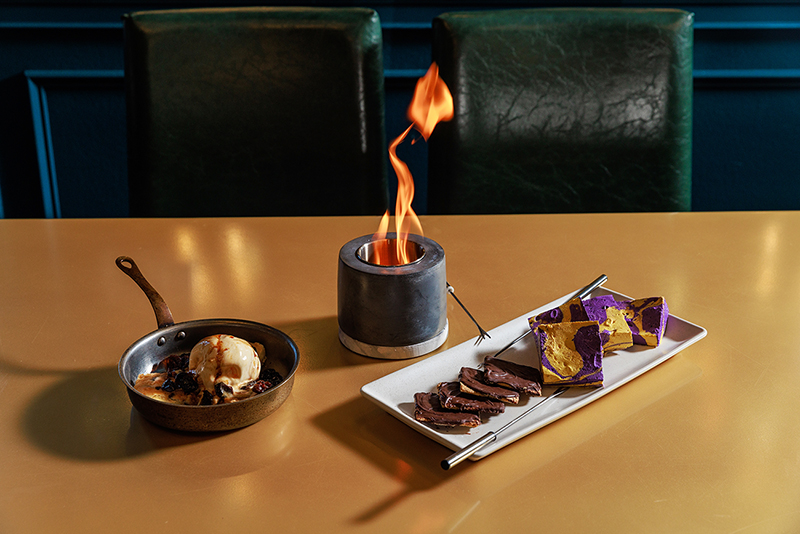 Crème Brulée at Supper Club
By the time you reach the dessert course at the Supper Club, you've already experienced an embarrassment of riches. But why stop now? The crème brulée arrives in a shareable, ceramic tart pan and is placed on a pedestal in the center of the table. With much fanfare, the server lights a propane-powered blowtorch and brulées the dessert's surface to golden brown. Few things are as satisfying as cracking into it with a spoon. supperclubbr.com
---
Bananas Foster at Stab's Prime Steakhouse
Sure, it's been around for decades, but there's something mesmerizing about watching this New Orleans retro classic come to life. Bananas are sauteed in butter and brown sugar at a tableside burner, then doused with rum and set alight. The decadent confection is poured over vanilla ice cream in this notoriously sweet, belt-loosening favorite. stabsprime.com
---
Skillet Cornbread at Cecelia Creole Bistro
Indeed, some folks order this gussied up, cast iron cornbread as an appetizer, but many opt for dessert. Fresh cornbread batter is poured into a cast-iron skillet and brought to the table straight out of the oven. Its intense heat means you'll get plenty of sizzle and smoke as the server pours maple bourbon syrup over the top, creating a memorable, sticky glaze. ceceliabr.com
---
This article was originally published in the October 2023 issue of 225 magazine.