---
A polished concrete bar. Ironwork shelves holding bright carafes of Clase Azul tequila. Vibrant, wall-sized murals. And authentic Mexican fare plated with precision. Welcome to Blue Corn, the year-old restaurant at Perkins Road and Essen Lane that's turning heads and raising the bar on how we enjoy real-deal Mexican cuisine in Baton Rouge.
The restaurant was the longtime dream of local entrepreneur Carlos Salazar, who wanted to introduce the Capital City to the foods of his native central Mexico. On the menu, Salazar features a number of family recipes that he grew up cooking with his mother.
Blue Corn's dishes are both accessible and adventurous. Conservative palates will feel at ease, but intrepid diners excited by something new will have plenty to savor. For example, there's the fresh and tasty nopales gualajillo: citrusy and vegetal cactus sautéed with dried guajillo chiles, onions and cilantro. If you like ceviche, try its culinary sister: aguachile. Blue Corn's take features fresh shrimp cured in lime juice and served in a pool of Clamato, tender onions and mellowed serrano peppers. The chilaquiles rojo with cecina is an addictive shareable that nods to a traditional breakfast dish. A layer of tortilla chips is painted in housemade tomato and serrano salsa and topped with queso fresco and Mexican crema.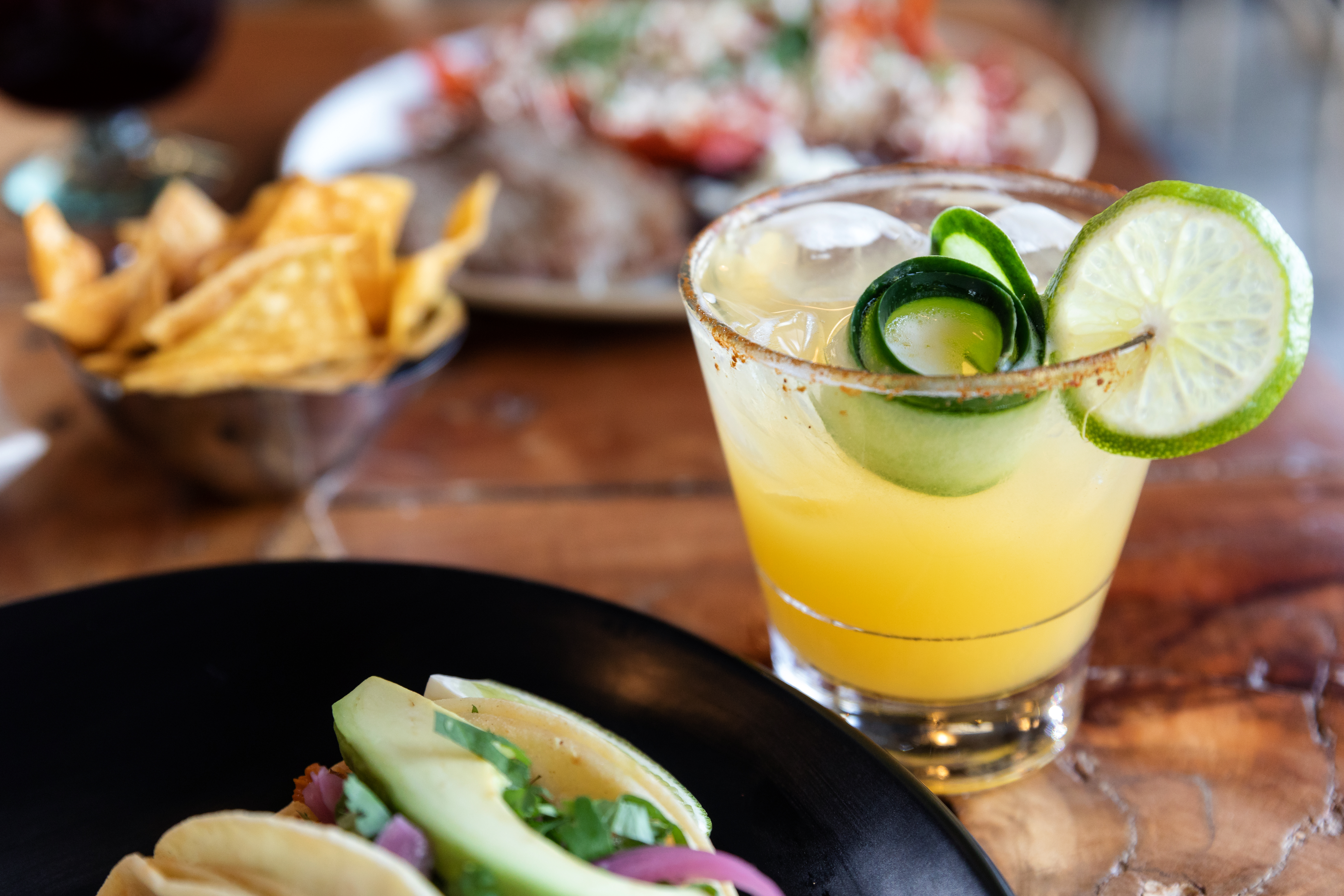 Finally, don't miss the chance to sink your teeth into Blue Corn's taco menu. Faithful fans of tongue, (yes, tongue), will be thrilled to find their beloved lengua tacos here, ever silky and tender and topped simply with chopped onion and cilantro. Other don't-miss options include the cochinita pibil with earthy achiote pulled pork and habanero sauce, and the tinga: roast chicken with queso and chipotle crema.
The bar is more evidence of an elevated experience at Blue Corn. The margaritas and mojitos are housemade and can be tailored to your favorite flavor profiles. The bar menu features a number of mezcal-based craft cocktails, and you can also order tequila flights featuring three shots of more than a dozen different high-end tequilas.
Reception of Blue Corn has been so strong the restaurant is already planning to expand. Opening sometime next year, Blue Corn will be the featured freestanding restaurant at the rear of the Electric Depot development in Mid City.
BLUE CORN TACOS AND TEQUILA
Opened October 2018
7673 Perkins Road
Second location coming soon
bluecornrestaurant.com
---
Click here to head back to our Hot New Restaurants cover story from the December 2019 issue of 225 Magazine.