---
Correction: This article has been updated to correct a typo in the owner's name. It is Jimmy Wetherford, not Timmy. 225 regrets the error.
Louie's is never quiet. In between sips of coffee, the restaurant's student-dominated crowd anxiously babbles about upcoming quizzes and weekend shenanigans. The aroma of bacon is thick in the air.
Things get a little calmer during spring break, when life on the nearby LSU campus comes to a standstill. But even then, Louie's owner Jimmy Wetherford craves the noise. He says it's the diner's customers that have kept it going for the last 82 years.
Just open the menu, and it's clear. Louie's has named quite a few of its famous entreés after its favorite regulars.
An LSU student named Mitch would stop by the diner at 7:30 a.m. before his classes began. He asked for the same off-the-menu omelet nearly every day for a year. Eventually, Wetherford added it to the menu. He dubbed it "The Mitchell." And although Mitch has since moved out of town, he still stops by time and time again to ask for his royalty check.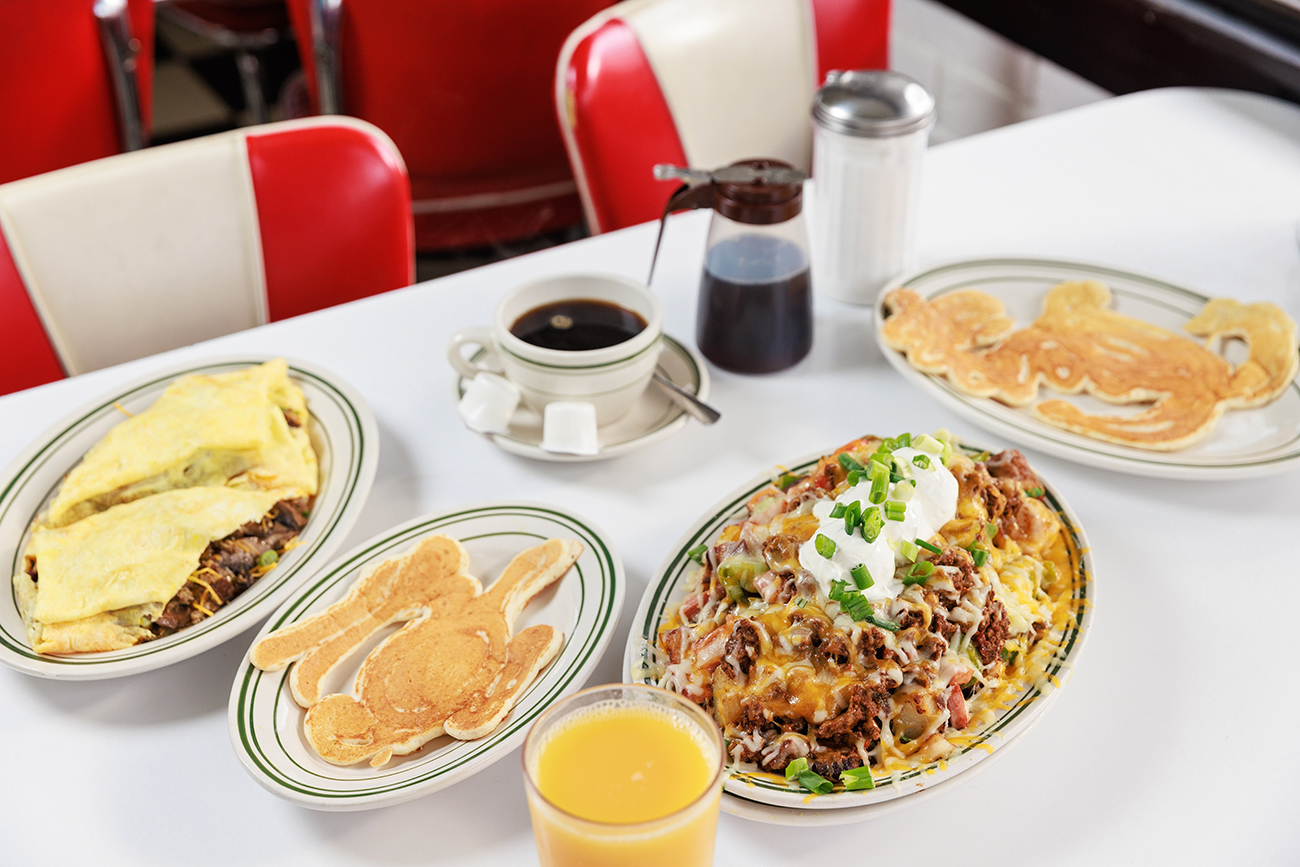 "The Jude" club was named after Louie's once late-night manager. General manager Fred Simonsom says Jude would ask him to cook a sandwich for him when they'd work late nights together. Simonsom would make him a double decker with colby jack. He added it to Louie's latest menu update.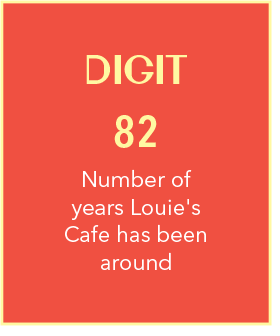 "Everytime one of (The Judes) comes in, I love seeing the ticket." Simonsom says.
Even as the world outside has rapidly changed since 1941, the Louie's staff realized early on that its customers are comforted by the diner's consistency. During its 2014 move to Lake Street, Wetherford says a number of people vocalized skepticism and worry that the restaurant might change its menu, atmosphere and decor. After the short three-day move, Wetherford says guests were pleased to see the same checkered floor, teal-colored walls and ruby red accents. "Y'all did a good job making it feel like Louie's" was the common reaction when guests stepped through doors for the first time, Weatherford says.
The diner's long history began under the name Louie's Dutch Mill. After a 1962 storm blew its windmill sign down, its shortened name stuck.
Wetherford was only 22 years old when he purchased the restaurant. It was 1978, and the original owner, Louie, had passed away.
Wetherford moved Louie's to its State Street location in 1986, where it began its once-beloved 24-hour operation.
Over the years, Louie's has persevered through several hardships. More recently, it adapted to pandemic challenges and managed to never close its doors. This is, however, when its hours were diminished to its current 6:30 a.m. to 2:30 p.m. operations. Now, the cafe is pushing itself and its loyal customers through the inflation crisis. And although its no-frills burgers have been made the same way since opening, Wetherford says he's always tried to keep prices low.
The hard part of operating such a longstanding restaurant, Wetherford says, is simply keeping it going every day.
"You build a building, and the building is there. It's done, it's finished and beautiful," Wetherford says. "You build an omelet and at the end of the day, you have a dirty dish. Then you have to make that omelet all over again. Every day. You gotta have consistency and make it through the trials."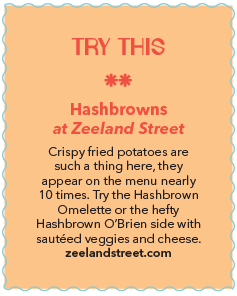 But there's another group that motivates the restaurant as much as its customers: its employees. Wetherford and Simonsom have counted more than four decades worth of LSU students and dedicated local workers on staff. Since its most recent move alone, Louie's has employed well over 1,000 students.
The restaurant's website proudly features many of its members. A rotating gallery shows the smiling faces of Oscar (a cook), Anna (a server), Nyankir (a server) and many more.
Those staff members and customers know they can count on Louie's. Whether it's the fresh eggs from the LSU poultry farm or retro furniture, this 50s throwback-style restaurant has no plans of changing the traits its fans love most.
"The future of Louie's is more of the same." Wetherford says. "That's what it's all about." louiescafe.com
---
This article was originally published in the April 2023 issue of 225 magazine.