This time of year, the banks of the LSU Lakes near Sorority Row are thick with blackberry brambles. Regional public parks hide that culinary gold: chanterelle mushrooms. Roadside patches outside of town hold a bounty of edible plants, including smilax, whose tips taste like asparagus, and thistle, which resembles celery. Oh, and that clover in your backyard the bees love? It makes a really nice tea.
It's an underappreciated fact, but the landscape that surrounds us is lush with wild edible plants. One enthusiast hoping to build awareness is Lauren Hull, a doctoral student in LSU's Department of Geography and Anthropology and the co-founder of the Capital Area Native Plant Society.
While the local foods movement has helped spark interest in foraging for wild edibles, most people lack experience. Hull says there's a societal phenomenon called "plant blindness," or a general tendency to be less aware of plants than animals. People appreciate cultivated shrubs and flowers and backyard vegetables, but knowledge often stops there, despite the long history of plants used as food and medicine.
"There have always been a lot of herbal and medicinal uses for plants, and it's good for people to be able to identify what's out there," Hull says.
Hull teaches occasional workshops on wild edibles, including a session in the recurring LSU Challenge summer camp themed on The Hunger Games.
---
KNOW YOUR EDIBLE PLANTS
Some of the wild edible plants you can find in South Louisiana
---
Hull's friend Katherine Gividen, an avid hiker and chef who lives in Baton Rouge, says the deep appreciation for the outdoors in Louisiana makes the study of wild edibles a natural fit for the state. And once you start noticing them, you'll see edible plants everywhere.
"I stopped on the side of the road this past weekend, and within 100 feet of my car, I saw over a dozen edible plants," Gividen says. "If you enjoy the outdoors, or if you're in a situation where you get lost and might have to forage, it's in your best interest to know what is poisonous and what is not."
Many wild-edibles enthusiasts have attended plant identification sessions given by Charles Allen, a retired biology professor and the co-author of Edible Plants of the Gulf South. Allen is a regular speaker at the Eat Local Challenge, an annual event held in New Orleans in June.
"People are overwhelmed by how many edible plants there are in the region," Allen says. "They say, 'You mean I can eat those things I've been mowing over all this time?'"
Arguably the most desirable subset of the wild-edibles world is wild fungi, or mushrooms. Cooks love the idea of finding them fresh in the wild to avoid their hefty retail price tag.
LSU doctoral candidate in English Logan Wiedenfeld is a self-taught mushroom hunter in Baton Rouge who says he explores local parks and wooded areas for chanterelles and other varieties of edible fungi. They're commonly found under oaks and hardwoods after rains in the spring and fall.
"I'm very much a humble forager, and I have a lot of respect and fear of the kingdom of fungi," Wiedenfeld says.
Wiedenfeld, a lifelong outdoor enthusiast who grew up in southeast Texas, knew about oyster mushrooms, which grow along cypress stumps in bayous. He started studying mushrooms online and began hiking with a fungi field guide.
He says it's not unusual for him to come home with four to five pounds of chanterelles after a day out.
As for poisonous mushrooms, Wiedenfeld acknowledges they're out there, but he says he knows how to spot them.
"Around here," he says, "venomous snakes are more common than poisonous mushrooms."
---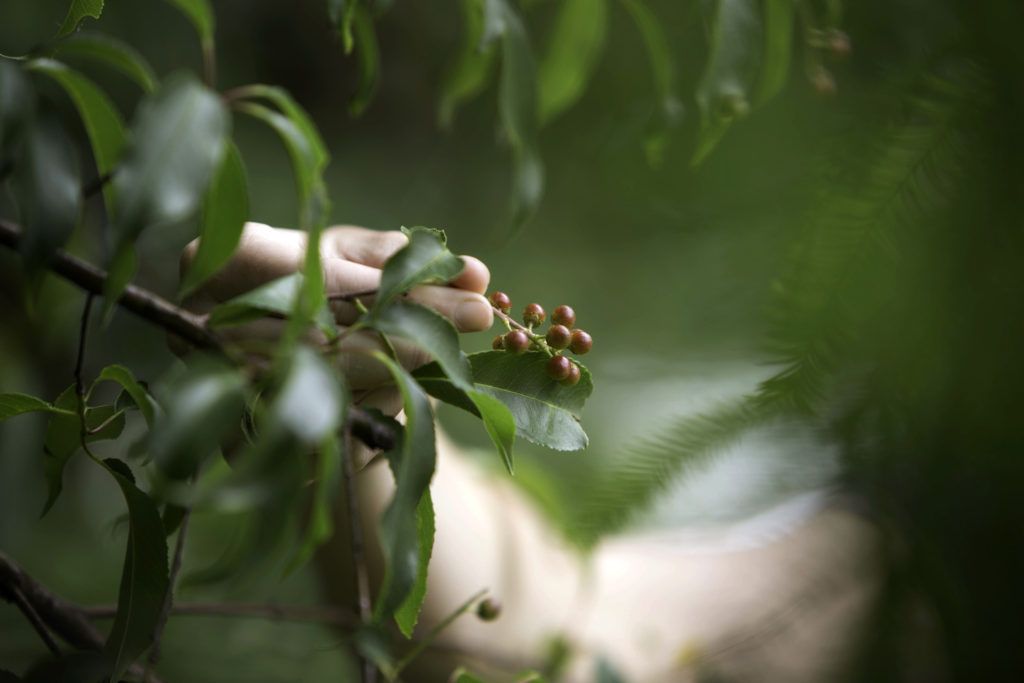 Local resources
Dr. Charles Allen's Native Ventures
Walks led by Allen, a retired biology professor and co-author of Edible Plants of the Gulf South
5070 Highway 399, Pitkin, Louisiana, 337-328-2252
nativeventures.net
Capital Area Native Plant Society
Official local chapter of the Louisiana Native Plant Society
canps.weebly.com
Gulf States Mycological Society, Inc.
Resource on how to identify and enjoy regional edible fungi (mushrooms)
gsmyco.org
Hilltop Arboretum's Discover Nature Program
"Can't beat them weeds, eat them!" Katherine Gividen, chef and president of the Greater Baton Rouge Master Naturalist Program, will feature a workshop on identifying and using wild native plants in recipes and teas. July 26, 6:30 p.m. lsu.edu/hilltop