---
About 225's food critic: Benjamin Leger previously served as managing editor for 225 and was the editor of its Taste section from 2012 to 2021, editing, writing and steering the direction of its food coverage in print and online. He is passionate about all things food and food journalism, and has written about the greater Baton Rouge area's cuisine and culture for nearly two decades.
---
THE BASICS: Tony Bui opened Pho 97 in October 2022 near the intersection of George O'Neal Road and Jones Creek Road. A lot of work went into creating an ethereal and inviting interior, but the real draw is the Vietnamese cuisine and colorful drinks.
WHAT'S A MUST: You can't go wrong with a bowl of pho, but if you want to stretch your understanding of Vietnamese soups, try the Hue Style Hot and Spicy Beef Soup or the Pho 97, where you add your desired meats (some still raw) and toppings to a clay bowl of boiling broth.

Vietnamese cuisine always hits the spot for me. It triggers all the right pleasure receptors in my brain. Meats marinated in salty-savory-sweet spices, the punch of lime, fresh Thai basil and cilantro, the pungent kick of fish sauce.
So when a new place like Pho 97 opens up, I'm eager to try it and see if it will join my shortlist of go-to Vietnamese restaurants in town.
Launched in October 2022, Pho 97 made a splash with its attention-grabbing interior. Twinkling lights and plants dangle from the ceiling, giving the feeling of nighttime in a garden. Backdrops with neon signs are clearly made for an Instagrammable moment.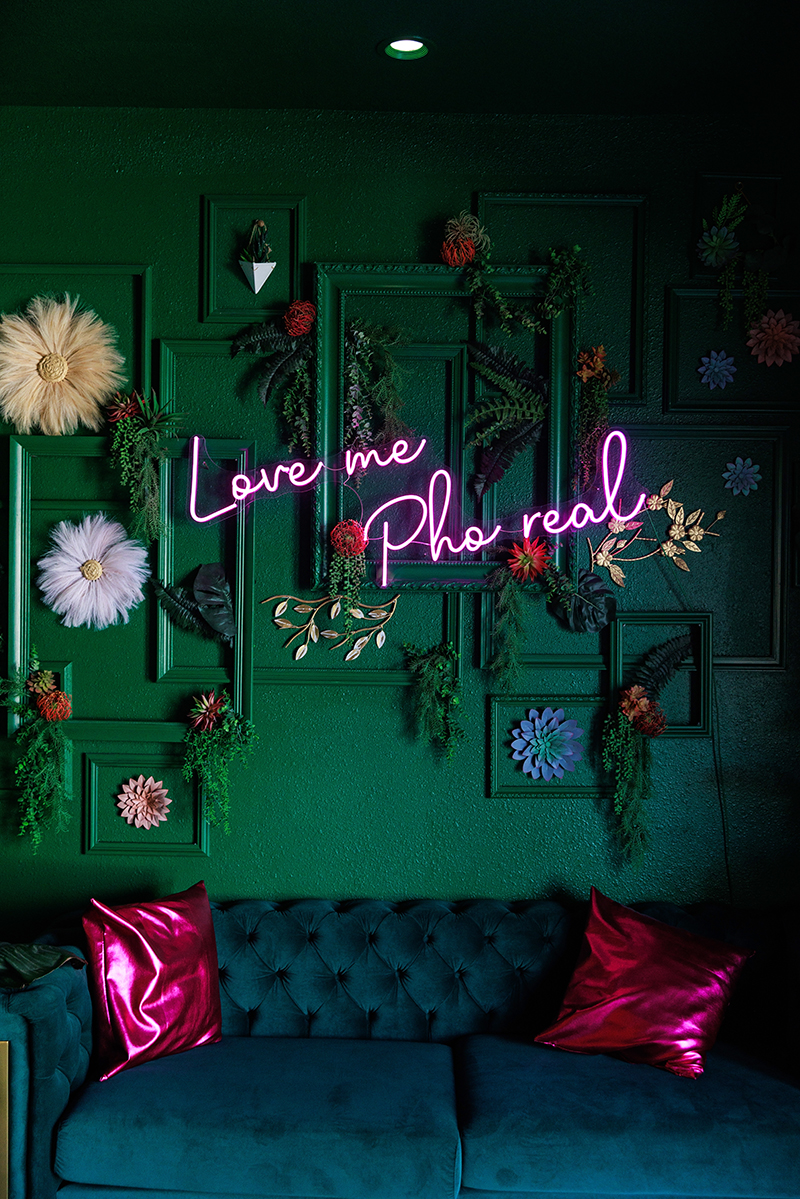 From what I'd seen on social media, the dishes seemed equally colorful. I stopped in one Thursday night with friends to give it a try.
We noticed the pink-lit bar at the back of the restaurant, and once seated, our server gave us a small cocktail menu. Intrigued, we ordered a Sakitini and gin-based Saigon Sunset cocktail to enjoy while we browsed the food menu.
When the drinks arrived, we ogled at how colorful they were, with cute umbrellas and skewered lychee. But the taste was so sweet it was practically a dessert.
We also ordered the non-alcoholic Pink Lychee drink, which was huge and also very sweet, though its citrusy notes made it more refreshing than saccharine.
With all that sugar, we needed salty foods fast, so we ordered the BBQ Pork Rolls. The rolls were large, warm and filled with flavorful, thinly sliced pork. The peanut sauce on the side was fairly standard, but we enjoyed the plate. Spring rolls are hard to mess up.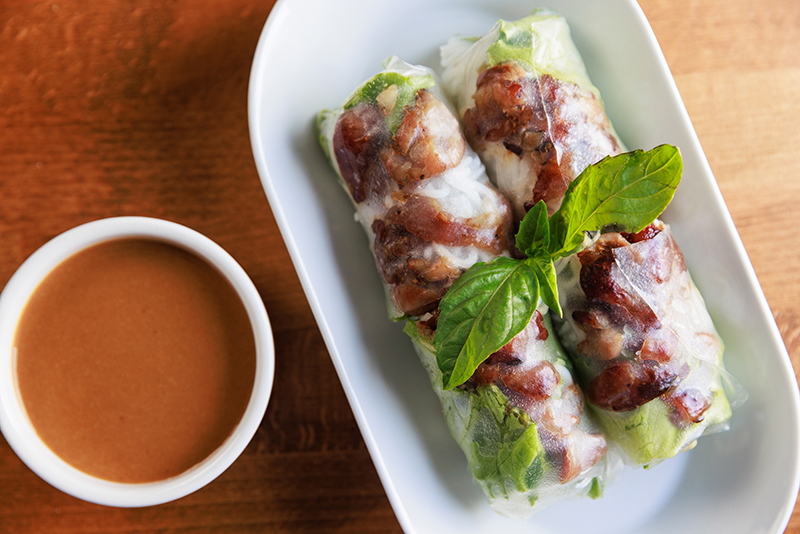 When it came to entrees, our aim was to think outside the pho box—and Pho 97 seems to have shared that same thought, with a lot of options that set it apart.
First up was the Lemongrass Chicken Vermicelli Bowl. I've seen lemongrass tofu on menus around town, but rarely this. Sitting on a bed of cold noodles, chopped romaine and bean sprouts, the chicken was sauteed in a fragrant and tasty lemongrass-infused marinade along with onions and topped with crunchy bits of peanuts and sliced scallions.
The overall flavor was bright and satisfying, but the accompanying sweet/sour fish sauce was unnecessary as there was already quite a bit of peanutty sauce at the bottom of the bowl.
Next was the Hue Style Hot and Spicy Beef Soup, known as Bún bò Huê, which owner Tony Bui described to 225 last fall as a "flavor explosion." The orangey-red broth was deep, slightly oily and peppery-spicy on the back end. Tender flank steak and a hunk of oxtail added more flavor, while thinly sliced onion and scallions offered vegetal contrast.
Still, the most memorable element of the meal was yet to come in the restaurant's eponymous Pho 97 hot pot special.
This beef soup was a showstopper, arriving at the table in two parts: first, a platter arranged with raw and cooked meats and noodles followed by a giant, heavy clay bowl filled with boiling-hot broth that continued to bubble after it arrived.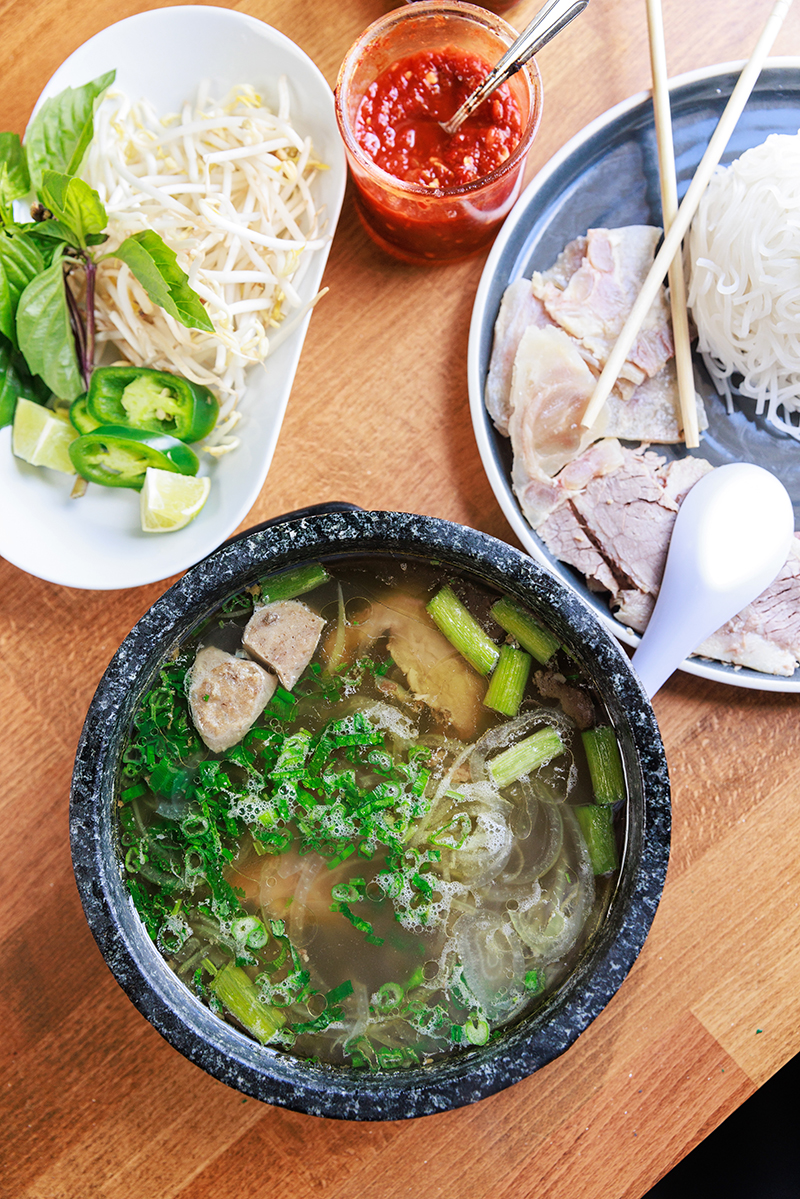 The meats were nearly overwhelming: raw and thinly sliced eye-round steak, tender slabs of brisket and thinly sliced and almost transparent tendon sat on the platter. Hidden in the broth were beef meatballs as well as a huge hunk of oxtail.
I tend to stick with the eye-round steak and brisket in my pho, but the oxtail was a pleasant surprise. I skipped around its fatty parts in favor of the delicious little morsels of meat that were akin to stew meat.
The broth itself was pale like a pho broth but oily and salty—to the point that I reached for every available lime wedge to cut through the savoriness. The accompaniments of Thai basil, bean sprouts and purple cabbage added crunch and contrast.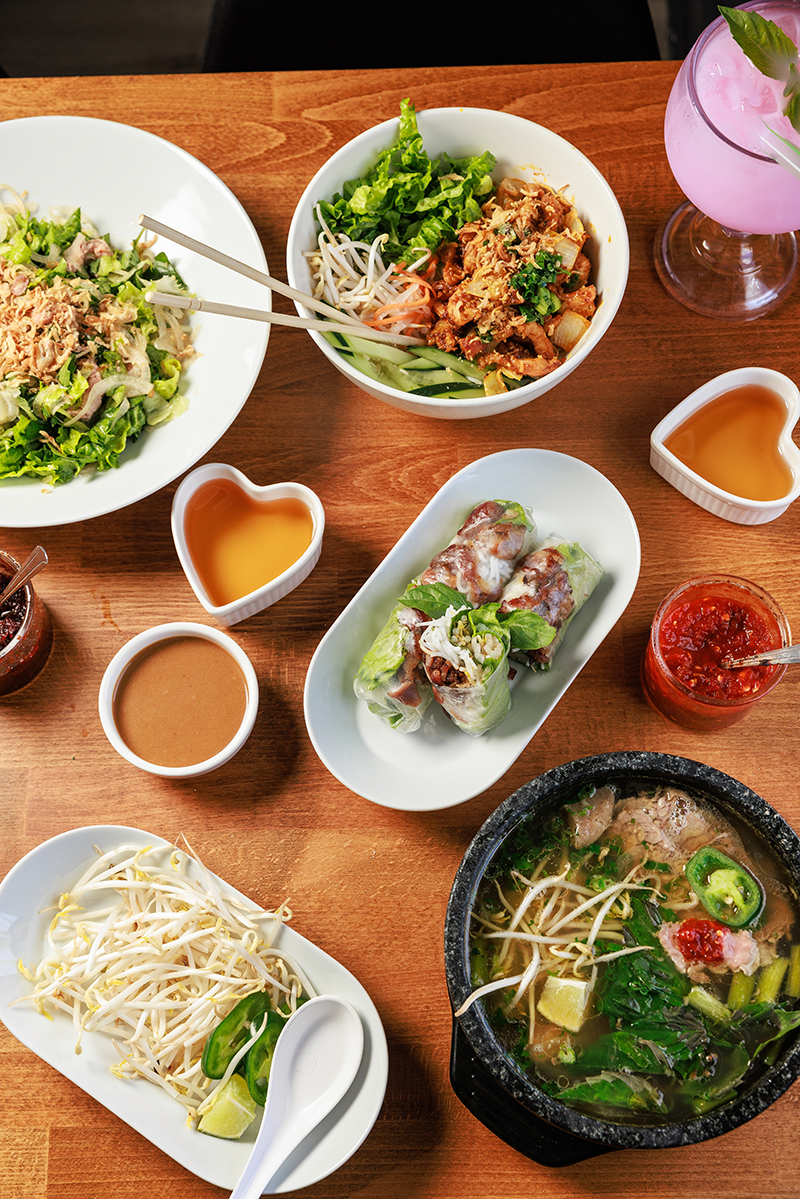 In the end, I found myself thankful for that Pink Lychee drink as a sweet palate cleanser after such a meaty meal.
The portions were large enough for multiple to-go containers, and we all left satisfied, though maybe a little regretful of the amount of red meat consumed. But there are worse things to regret, and there are lots of other options on the menu if you'd prefer chicken, shrimp or veggies in your meal.
I'll likely find myself back here to try some of them.

ALL THE MEATS
A guide to some of the proteins you might encounter in Vietnamese soups
---
Eye-round steak: Thinly sliced, lean meat that can come raw on the side to cook in the hot broth.
Brisket: Similar to barbecue style, this cut is a little thicker and has fat running across the top edge.
Flank: Cut from near the hind quarters, flank is more fatty, making it chewier than other cuts.
Tendon: A tough cut from the shank, it's boiled to make it easier to slice. Once added to soup, it's nearly see-through with a gelatinous texture.
Oxtail: Refers to crosswise cuts of a cow's tail. With the bone and marrow still intact, it's stewed beforehand so the meat and fat practically fall off.
Tripe: The lining of beef stomach, cut into long, white strands that have a spongy texture. Like tofu, it tends to absorb flavors.
Meatball: Often made from the shank with tendon and cartilage, the meatballs are dense and chewy and often cut into smaller chunks.

Tuesday-Thursday,
10:30-2:30 p.m. and 5-9 p.m.
Friday-Saturday,
10:30 a.m.-10:30 p.m.
Sunday, 10 a.m.-7 p.m.
---
This article was originally published in the April 2023 issue of 225 magazine.