---
Though we may be a ways away from Kentucky, Baton Rouge is inarguably a home to bourbon—and bourbon lovers.
The Bourbon Society of Baton Rouge, founded in 2015, is an almost 900 member-strong network of both amateur and adept aficionados of the sweet brown spirit. Members enjoy access to specialty bourbon releases and events like tastings, distillery tours and lots more.
One favorite tasting event among members is the "sample share," where the society purchases specialty whiskeys straight from distilleries and portions them into 1-ounce sample bottles, which members purchase for a modest price and drink together in a virtual gathering where they share their takes on the selected spirit.
As for the "more," this past month the Bourbon Society hosted a crawfish boil, complete with mint julep and bourbon lemonade refreshments, and a "Pre-Derby Ladies Night," where female members were invited out to Painting and Pinot on Perkins Road to sip complimentary cocktails, learn about the bourbon-infused tradition of the Kentucky Derby and design and assemble their own derby-style fascinator hats.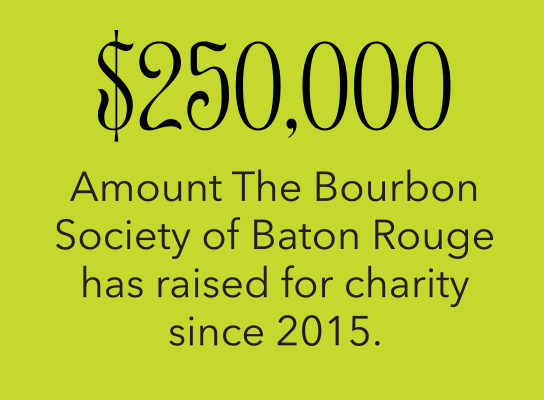 And while the society's vast membership first coalesced around such events and the simple desire to "hang out and talk about whiskey"—in the words of founder David Steele—its purpose quickly evolved.
"I wanted to try to do something more than just drinking bourbon," Steele says. "And, doing these clubs, these events, I recognized that everyone else felt the same way."
In May 2019, what started as a casual drinking club was incorporated into a 501(c)(7) organization, and the Bourbon Society of Baton Rouge took up the mission that has since become its primary directive: giving back.
Since its incorporation, the society has partnered with numerous charities like Toys for Tots and, more recently, Alzheimer's Services of the Capital Area, which was the sole recipient of proceeds from last fall's Louisiana Bourbon Festival—and will be again for the 2022 event.
"There are a lot of drinking clubs out there," says vice president Dorothy Kemp, "but I think you'd be hard pressed to find one that's so focused on giving back to the community and having a great time."
Collectively, the society's charitable endeavors have yielded about $250,000. Much of that comes from its specialty bourbon raffles, in which members enter for the chance to win such coveted whiskeys as the Pappy Van Winkle 15-year and 10-year Bourbons and Willett purple-top bourbons, many of which are "truly impossible to find unless you win (them) at a raffle," Steele says. The charities get money, the members get to help and a lucky winner gets an exquisite bottle—or, sometimes, a barrel—of whiskey. Everybody wins.
One particularly exquisite barrel comes from the society's annual "Screw Cancer" raffle. Steele, who lost his father to cancer, takes the disease seriously. Each year, the society receives a specialty barrel of bourbon from a partnering distillery and puts it up for raffle. This year's barrel comes from Midwest Grain Products distillery, and Steele says the whiskey is being finished in unique casques designed especially for the raffle. More details on the 2022 Screw Cancer barrel raffle will be announced in June.

SAVE THE DATE
2022 Louisiana Bourbon Festival 
Nov. 12, 2022
Renaissance Hotel
7000 Bluebonnet Blvd.
Everything the Bourbon Society of Baton Rouge focuses on culminates in the annual Louisiana Bourbon Festival. On a fall day, diehard members and curious outsiders alike will get to come together to celebrate the organization's dual-pronged M.O.: bourbon and charity. The event features educational seminars, guest speakers and the main event: a grand tasting. All proceeds go to Alzheimer's Services of the Capital Area.
The 2022 Bourbon Festival is still in the planning phase, but Kemp and Steele insist it will be the biggest one yet. With the 2021 festival having been forced into the virtual realm thanks to COVID-19, the two say they can't wait to debut a proper, full-fledged Louisiana Bourbon Festival.
Beyond that, Kemp and Steele say the goal is simple: Keep finding unique delicious bourbons to share with their members, and keep raising money for local charities:"We're ready for more parties, more fun and giving more back to the community."
---
This article was originally published in the May 2022 issue of 225 magazine.