About 225's food critic: Benjamin Leger previously served as managing editor for 225 and was the editor of its Taste section from 2012 to 2021, editing, writing and steering the direction of its food coverage in print and online. He is passionate about all things food and food journalism, and has written about the greater Baton Rouge area's cuisine and culture for nearly two decades.

THE BASICS: Bistro Italia began in 2014 on Coursey Boulevard under New Jersey-born Jon Wilkinson, who aimed to share his family's style of Italian cooking handed down for generations. Its menu is loaded with classic pizza, pasta and sandwiches, as well as some unique takes on egg rolls and quesadillas.
WHAT'S A MUST: Start with the Focaccia Bread and Bistro Salad for some cheesy goodness and a veggie course laden in Sensation dressing. Then, dive into the carbs with one of the 10 pizza options (you can build your own, too) or a classic pasta dish. Our table swooned over the Eggplant Meatball Rollatini: meatballs wrapped in thinly sliced and breaded eggplant, stuffed with ricotta and served atop spaghetti and marinara.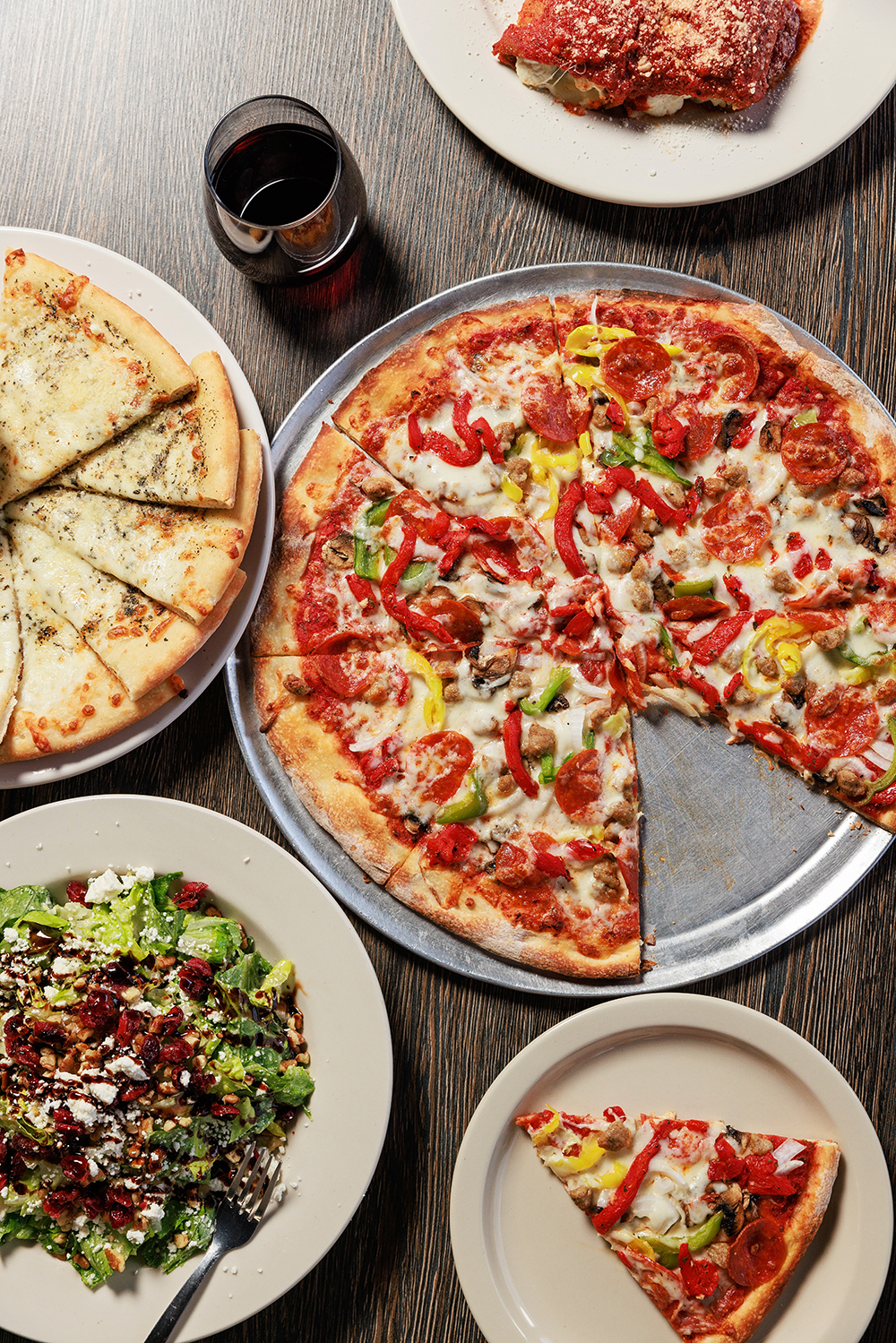 You know those tall, translucent red Coca-Cola cups? The kind you might find in a burger joint, a counter-service diner or—in this case—a hole-in-the-wall Italian eatery? Something about them tells me I'm going to leave a restaurant extremely full and extremely satisfied.
That was the case at Bistro Italia.
This easy-to-overlook spot on Coursey Boulevard draws in locals for the casual atmosphere and reliable pizzas and pastas. Its owners come from a New Jersey Italian family, and it shows in the menu. There are some modern surprises as well, like Italian-style egg rolls and quesadillas.
I stopped in one Tuesday evening with the intent of leaning into those classic Italian-American favorites.
First, I had to find parking. Bistro Italia is one of three businesses in a small shopping center, and nearly all its parking spots were taken. Inside, the restaurant was bustling.
Our server even commented that it was unusual for a Tuesday night, but he could have fooled me. Tables of families and older customers all seemed like regulars.
Once seated, with red Coca-Cola cups in hand, we dove into the menu.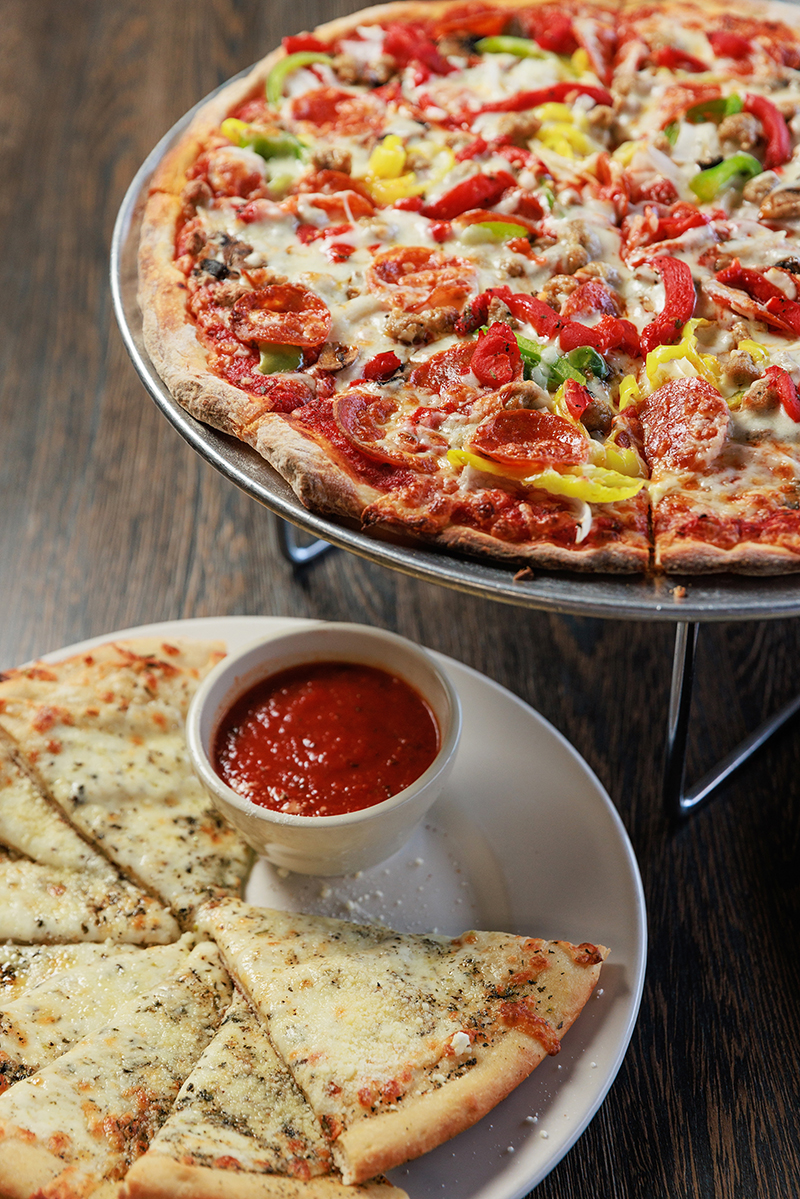 First up, we ordered the Focaccia Bread and the Bistro Salad. The salad arrived quickly: ribbons of romaine leaves topped with feta, dried cranberries and bits of pecan. It was all tossed in a homemade Sensation dressing that, while not super lemony, was garlicky and tasty. The menu said the salad would be drizzled with a balsamic glaze as well, but I asked for it on the side. I was glad I did. It was a sticky, balsamic syrup that would have overwhelmed everything.
There are glowing reviews online of the Focaccia Bread, and they are correct. This appetizer was huge, basically a cheese pizza smeared with a garlic-herb topping that was not too oily or buttery. A side of marinara with noticeable slices of garlic added a nice contrast. Overall, this was a simple, craveable treat.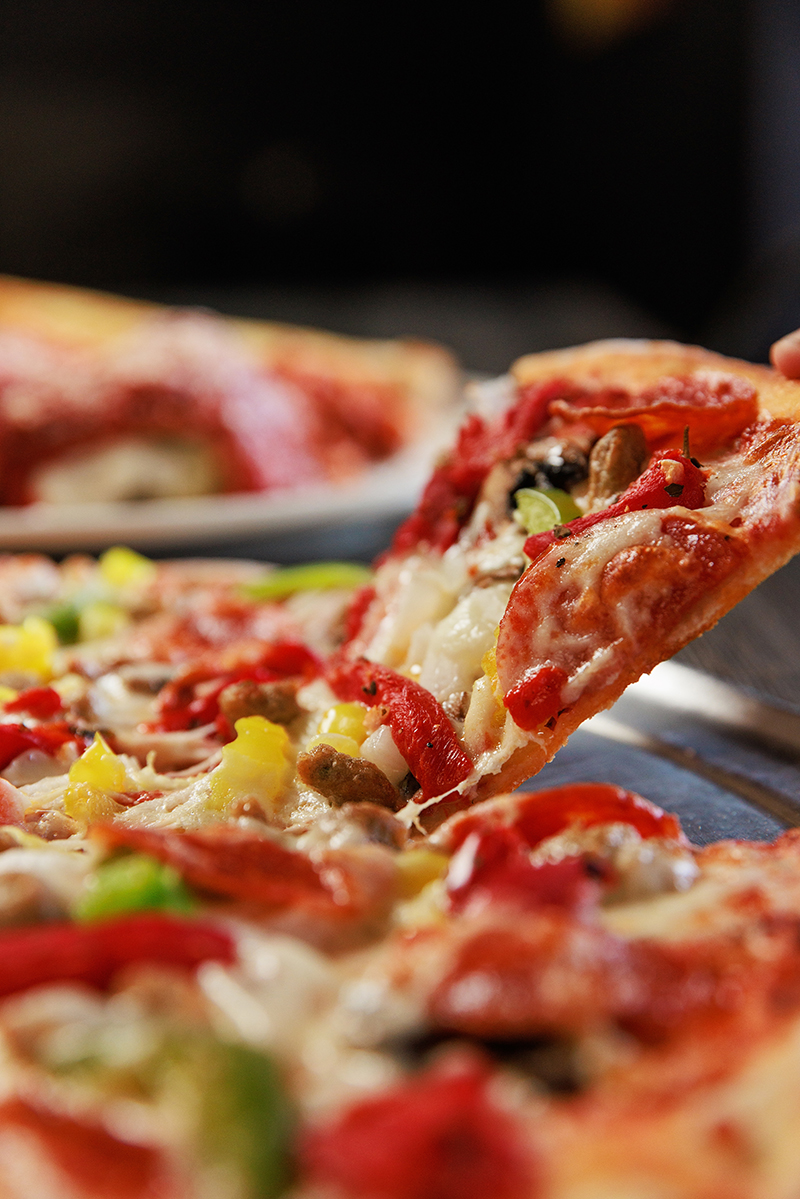 For entrees, we knew we wanted pizza and pasta. But we also knew how carb heavy this meal was about to be. Diners can order pizzas as a 10-inch or 16-inch pie, so we opted for the smaller of the two.
When it arrived, I realized it was actually smaller than the Focaccia appetizer. I thought it was just the right size for one person—or two people who were also anticipating pasta.
Of the 10 pizza options, we ordered the Primo Pizza, which features pepperoni, sausage, mushrooms, bell peppers, banana peppers, roasted red peppers and onions.
The crust was crunchy on the edges and on the thinner side beneath the toppings, but still held its shape. The ingredients were all spot on. Although I wished the veggies had been cooked more—the peppers, for instance, could have been more thoroughly roasted. But overall, it was a respectable and satisfying pizza.
Finally, it was time for pasta.
I had waffled between some of the classic, tried-and-true pasta dishes. But I was immediately drawn to the description of the Eggplant Meatball Rollatini: thin slices of eggplant breaded and slathered with ricotta, then rolled over meatballs, baked and served atop spaghetti.
It felt homey and comforting—like a New Jersey grandmother would make in her kitchen on special occasions.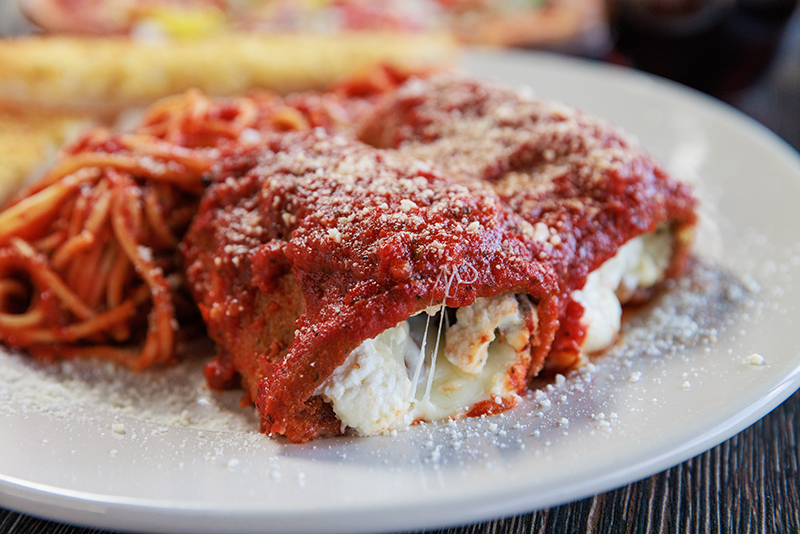 It turned out to be the winner of this Italian dinner. The rollatini were like two overstuffed logs on a hill of spaghetti and marinara. The eggplant was sliced so thinly I often wondered if there was anything between the breading—but I was never mad about it. The ricotta was creamy and herby, and the meatballs were tender and flavorful.
I almost forgot about the spaghetti and marinara, and the side of garlic bread was actually too much to consume.
Early on in the meal, I heard a woman at a table near us pleasantly remark to her friend that the portion sizes were "soooo much!"
I agree with her on that sentiment—and my table was all the happier for it.
This is the kind of easy and satisfying Italian cuisine we all crave every once in a while. It's something you'd imagine your fictional Italian grandmother making on weekends. No frills, not super elevated, but delicious and made with love.

Tuesday-Friday,
11 a.m.-2 p.m. and 5-9 p.m.
Saturday, 11 a.m.-9 p.m.
---
This article was originally published in the August 2023 issue of 225 magazine.