---
Any way you slice it, there's always a delicious way to enjoy a bagel. Smother them with a creamy schmear, or pile them high with smoked salmon and capers. They're good toasted and served on their own or slathered with butter or jams, and they provide a sturdy vessel for cheesy, eggy breakfast sandwiches.
Though store-bought bagels are a popular, early morning treat, bagels are a little rarer on Baton Rouge restaurant menus. We tracked down a few local spots serving up freshly baked bagels by the dozens or crafting up bagel-centric dishes. Some make them fresh and focus their whole menu around this dough ring, while others source quality bagels as the bookends to a unique sandwich or as the perfect pairing to a steaming tea or coffee. Here's where to savor the beauty of the bagel.


Simple Joe Cafe
This Government Street breakfast spot's Smoked Salmon Bagel starts with a bagel of your choice that is toasted, sliced open and covered in cream cheese blended with a homemade herb mix. The cheesy bagel is then topped with smoked salmon and sprinkled with freshly fried capers and red onion. The sandwich is served open-faced so diners can see all the goodness the bagel supports. simplejoecafe.biz
---
Coffee Joy
Bagels go well with coffee, and local shop Coffee Joy keeps these New York-style treats stocked. Blueberry, sesame and everything bagels are offered toasted or made into a sandwich. coffeejoy.com
---
Milford's on Third
This New York-style deli shop is branded with a bit of Southern flair, thanks to its home inside downtown's stylish Watermark Hotel. It's open bright and early for a grab-and-go or sit-down breakfast. Bagels are served as packed sandwiches or offered classically with a schmear in a variety of flavors like lemon dill and strawberry. milfordsonthird.com
---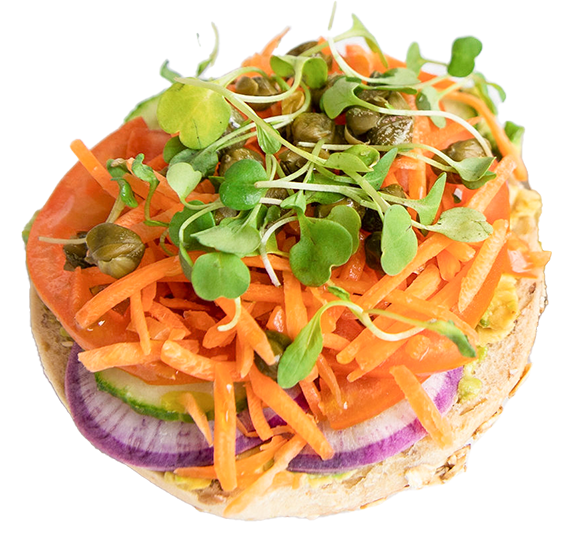 Mulberry Market
This new specialty grocery store sources its items from all over the world, with its bagels coming from New York wholesaler Davidovich Bakery. These Manhattan delicacies come half baked and finish cooking in store for optimal freshness. Choose from a variety of flavors like blueberry, Asiago, seven-wheat and more. Order them slathered with a housemade schmear or as a sandwich loaded with ingredients like turkey, salmon or veggies. Find it on Instagram at @mulberrymarketbr
---
New York Bagel
Around since 1996, this local purveyor of fresh, homemade bagels boasts three locations around town (plus a separate location on Jefferson Highway under different ownership). Though each shop is a little different from the next, they each prove it's possible to find fresh bagels without booking a trip to the Big Apple. Its breakfast breads are offered toasted with a generous heaping of cream cheese or made into hot sandwiches with fillings like egg, bacon, cheese and sausage. Each order is served up with a side of, yes, more bagels, in the form of crispy chips made from the shop's scraps. The chips are paired with a cup of homemade cream cheese for dipping. facebook.com/nybLee and nybjefferson.com
---
This article was originally published in the April 2023 issue of 225 magazine.