---
THE BASICS: In summer 2022, Mid Tap owners Rick and Needhi Patel brought their self-serve beer tap concept to Mid City, opening on Government Street in the former White Star Market location. But the new Tap 65 distinguishes itself from the sports bar vibes of the original Mid Tap, now with reimagined Indian dishes to pair with all the pours. 
WHAT'S A MUST: The Indian Street Food Board is a good entry point if you're unfamiliar with Indian cuisine, featuring a sampling of most of the appetizers on the menu. The Butter Chicken is a comforting and rich dish served with toasty naan. If you're wanting to expand your palate, try the Rogan Gosh with hearty, stewed goat meat. And if ordered on the side or as part of an entree, you'll be pleasantly surprised with the addictive and spicy peri-peri fries.

Indian fusion is something Baton Rouge really hasn't seen before. Traditional Indian cooking has long been part of the local food scene at much-loved restaurants like Bay Leaf and India's or under-the-radar spots like Curry N Kabab and Swagat. 
But it's been high time for a new spin—something that could appeal to a younger crowd with interesting twists on global flavors.
Enter Tap 65 in the sneakiest of ways. It draws you in with a self-serve tap concept featuring 65 pulls of mostly beers, plus seltzers and wine. 
But when you're in the mood for some food to go with all those IPAs and sours, don't expect to find the classic American bar snacks served at Mid Tap, its sister restaurant near LSU.
Instead, the menu here features chutneys, roti, papadum, curry and even goat (more on that last one later). And if that's a little too adventurous for the beer-drinking crowd, Tap 65 eases them in with some addictive peri-peri fries or a spicy short rib sandwich with crispy naan standing in for the bun.
"Ease" definitely seems to be the vibe at this new Mid City hangout, with its fun and stylish decor that's ready for the 'Gram without being over the top.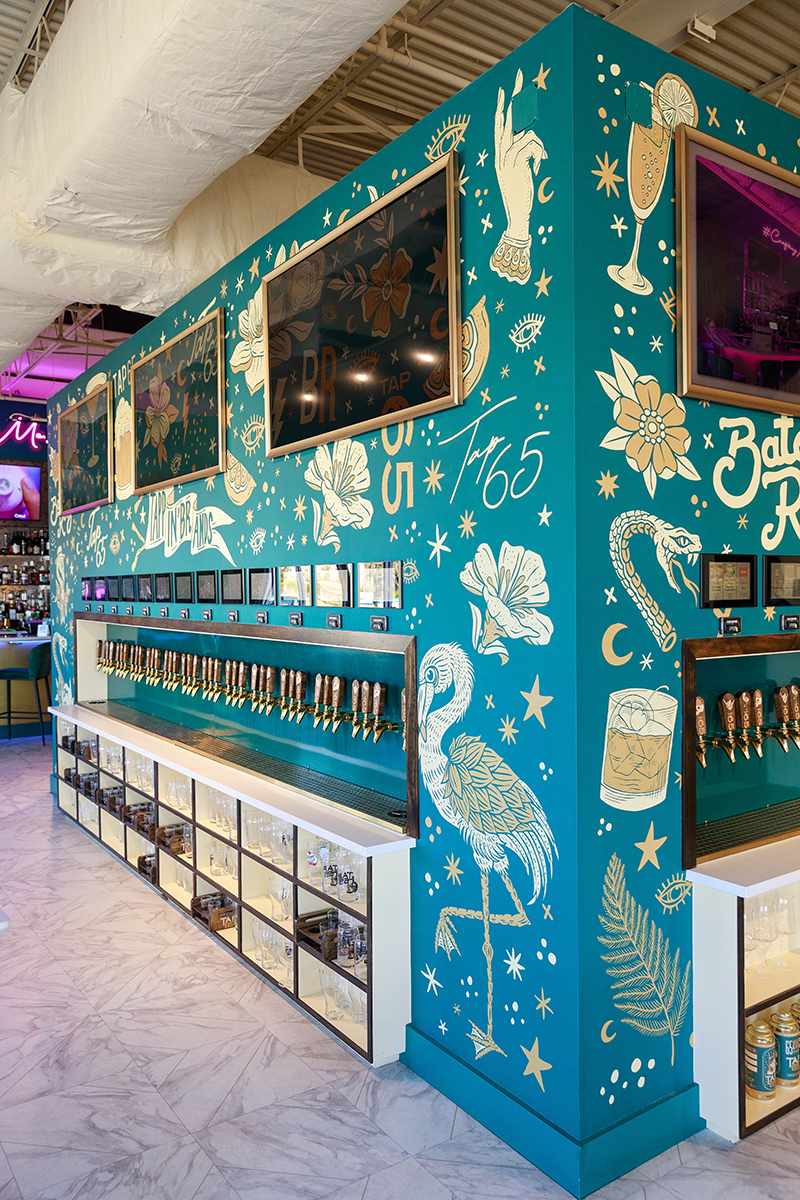 ---
I'd been to Tap 65 for drinks not long after it opened this summer. I thought the cocktail bar's menu was just as fun to explore as the beer taps, with ingredients like hibiscus tea, rose water and ancho chili liqueur. 
So when I met some friends on the patio one fall afternoon, I was excited to delve into what the kitchen was cooking up next. We started the meal in the best way possible: with the Indian Street Food Board. It's essentially a sampler of most of the menu's appetizers, plus a few other snacks. 
A standout was the Vada Pav, two large potato wedges wrapped in dough, deep fried and then drizzled with a light green chutney. Its texture was perfect, with a crisp batter giving way to a tender interior spiced with bright yellow turmeric. I wanted more.
The Pani Puri and Dahi Puri offered two takes on crispy fried puff balls stuffed with potatoes and other ingredients, like tomatoes, onions and chickpeas. They were paired with sweet and punchy toppings (the Pani Puri with blueberries and microgreens, plus cilantro-mint water for drizzling, and the Dahi Puri with brilliantly hued beet curd and crunchy chickpea noodles on top).  
But the potato stuffing in the puris is meant to be cold or room temperature to keep the puff ball from getting soggy. While I liked the toppings, the cold stuffing didn't work for me, and it was all pretty messy to eat.
The board also included some nicely spiced and roasted cashews, battered and fried carrots and wedges of naan. Its cocktail-size samosas were on the dry side, but a few dunks in the sweet and spicy dipping sauces helped.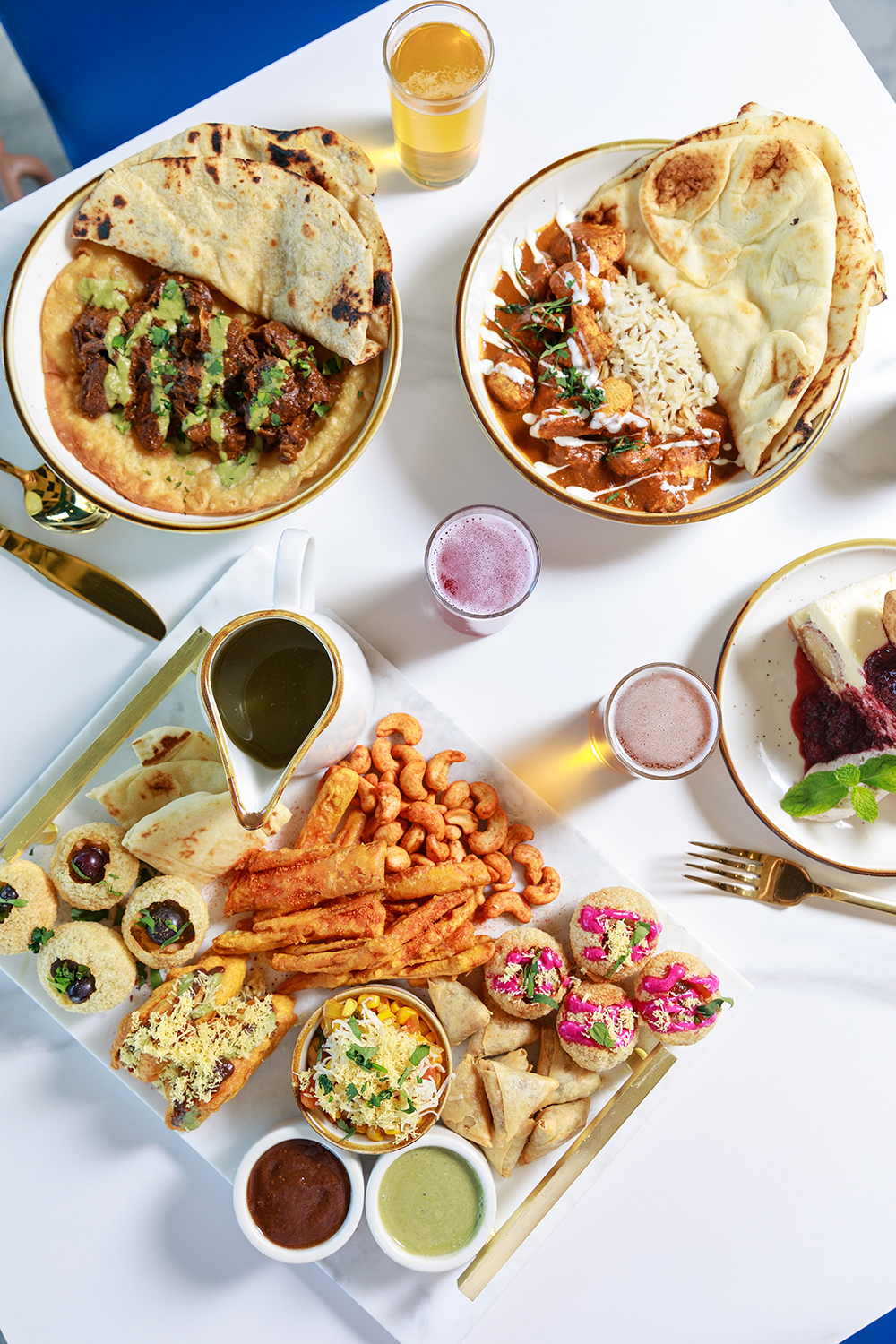 This sampler would be plenty for two or three people to snack on between beers. But we were a table of four ready for a full meal. So on we moved to the entrees.
First up was the Butter Chicken Masala, which seems to be the most popular dish based on online reviews. It's a hefty plate of curried chunks of chicken breast served over rice with a side of crispy, warm naan. 
The burnt orange color of the sauce was enticing, and its flavor was rich and mildly sweet. But it needed more spice—I kept waiting for the spice to sneak up on the back end, but it never arrived. 
---
Next was the Rogan Gosh. The menu referred to it as "Kashmiri-style goat served bone-in," making it a contrast to the fusion dishes that catered more to American palates.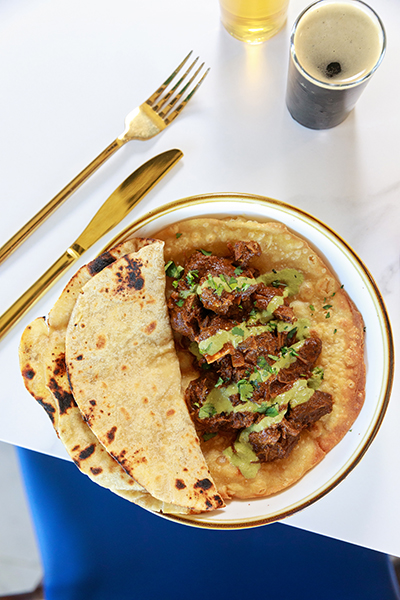 Arriving at our table, I was hit with the fantastic scent of all-spice and deep, smoky seasonings. The stewed and shredded goat meat sat on a fried roti and was garnished with drizzles of a bright green cilantro yogurt. It also came with more naan, which served as a sturdier vessel than the brittle roti.
The meat was tender, lean and not as gamey as I was expecting. The menu mentions the dish is "bone in"—and in the case of goat, that means smaller pieces of bone rather than one large bone, like a ribeye. The bones help build flavor when cooking, but they also mean you might have to fish out a pile of them while you eat. It didn't deter me from enjoying the dish, but made me super cautious about biting down too hard.
We rounded out the entrees with the Grilled Butternut Squash. The first thing that surprised me was the malai sauce, a North Indian curry with tomatoes, spices and heavy cream. It delivered the complex flavor I wished was on the Butter Chicken. It was rich and spicy without being overwhelming. The only downside was how minimal the plate was, just chunks of roasted squash in a sauce with some grated paneer and a sprinkle of crunchy wild rice on top. I was reaching for whatever leftover naan I could find on the table to sop up that delicious malai sauce.
---
We were fully stuffed by the end of our meal and multiple trips to the taps sampling drinks that could pair with the meal's flavors, but had just enough room to share dessert. 
The Gulab Jamun Cheesecake is a gorgeous looking dessert stuffed with traditional Indian cake balls. Each wedge reveals a perfect cross-section of the round cardamom and saffron-spiced morsels, making for a lovely presentation.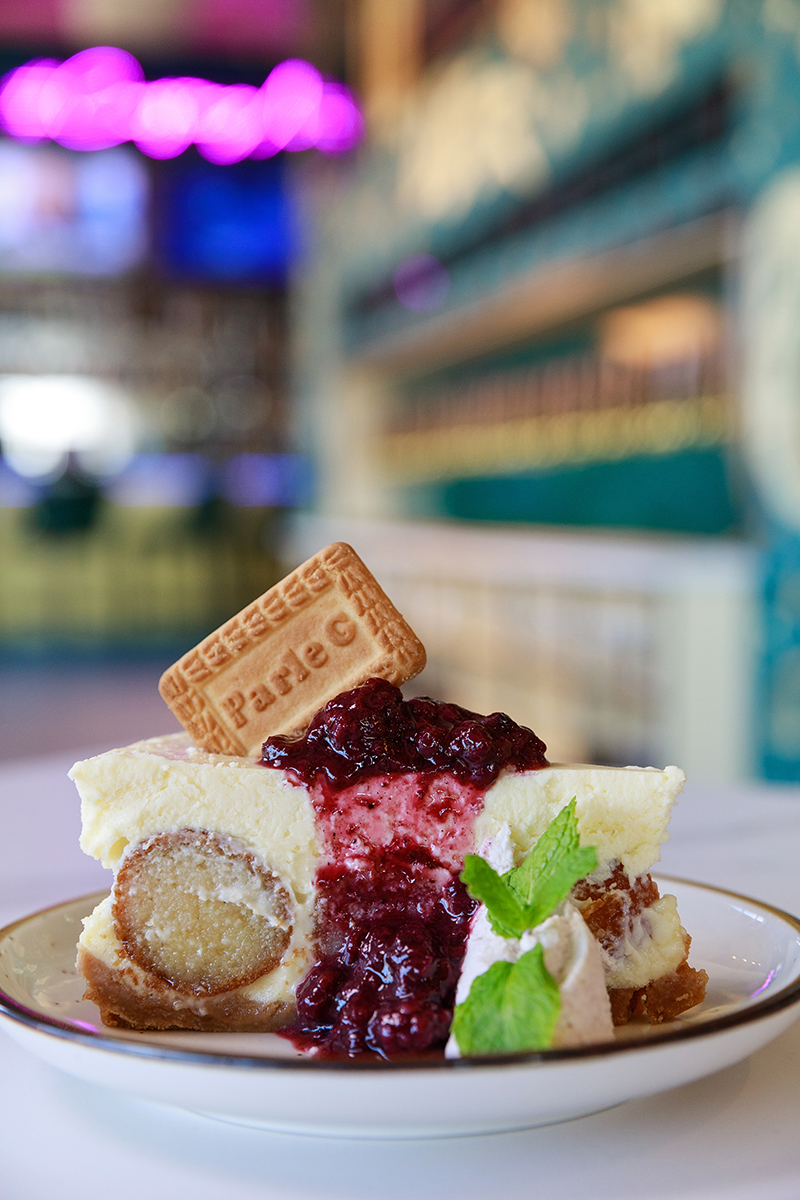 The fried cake balls were maybe a little too wet with sugary syrup. But the crust was crumbly, the cheesecake itself was tart and the fruit puree on top was nice. It was a sweet ending to a spicy meal.
In a food scene that's fully embraced fusion cuisine, I'm glad to see Indian street food and comfort food joining the trend. 
While the self-serve taps at Tap 65 are an understandable draw and make for a fun time with friends, the food menu is a worthy counterbalance. It offers as many flavors as there are taps to try—and it's all definitely worth exploring. 

Monday-Thursday, 4-10 p.m.
Friday, 4 p.m.-1 a.m.
Saturday, 11 a.m.-1 a.m.
Sunday, 11 a.m.-10 p.m.
---
About 225's food critic:
Benjamin Leger previously served as managing editor for 225 and was the editor of its Taste section from 2012 to 2021, editing, writing and steering the direction of its food coverage in print and online. He is passionate about all things food and food journalism, and has written about the greater Baton Rouge area's cuisine and culture for nearly
two decades.
---
This article was originally published in the December 2022 issue of 225 magazine.