---
Finding a meal for $10 seems a thing of the past, but it's still possible to find plenty of delectable eats in Baton Rouge for a mere two fivers. From Southern plate lunches to warm soups to global flavors, we call your attention to cheap and flavorful dishes in this price range that will fill you up without breaking the bank.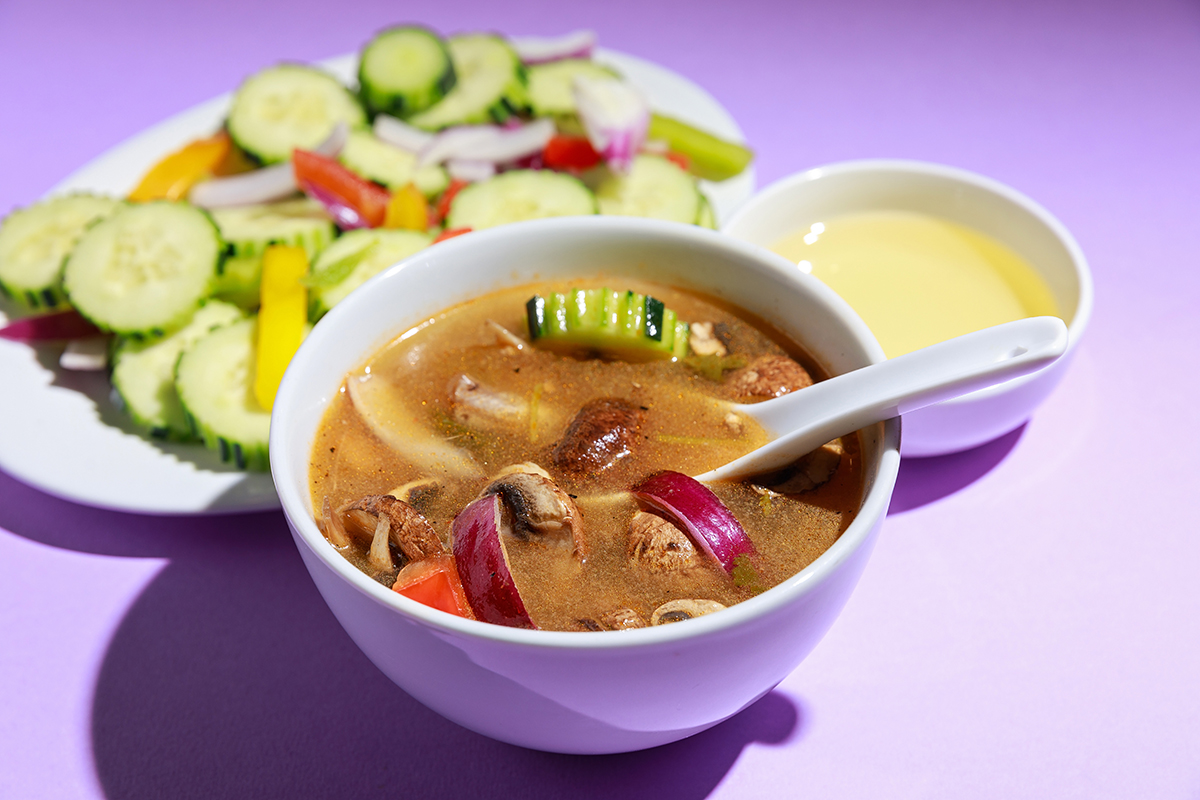 Tom yum chicken soup, $5.25, and cucumber salad, $3.95, from Thai Pepper
Amid Thai Pepper's reasonably priced and generously portioned menu is the hot and sour tom yum chicken soup, a sinus-opening brew fused with lemongrass and warm spices. Combine it with a fresh and crunchy cucumber salad for a satisfying soup-and-salad meal. thaipepperbtr.com
---
Tofu wrap from Our Daily Bread, $6.29
In this healthful, vegan wrap, baked, seasoned tofu or grilled tempeh are combined with avocado spread, lettuce, tomato and carrots with a slather of vegan mayo on a sprouted grain wrap. ourdailybreadbr.com
---
Duck and sausage gumbo from The Chimes, $7 cup or $10 bowl
The Chimes' ever popular duck and sausage gumbo, served as a cup or bowl, is one of its menu's best cheap eats. Complimentary bread helps you soak up every drop. thechimes.com
---
The Chuck Norris from Frankie's Dawg House, $7.95
Frankie's many embellished gourmet hot dogs include the Chuck Norris, a muscular, all-beef dog topped with chili, melty nacho cheese, grilled onions and jalapenos. Heartburn inducing? Maybe. But oh, so worth it. Find it on Facebook
---
Porchetta Pete from Cannatella's Deli, $9.50
Cannatella's list of good-value Italian sandwiches includes the Porchetta Pete, in which bite-sized chunks of herby roast pork are served on ciabatta with fresh spinach, mozzarella, provolone and grated Parmesan. A trip through the sandwich press makes it next level. cannatellagrocery.com 
---
Crispy fish or soft shell crab bao from Chow Yum Phat, $9
Chow Yum Phat's varied selection of bao, spongy handheld buns stuffed with different fillings, are as popular as its many types of ramen. Order two bao with crispy fried fish or (the often expensive) deep-fried soft shell crab and experience an interplay of flavors that checks all the boxes. chowyumphat.com
---
Vietnamese or tamarind chicken wings from Bao, $9.99
Bao's deep-fried chicken wings are tossed in finger-lickin' sweet spicy chili sauce or dusted with tamarind, a dry spice mixture with pleasing sour notes. The elevated wings appetizer is filling and tasty enough to serve as a small main course. baovietkitchen.com
---
Sesame chicken combo from New China, $10.60
This indulgent Chinese takeout poster child satisfies many guilty pleasures without a lofty price tag— just right after a rough day, or a long night. Tender chicken is glazed with sticky sweet-spicy sauce and sprinkled with sesame seeds. It's served with pork fried rice and an eggroll. newchinabrla.com
---
Fried chicken with two sides from Mr. C's Deli, $10.99
A Calandro family venture, Mr. C's is a cheery eat-in deli in Mid City with a hot food line and a counter order menu. Fried chicken is served daily along with rotating comfort food sides that include mashed potatoes and gravy, green beans, black-eyed peas, mac and cheese, and more. Plate lunches come with a roll and dessert. mrcsdelibr.com

Reader suggestions
Under $10
"The Kid's Meal at JINYA Ramen Bar could feed an army. It comes with chicken ramen, chashu rice, fried chicken, sweet potato fries, fruit, candy and vanilla ice cream. All for about $9!"
—@sydneyisacastle
"Lit Pizza! I always get the Easy Caprese ($8.95) and add pepperoni, goat cheese, mushrooms and pesto drizzle."
—@rachel_schueren
"Two-slider combo at Smalls Sliders! ($7.99)"
—@grace.j.8
"Inga's Subs & Salads. I order the Barbeque Pork Sandwich ($7.25) fully dressed with pickles, banana peppers and cheese with a side of potato salad." 
—@kaitlynbracey
---
This article was originally published in the December 2022 issue of 225 magazine.