Sponsored by LSU's Pennington Biomedical Research Center
Scientists at LSU's Pennington Biomedical Research Center are studying babies as young as two weeks old to learn more about obesity and what factors in our earliest days might affect our health later as adults.
Dr. Leanne Redman, director of the maternal and infant research lab at Pennington Biomedical, says scientists currently don't have much information on what a person's metabolism is like when they're born and how it changes throughout their growth and development. By studying the body fat and metabolism of infants, Redman and her team are hoping to learn more about the biological basis of obesity.
An alarming 2 out of 3 people are overweight or obese in the United States, and obesity tops the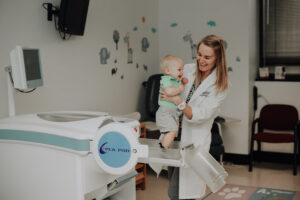 list of public health issues because people who are obese are much more likely to develop other health issues like heart disease and stroke, high blood pressure, diabetes, some cancers and other health problems.
Pennington Biomedical is the recognized research leader in the field of obesity and its related conditions. It's location in Baton Rouge, Louisiana, makes it uniquely positioned to study this topic. "Louisiana is a living laboratory that resembles the entire world. We have different cultures, different ethnicities and all different shapes and sizes of people," Redman says.
"We're really interested in answering a set of basic questions," Redman says. "What are the differences in metabolic rates of boy babies versus girl babies? What are the differences in metabolic rates between siblings? What about twins, and then identical twins? Are there differences in metabolism based on what's in the mom's milk, or whether the baby receives formula? Then, how does metabolism change during the first year of life when babies go from laying down and being held to sitting up and starting to crawl and walk?"
"Scientists haven't had a way to measure those things before now," Redman says.
In Redman's current studies, researchers first take a measurement of the infant's body fat percentage by placing it inside a Pea Pod, an enclosed oval-shaped chamber that measures how much air volume the baby takes up inside the pod compared to the baby's body mass.
The second measurement is newborn metabolism. Pennington Biomedical is home to the only metabolic chamber in the world sized for infants. To obtain the measurement, the baby is placed inside the clear metabolic chamber, allowing researchers to capture the infant's entire metabolic cycle. By measuring the amount of oxygen the baby breathes in versus carbon dioxide it breathes out, researchers can estimate how many calories the baby is burning.
"I see a unique opportunity for families within our community to be a part of something that will be in textbooks one day," Redman says. "Pediatricians will have access to those textbooks when they're in medical school, and it will be in science textbooks that students will use in biology."
To learn more about volunteering for one of the infant studies or other ongoing research studies at Pennington Biomedical, visit www.pbrc.edu/clinicaltrials or call 225.763.3000.