Sponsored by Crafted Nibbles
The mother-daughter team of Valencia and Michelle Anderson turned sorrow into joy with the success of their joint business venture Crafted Nibbles, created shortly after the passing of Valencia's mother.
The mother-daughter duo says they were on a trip with their family soon after Valencia's mother's death when a group of friends ordered a charcuterie board to share. "We were tasting and saying "Oh, I like this, this is great, and we started creating our own pairings. We looked at each other and said, 'We could do this,' so we came back to Baton Rouge, thought of a name and set it in motion."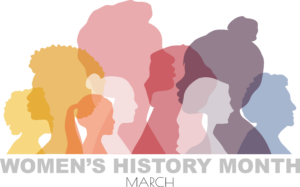 Soon after, Valencia took charcuterie boxes to her co-workers at Ochsner Health and asked for feedback – everyone agreed the presentation was lovely and the taste delicious: no tweaks necessary. So, Valencia and Michelle ordered business cards and made their first post on social media.
"It was in the midst of a pandemic, but we were able to turn something around from a tragedy to something that we enjoy. We both love entertaining, but we didn't know we had this niche," Valencia says.
Crafted Nibbles offers a variety of handcrafted charcuterie boards, ranging in size to serve one to
20 people. For larger parties of at least 30, grazing tables are available and created at the event venue or home. The duo also offers both private and public classes on creating the ideal charcuterie board.
While Valencia is customer facing, Michelle, who also works fulltime in human resources, is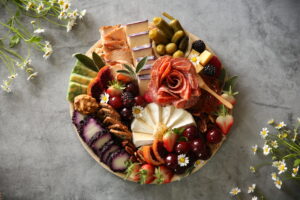 usually the one behind the scenes bringing the clients' visions to life. Besides traditional charcuterie boards, dessert boards have been popular, especially those featuring customized cookies. Crafted Nibbles outsources those and other sweets to local vendors, intentionally women or minority-owned businesses. "Some people don't want meat and cheese. They want something sweet or unique that looks creative, and so we curate it for them," Michelle says.
A trend this year are boards that include customized messages like "Happy Birthday" or "Congratulations." Michelle says Crafted Nibbles can spell out whatever the client wishes. Another popular option is to build the charcuterie board inside letter or number boxes – these work great for birthdays, as well as corporate events. "This year, what I'm finding is that clients want things that are easily identifiable for whatever cause or celebration they're having," she says.
Corporate partnerships, including LSU and Junior League of Baton Rouge, have been a huge source of growth for the business. Crafted Nibbles' goals for this year involve growing the business, which almost broke six figures in sales last year. Valencia and Michelle are looking to partner more with local farmers for board ingredients and to open their own storefront.
"Charcuterie just connects everybody," the duo says. "Good food brings people together, but there's something special about charcuterie. You put it down on a table, and there's instant conversation around it."
If you are ready to nibble, visit craftednibblesbr.com to place your order. Everything is made fresh, so 72-hours' notice is appreciated when possible. Rush orders can be accommodated based on availability. Delivery is also available.