Sponsored by Bone & Joint Clinic of Baton Rouge
This year, the Bone & Joint Clinic of Baton Rouge is celebrating an enormous milestone: 75 years of delivering top-of-the-line orthopedic care.
The Bone & Joint Clinic was first established in 1948 with one small clinic on Bankers Avenue and only three doctors. Since then, the clinic's growth has been tremendous. It now boasts a three-story, 90,000-square-foot primary clinic in Baton Rouge, with a total of five locations throughout Louisiana (Baton Rouge, Brusly, Hammond, Prairieville and Walker), as well as two orthopedic physical therapy locations. Over 200 specialized employees now work at the clinic, including 17 physician specialists, nine licensed physician assistants, six licensed nurse practitioners, eight physical and occupational therapy specialists, certified orthopedic technicians and registered radiological technologists.
So, to what does the Bone & Joint Clinic owe its success over the past three quarters of a century? According to Joseph E. Broyles, M.D., it all stems from the quality of the clinic's employees and the support of its patients.
"Our success is a result of physicians who deliver excellent orthopedic care, the unwavering dedication of our employees, and the support of our patients and community," Broyles said. "The surgeons at the Bone & Joint Clinic do a very good job of staying abreast of new surgical techniques in order to provide the highest possible quality of orthopedic care."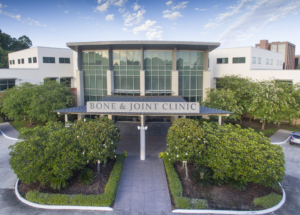 At the Bone & Joint Clinic's main Baton Rouge location, a wide variety of services are offered, all under one roof: onsite X-rays, MRIs, bone density studies, cast application and removal, and physical therapy treatments. The clinic even operates its own surgery center (Orthopedic Surgery Center) where many orthopedic outpatient procedures can be performed. Patients love the ease and efficiency of being able to have a procedure and return home the same day.
No matter where your pain point might be located, you can rest assured that the clinic's talented staff is prepared to help. The clinic's specialties include arthritis, podiatry, joint replacements, pediatric orthopedics, sports medicine, orthopedic trauma and general orthopedic conditions affecting all areas of the body.
Yet another advantage of choosing the Bone & Joint Clinic, according to Dr. Broyles, is the size of its team compared to similar businesses in the area.
"The fact that we're a slightly smaller group allows patients to navigate through the system with much less effort and far fewer hurdles," he said.
As the Bone & Joint Clinic celebrates 75 years of serving the Baton Rouge area, patients are sharing their success stories on the clinic's blog. One such patient, Albert Leo, suffered from debilitating hip health that left him with severe immobility. It has been over a decade since he first came to the Bone & Joint Clinic and saw Dr. Broyles, the beginning of a life-changing doctor-patient relationship that eventually led to dual hip replacements. After his surgeries, Leo said he felt like a new person.
"I told Dr. Broyles he saved my life," Leo said. "I couldn't get out of bed. I couldn't walk or go anywhere. Frankly, he changed my life. He's just terrific."
When it comes to orthopedic care, the experts at the Bone & Joint Clinic have one unifying goal: helping you move more, and hurt less. If you're interested in any of the clinic's wide-ranging services, don't hesitate to reach out and request an appointment.
The staff can be reached at 225.766.0050. More information is also available online at boneandjointclinicbr.com.