Sponsored by Streamline Interiors & More
Jill Cascio Boullion of Streamline Interiors & More doesn't feel the need to follow what's trending to be successful. In fact, her interior decorating services and storefront offer something different than what we've grown accustomed to seeing in the local design world the past few years – color!
"To me, there are no rules. I don't focus on what's trending, and I will rarely say this is the next hot thing," Boullion says. "If you like it, then it's hot. That's just how I design. I found following my intuition has kept me ahead of the trends before they even hit the market."
One of the first questions Boullion asks a client is, "What's your favorite color?" Blues and greens are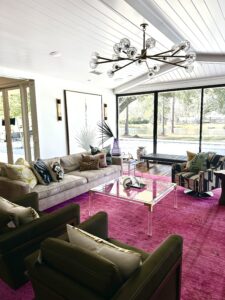 always popular answers, but no one has ever said beige and gray makes me so happy, Boullion jokes. Neutrals are needed and definitely have a place, she says, but there is so much more that can bring a sense of warmth, coziness and joy to you. For those that are intimidated by color, Boullion suggests sprinkling it in with accessories and art. Then start to extend past your comfort zone a little bit at a time, unless you're ready to just dive in.
Boullion found her love of decorating at an early age. In elementary school, she raised a few eyebrows when re-arranging decor at friends' homes during sleepovers. Later, as a young adult, dipping her toes in other professions, she continued to decorate for friends and family in her free time. After 10 years of working for an orthodontic practice, she felt her passion for design needed to be nurtured, and she developed a new purpose.
Streamline Interiors was a huge leap of faith, Boullion says, but she had the support of her husband and friends. After texting everyone about her plans, she's had zero days off since. After two months, she found she needed an office space when the original concept of her business evolved into a retail store. It is evident in Boullion's retail store that her items are personally chosen to bring unique and eclectic shopping to Baton Rouge and to those who shop online.
As a full-service design company and retail store, Boullion relies on her knowledge from previous job experiences, with one of her biggest lessons being to source her own materials. Boullion's work includes custom drapery and bedding orders, custom furniture designing, as well as wallpaper installations. "The majority of my clients tell me they are overwhelmed. Sourcing my own fabric, wallpaper, rugs, etc., I'm able to pull a few options and show those design concepts," Boullion says. "I'm taking away the anxiety of going into a big fabric store where everything is beautiful, but there's a feeling of loss and direction."
After choosing the materials, Boullion is involved in every step of the way bringing her client's wants, needs and vision to life. She facilitates installations and other projects and double-checks that everything has been completed properly to the highest of standards.
Boullion is also cognizant of the needs of active families. "I know what it's like to have children at home, and the majority of my clients are in that position. You can have a beautiful home with children," she says. "I say that I have an innovative approach to livable luxury." Boullion believes "design is personal. I never want someone to say, Jill must have designed your house. I don't want a signature stamp. I want YOUR signature stamp."
Streamline Interiors & More is currently located at 157 Staring Lane in Baton Rouge and looking forward to moving locations in the near future. For more information, contact Boullion at [email protected].