Pictured, from left: Brad and Erin Oswalt, Sam and Hannah Amoroso and Alex and Rebecca Tucker. P
hotos by Kristina Britt
---
More than 30,000 racers filed into Boston for the city's storied marathon in April. Two years after the bombing that killed three and injured more than 260, the marathon's runners lined up to test their physical and mental fortitude. Among this year's group were three couples from Baton Rouge.
Young professionals with small children and all friends, Hannah and Sam Amoroso, Erin and Brad Oswalt and Rebecca and Alex Tucker had clocked countless training hours to take on one of the world's legendary races. They put on their racing bibs, tucked into packed corrals and took off, enduring gruesome weather from the starting line in the town of Hopkinton to the finish line on Boylston Street.
"This marathon is a whole different beast," says Hannah, a physical therapist and mother of two.
The Boston Marathon, with its spirited roadside spectators, tough hills and sense of community, is considered by many to be the pinnacle of distance running. It inspires runners across the country—and globe—to invest time and energy into achieving that magic qualifying time that permits them to compete. Qualifying standards were introduced in the Boston Marathon in 1970, when all runners had to be able to complete a marathon, 26.2 miles, in four hours or less. Today, the standards vary by age and gender, but are far more rigorous. For example, men between 35 and 39 must have completed a sanctioned marathon in at least three hours and 10 minutes. For women of the same age, the qualifying standard is three hours and 40 minutes.
The number of training miles required is demanding on all marathon hopefuls, but it's even more so when you're also balancing careers, a home life and small children.
"Most of the time, we're not able to train together because someone needs to watch the kids," says Alex Tucker. "But it's great to share this as a common interest. We want to see each other succeed and do better."
Running is an individual sport, but the Amorosos, Oswalts and Tuckers all contend that taking it on as a couple provides extra motivation. So does running with friends, they add. Evening and early morning running groups have helped keep many local runners, including these couples, driven and accountable. "Going with a group," says Sam Amoroso, "is the difference between me doing it and not doing it."
Hannah and Sam Amoroso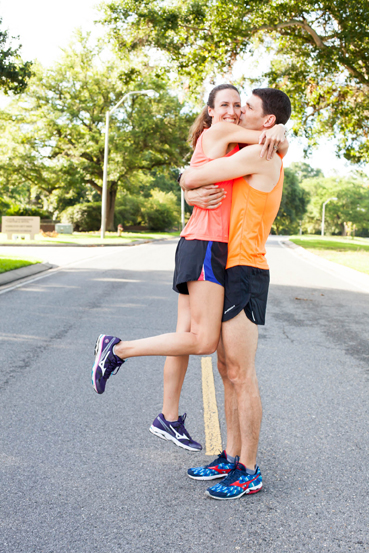 When Baton Rouge natives Hannah and Sam Amoroso returned to the Capital City in 2004, the two began running with groups organized by Varsity Sports. It was a way to plug into the community and meet new friends, says Hannah, 37.
Hannah and Sam always enjoyed running together, and the two eventually began training for marathons.
Hannah qualified for Boston in 2013, and had completed the race when the bombs exploded. She was standing with others from Baton Rouge in Athlete's Village when the first, and then the second, bomb detonated. "It was a hollow metal sound," Hannah recalls. "Your mind doesn't want to think that's what was going on. There was a lot of construction in the area, so I thought maybe it was just something heavy falling. But by the second one, I think that any hope we had that it was not a bomb was gone. Then we thought, 'Is there going to be another one, and where would it be?'"
The following year, Hannah and Sam, 38, both qualified for Boston, and took part in what Hannah describes as "taking back our finish line."
"[The bombing] had felt like an attack on runners," she says. "And it was really a very special feeling to be there [the following year]."
Boston Marathon participants are grouped according to qualifying times, and since Sam's speeds are faster than Hannah's, they ran separately in 2014.
This year, however, the couple ran together. Sam ignored the announcement for his group to head for their corrals and stayed with Hannah instead.
The weather in Boston this year was tough. Temperatures were in the low to mid-40s, and it was raining. Headwinds made difficult conditions even worse.
"It was so nasty and cold," Hannah says. "I did not have a good race at all, but having Sam there really kept me motivated. At one point, I was trying to smile, but I told him my face was totally numb."
Leading up to the race, the two had racked up extensive training miles at home, while also balancing kids and work. Sam says he appreciated running with Hannah, even if it meant forgoing a faster start time.
"It was particularly meaningful," he says. "It's very rare that we get to run together at all, and it was nice for the two of us to go on this trip and finish Boston."
Erin and Brad Oswalt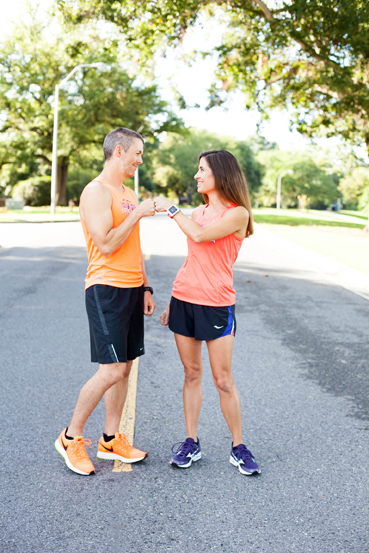 Shortly after they met as students at Baylor University, Erin and Brad Oswalt began running together. Erin had been a high school runner, and she continued to run in college. Brad says he took it up to be able to spend time with Erin.
"It was honestly something I did just to be with her," Brad, 36, says. "I really didn't enjoy it all that much."
The couple continued running together, with Brad warming to the sport and Erin adding a half marathon to her bucket list. She completed her first in 2003, and in 2006, the couple ran one together.
"After we finished it," Brad recalls, "I swore I'd never run anything longer than 13.1 miles. It was miserable."
But Erin had a marathon in her sights. Her sister-in-law had completed one, and she believed she could as well. So the couple began training for the Disney Marathon in Orlando in 2012. Completing it led to other marathons. Erin qualified for Boston in 2013. Both of them qualified in 2014 and 2015.
Erin says the couple likes to run with friends, and routinely trains six days a week. The level of rigor depends on whether or not they are conditioning for a marathon
Any runner will admit to good days and bad, and this year's Boston Marathon wasn't great for the Oswalts. Erin, 35, has been struggling with an injury stemming from a fractured pelvis and was in pain for most of the race.
What made the difference, she says, was running with her husband.
"To have a partner and just to think about it a little bit at a time, made it more manageable," she says. "It was such a comfort to have him there."
Undeterred by not achieving her personal goal this year in Boston, Erin is now training for an Ironman race in Panama City Beach, Florida, this fall. Brad is also continuing to train, and he will likely pick up a marathon training schedule again in August. The two say they plan to run Boston again next year.
Rebecca and Alex Tucker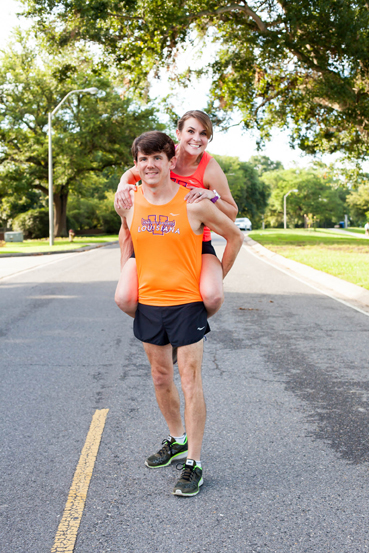 Rebecca Tucker, 35, was raised in a family that prioritized exercise. Her mother, Bonnie Richardson, is a veteran physical education teacher who was named Project Fit America's Teacher of the Year in January for her work at Baton Rouge Foreign Language Academic Immersion Magnet School.
Rebecca had run track and cross country as a teenager but got out of the habit of running as an adult. After the couple's first child was born five years ago, Rebecca decided to take it up again to help lose weight and get back in shape.
"I hated every minute of it," she says.
Alex, 37, also started running, and slowly, the two began completing longer runs and achieving faster times. They participated in a number of 5K races inspired by a wellness perk from Alex's employer, Albemarle Corporation. The company pays for race entry fees on behalf of employees and their families, Alex says.
Completing shorter races triggered the couple to finish longer ones, and in 2014, Rebecca and Alex were both competing in marathons. Rebecca qualified for Boston in 2014, and she and Alex both qualified to compete this year.
"There were so many memorable moments along the course," Rebecca recalls. "The crowds are amazing. You're running and you feel like you're about to die, and you hear these deafening cheers."
The route snakes through several towns on the outskirts of Boston, including Ashland, Framingham and Natick. It hits the halfway point around Wellesley.
"The Wellesley College girls just go crazy," Rebecca says. "They're holding up signs and yelling. It's like a wall of sound."
Cold, wet and fatigued, the Tuckers each completed the course and met back in their hotel room nearby. They were physically spent but shared a powerful sense of satisfaction.
"We both thrive on having a goal," Alex says. "It was an unbelievable experience."