---
TEDxLSU's popularity is one example of Baton Rouge reaching its potential, says Rebecca Burdette, the local event's co-founder.
"When you've got hundreds of people showing up for an intellectual event, sharing and connecting with people, that speaks volumes about where we are as a community," says Burdette, whose day job is directing LSU's Communication across the Curriculum program.
The event has grown quite a bit since launching in 2012. The inaugural conference drew 250 people, the maximum allowed for a first-time TEDx event.
Last year's TEDxLSU drew 750 attendees. Organizers are planning for 850 this year but can accommodate 1,200.
"They wanted to make sure we got it right, before we started allowing a lot of people to come in," Burdette says. The great response, she added, revealed "a community that's so hungry for this type of experience. The minute we started putting the word out, people gravitated to it."
Like the original TED conference, TEDxLSU and other TEDx events throughout the country feature big ideas worth sharing. TED, an acronym for technology, entertainment and design, and TEDx events present speakers delivering the most inspiring 18-minute talks of their lives.
This year's 12 speakers giving those "talks of their lives" include Kevin Harris, an orthodontist who developed the local Museum of Public Art, which commissions community murals by major street artists; Hellen Gillet, a New Orleans-based cellist whose repertoire includes jazz, French, North Indian, blues and classical music styles; and Shane Li of LSU's Geometric and Visual Computing Group.
Refract, a verb meaning alter, shift, redirect or manipulate, is this year's theme. It reflects the event's mission to inspire growth, change and innovation.
TED conferences are held annually on the West Coast, but they are expensive, exclusive and far from Baton Rouge.
TEDxLSU and other TEDx events, says Burdette, "give people a local opportunity to experience TED."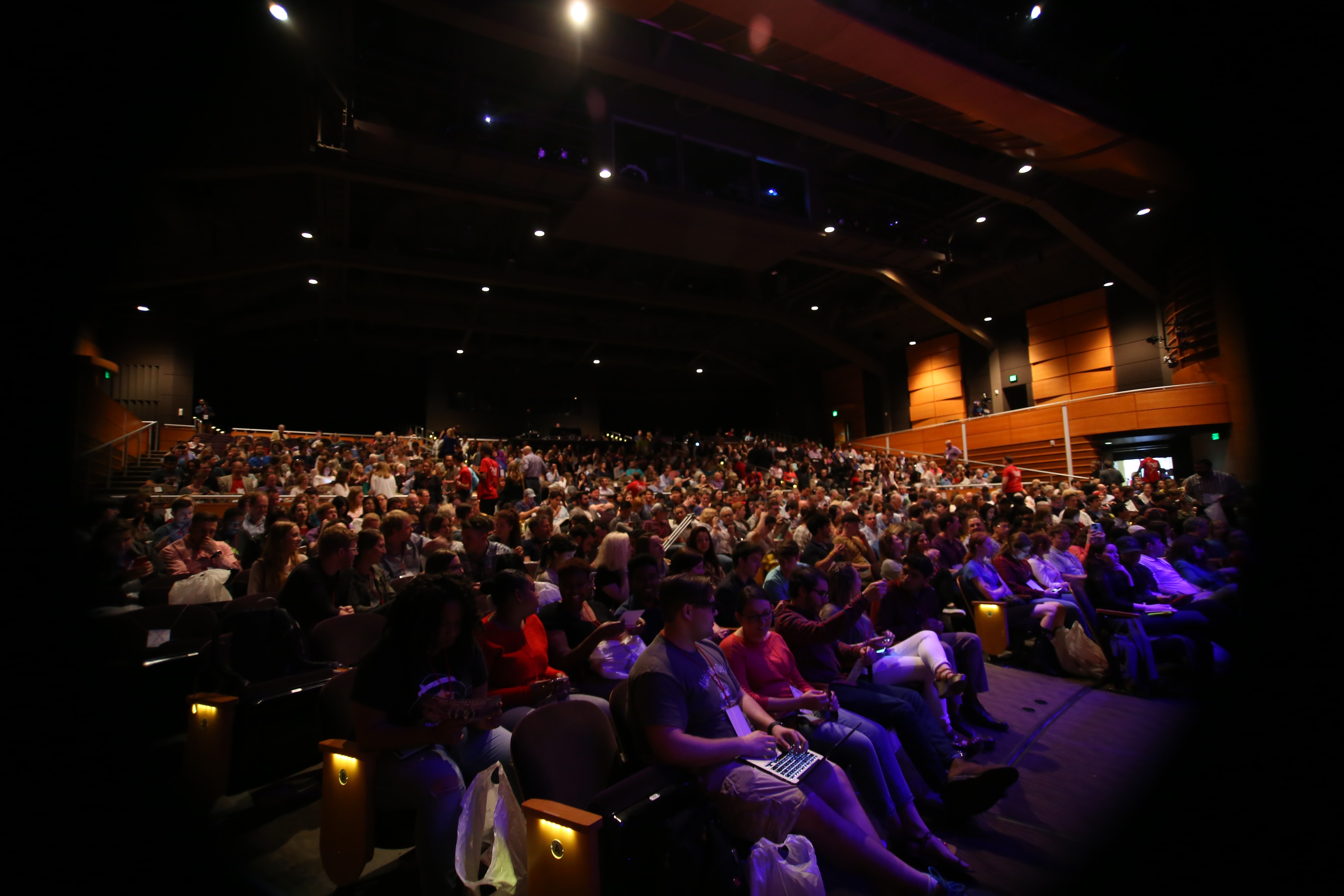 THE RISE OF THE SPEAKER SERIES
TEDxLSU is not the only show in town that engages and inspires connections in the community. Here are three other recurring speaker series that have popped up in recent years.
Assembly Required
This creative entrepreneurship series launched in May 2017, bringing regional and national speakers to Baton Rouge. It is produced by local design and communications company ThreeSixtyEight. Its next event—featuring food, technology and marketing—is Feb. 23, 9 a.m.-6:30 p.m., at ThreeSixtyEight, 212 S. 14th St. Speakers include Adam Morgan, senior creative director at Adobe; Chris Stapleton, chief innovation officer and co-founder of the Virtual World Society; and Chris Meaux, the Lake Charles native whose technology work at Waitr is changing the food delivery industry. assemblyrequiredla.com
We Are
The We Are Speaker Series specializes in talks by innovative women. It debuted last October with Renee Chatelain, CEO of the Arts Council of Greater Baton Rouge, and Jill Roshto, CEO of the Pennington Biomedical Research Foundation. We Are events are meant to inspire confidence and creativity, says Laura Siu Nguyen, the series' executive director. Organizers say they plan to bring a speaker of national renown to Baton Rouge in March or April. wearespeakerseries.com
PechaKucha Night Baton Rouge
PechaKucha Night presenters show and talk about 20 images for 20 seconds each. Created in Tokyo in 2003, the concept has expanded to more than 1,000 cities. Anna Schwab, a dance teacher with the East Baton Parish schools, brought the first PechaKucha Night to Baton Rouge in May 2016, with help from the Arts Council. Speakers have since included Peter Olson, executive director of the Knock Knock Children's Museum, and local chef and culinary personality Jay Ducote. "It's exciting to have so many fascinating people sharing the exciting stuff they're doing," Schwab says. The next PechaKucha Night event will take place in March. pechakucha.org/cities/baton-rouge 
---
TEDxLSU 2018
March 3, noon-7 p.m.
LSU Union Theater
Tickets: $65 (general admission), $25 (high school and college students), $35 (LSU faculty and staff, and K-12 educators)
tedxlsu.com
---
This article was originally published in the February 2018 issue of 225 Magazine.