With the 11th annual Baton Rouge Pride Festival taking place this Saturday, Grand Marshal John Deshotel is in the final stages of baking his six-tier, 12-layer Pride cake.
2017 marks Deshotel's ninth year baking the cake for the festival's blessing of relationships ceremony. The Baton Rouge native is one of a core group of about 10 committee members who help plan the festival all year long, and he spends about 10-15 hours each week with Pride-related duties. On Saturday, Deshotel will arrive at the Raising Cane's River Center by 7:30 a.m. and won't leave for another 14 hours.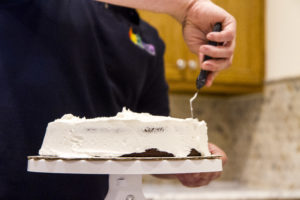 When he's not busy planning one of the largest Pride celebrations in the South, Deshotel works as a registered nurse at Our Lady of the Lake hospital. In addition to Pride, he's served in different leadership roles with the Krewe of Apollo for more than a decade.
Pride Fest will have live music, hourly door prizes and giveaways, a children's area and a resource fair, 1-8 p.m. Saturday.
---
Editor's note: Quotes have been edited for clarity and brevity.
Tell us about your role with Pride for the past nine years.
I'm there to be supportive and to let people express themselves and be who they want to be and not be ashamed of it. There's places where you can do that—Apollo Ball, the fundraisers that we have, Pride Fest. For a long time it wasn't OK to be gay, and now it's so much more accepted. It's like we don't have those seclusions, and now it doesn't really matter.
Because of that shift in public attitude, how do you think Baton Rouge Pride has evolved?
I think Pride is attended by more people. It started off as a couple hundred attendees, and last year the fire marshall registered us at 10,000. So that in itself can say there was an acceptance, a growth and obviously a need for it, because we are serving more than just Baton Rouge. I think Baton Rouge has a ways to go, but it's come a long way, too.
What was your reaction when you found out you had been named grand marshal?
I told them they were lying. We were all sitting at the table at Metropolitan Community Church [when they announced it], and my first thought was, 'Nah. Really?'
How do you feel now?
I feel honored. If you look at the people who were announced before me in years past, they're such an elite group of people, so I feel totally honored to be part of that now, and I feel like I'm leaving my mark on history in some fashion. It's really an honor that people can look at me in that regard and have such respect for standing up for what I feel is right, and I feel like I'm making a difference.
What does Pride mean to you?
Showing your true colors. That was my first thought. But, showing who you really are and being comfortable with it.
Do you have a favorite aspect of Pride, or something that you look forward to most?
I would say it's seeing how many people actually come. We take to the stage every once in a while to announce door prizes and such, and it's not until you're up higher than everyone else do you see how grand the whole thing is, and that's the most exciting thing for me. Every year you get to see the crowd and then you appreciate all the work we did all year long. It's worth it seeing all the people come through and have that experience and know we keep it free.
Is there anything new or different attendees can expect with this year's Pride?
You can get married there if you have your license.