LSU alumnus and printmaker known as Sean Star Wars will be back in the Red Stick this Saturday, Sept. 30, for an art show at Bricks & Bombs.
As a relief printmaker specializing in woodcuts, he carves and paints 2D wooden pieces, and he also prints on T-shirts and paper. His prints have been featured on album covers, book covers, product labels, TV and in magazines and films.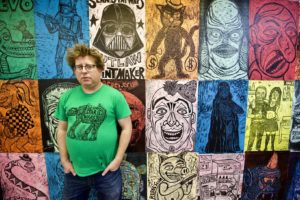 He is associated with the contemporary movement Outlaw Printmaking, a collective of international artists who take non-academic and unorthodox printing approaches.
The show will be held 7-10 p.m. Many of Sean Star Wars' prints will be up for sale and affordably priced.
The following day, Oct. 1, Sean Star Wars will be doing a live printing demo at Tim's Garage, a new boutique opened by Bricks & Bombs owner Brad Jensen. The demo will act as an unveiling of the store.
Bricks & Bombs is at 449 Hearthstone Drive. Tim's Garage is at 4556 Government St.