In May, there's a brand new opportunity in Baton Rouge for professional women to connect and learn: The Women's Leadership Symposium.
The inaugural event will take place on May 16 and will be immediately followed by the Influential Women in Business celebration.
The symposium kicks off at 7:30 a.m. with networking and a continental breakfast. The program gets underway at 8:15 a.m. 10 dynamic women sharing their insights and experiences on work/life topics. Speakers and panelists include C-suite executives, entrepreneurs, nonprofit changemakers and executive coaches.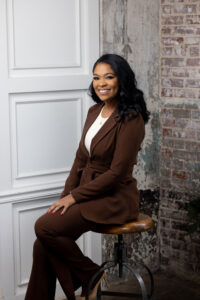 Keynote speaker is Sevetri Wilson, a Capital Region native who is one of the top-funded black female founders in tech. Also a successful author, a Series B round for her company, Resilia, made her one of the few Black women in history to have raised $50 million in venture funding. Inc. magazine has named her one of the Top 100 female founders building world-changing companies.
The event will also feature two panels. The first, Right Place, Right Time? highlights stories and insights from professional women who have found a way to align their professional lives with their personal values and interests. The second, Rising Leadership: Fast Forward, will offer strategies for proactively navigating your way into management, the C-Suite or a founder role from accomplished women who share their journeys. Also learn the power of propelling your professional brand via social media.
Speakers and panelists include Patrice Aron, ExxonMobil executive; Shelly Beall, founder of SB Wellness; Jodi Conachen, COO for Mary Bird Perkins Cancer Center; Diversity & Inclusion Influencer Dima Ghawi; Norisha Kirts, Owner, NRK Construction; Beverly Haydel, founder, Sequitur Consulting; Adrian Owen Jones, Chief Growth Officer for ThreeSixtyEight; Julie Laperouse, Chief Talent Officer for Advantage Capital; and Deborah Sternberg, founder of the Young Entrepreneurs Academy of Baton Rouge.
The Influential Women in Business Luncheon will follow, with a celebration of the honorees, who will also take part in a special panel discussion. The 2023 Influential Women in Business honorees are Anita Byrne, Partner, SSA Consultants; Connie Fabre, President & CEO, Greater Baton Rouge Industry Alliance; Zelma Frederick, Managing Member, McGlinchey Stafford Baton Rouge Office; Jill Garner, Founder/Chief Visionary Officer, Manners of the Heart; Mimi Singer Lee, Executive Vice President and Chief Human Resources Officer, b1Bank; Kate MacArthur, President & CEO, Ascension Economic Development Corp.; Liz Mangham, Managing Partner, Southern Strategy Group; Darylene Pugh, General Manager, Shell Catalysts & Technologies; and Krista Raney, Senior Vice President of Development, LSU Foundation.
Both events will provide opportunities for strategic networking and tangible takeaways for both rising and seasoned professional women, and are sponsored by Mercedes Benz of Baton Rouge, b1BANK, Kean Miller, Window World and Woman's.
Get all the details and purchase tickets here.