The city is getting creative this week. Stop by any of these three art events to see what local artisans have been working on:
Main Street Steamboat Market
At the inaugural Main Street Steamboat Market, you can get your Christmas shopping started early. Here, you can peruse the work of local vendors offering art, jewelry, jams and jellies, seasoning blends, soap and more.
The market is Thursday, Nov. 1, 9 a.m.-2 p.m., inside Main Street Market at 504 North St.
---
Thomas Wimberly's 'Don't Believe the Hype'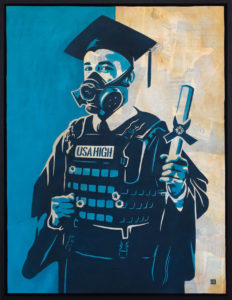 Local artist Thomas Wimberly will host an opening reception for his first solo show, "Don't Believe the Hype," this Friday.
Last year, one of Wimberly's pieces was featured in famed street artist Shepard Fairey's Los Angeles gallery (you're probably familiar with Fairey thanks to "OBEY"). Like Fairey, Wimberly's art is rich with social commentary—artwork in his new exhibit touches on school shootings, immigration, campaign finance reform and more.
The opening reception for "Don't Believe the Hype" will take place Friday, Nov. 2, 7-11 p.m., at Wimberly's Unit 7 studio at 11725 Industriplex Blvd. After that, you can visit the exhibit by appointment until Nov. 8.
---
Baton Rouge Arts Market
The monthly Baton Rouge Arts Market will take over the streets of downtown Baton Rouge this Saturday. It isn't just any old art market, though—this event serves to celebrate the market's 20th anniversary.
To see what it has in store for this huge milestone, stop by on Saturday, Nov. 3, 8 a.m.-noon. The Baton Rouge Arts Market is at the intersection of Fifth and Main streets.
And in case you miss the Nov. 3 Arts Market, the event will return for a special Nov. 17 market—same time, same place—to help you shop early for holiday gifts.