This Sunday, put the pedal to the metal. The bicycle pedal, that is. Local nonprofit pediatric therapy center McMains Children's Developmental Center is hosting its 10th annual No Such Thing As Impossible Bike Ride fundraiser.
Bicyclists will have the option of embarking on either a 10-, 40- or 75-mile ride.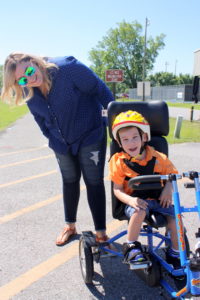 The ride serves as a fundraiser for McMains' Wheels to Succeed Program, which grants specially adapted bikes to children with physical disabilities. Because of the adaptions and customizations of these bikes, children who may never have the ability to walk can ride.
Thus far, McMains has granted 147 bikes, but the center is slated to grant its 150th bike at the ride Sunday.
Registration is $50 and includes a T-shirt, pre-race snacks, post-race lunch and door prizes. Click here to register.
The 10th annual No Such Thing As Impossible Bike Ride begins at 7:30 am. Sunday, April 15. Cyclists will take off from the West Feliciana Parish Sports Park at 10226 W. Feliciana Parkway in St. Francisville.