William Roy rolls a portable stainless-steel clothing rack into his Art Deco living room.
"This," he says with a dramatic pause, "is just a taste of my wardrobe."
The rack holds his quirkiest, most eyebrow-raising pieces. Thumbing through the hangers, you'll find Lilly Pulitzer printed pants from the designer's men's line from the '60s, a black cutout Jean Paul Gaultier sweater, a tan Carolina Herrera jacket wrapped in a Burberry scarf and much more.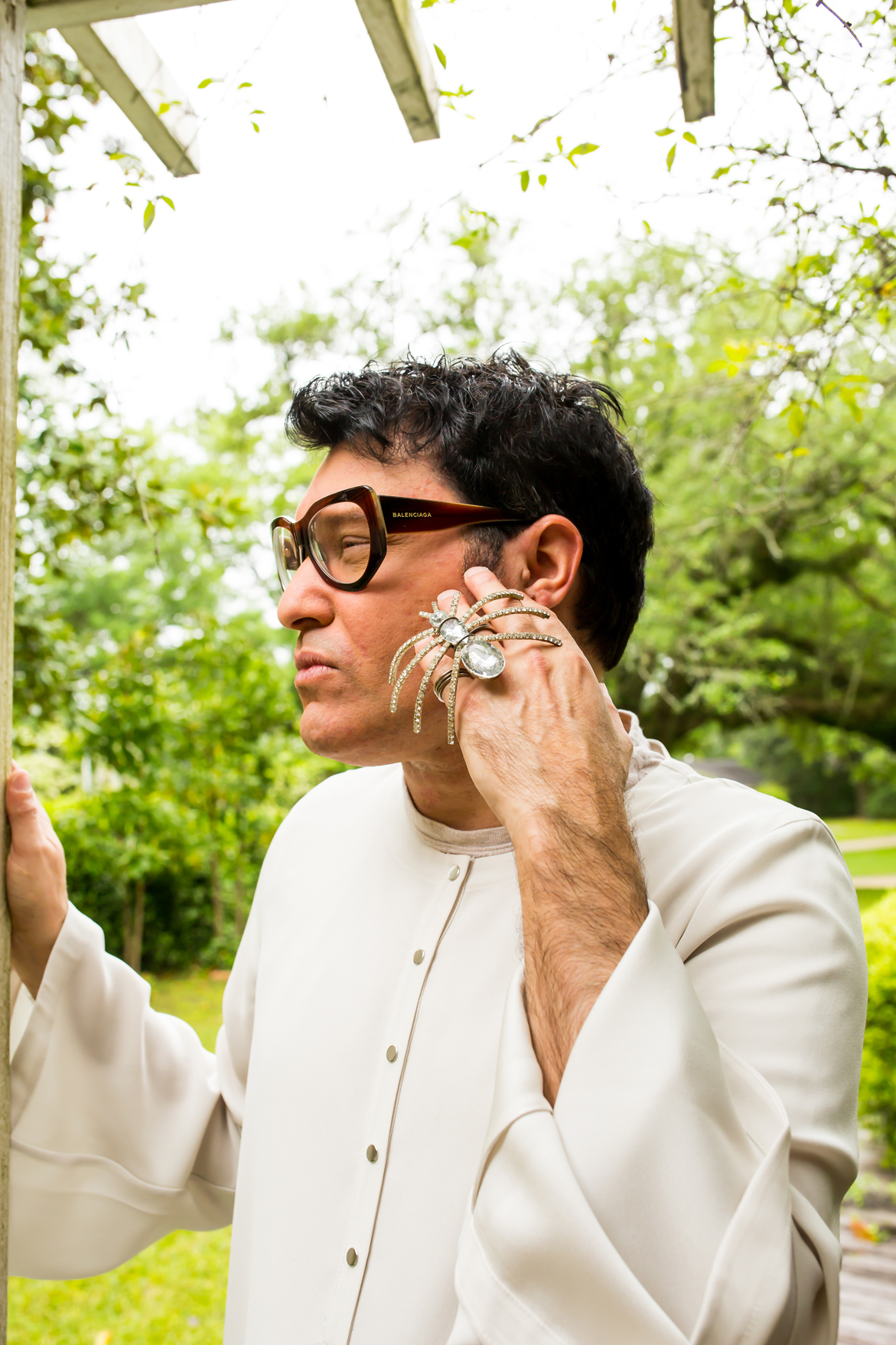 Roy, a manager at the Perkins Rowe BCBG store, has collected designer clothes for as long as he can remember. But what's unique about his collection is its vast range of designers and styles.
"You must wear the outfit. You cannot let it wear you," he says of his style philosophy. "Clothing is our second skin. So good or bad, make sure you are remembered."
While the main pieces of an outfit—such as the shirt, jacket or pants—are important, Roy says, none has to be the attention-grabber. He says he swears by over-accessorizing. Later, he amends that statement. "Actually, there is no such thing as over-accessorizing."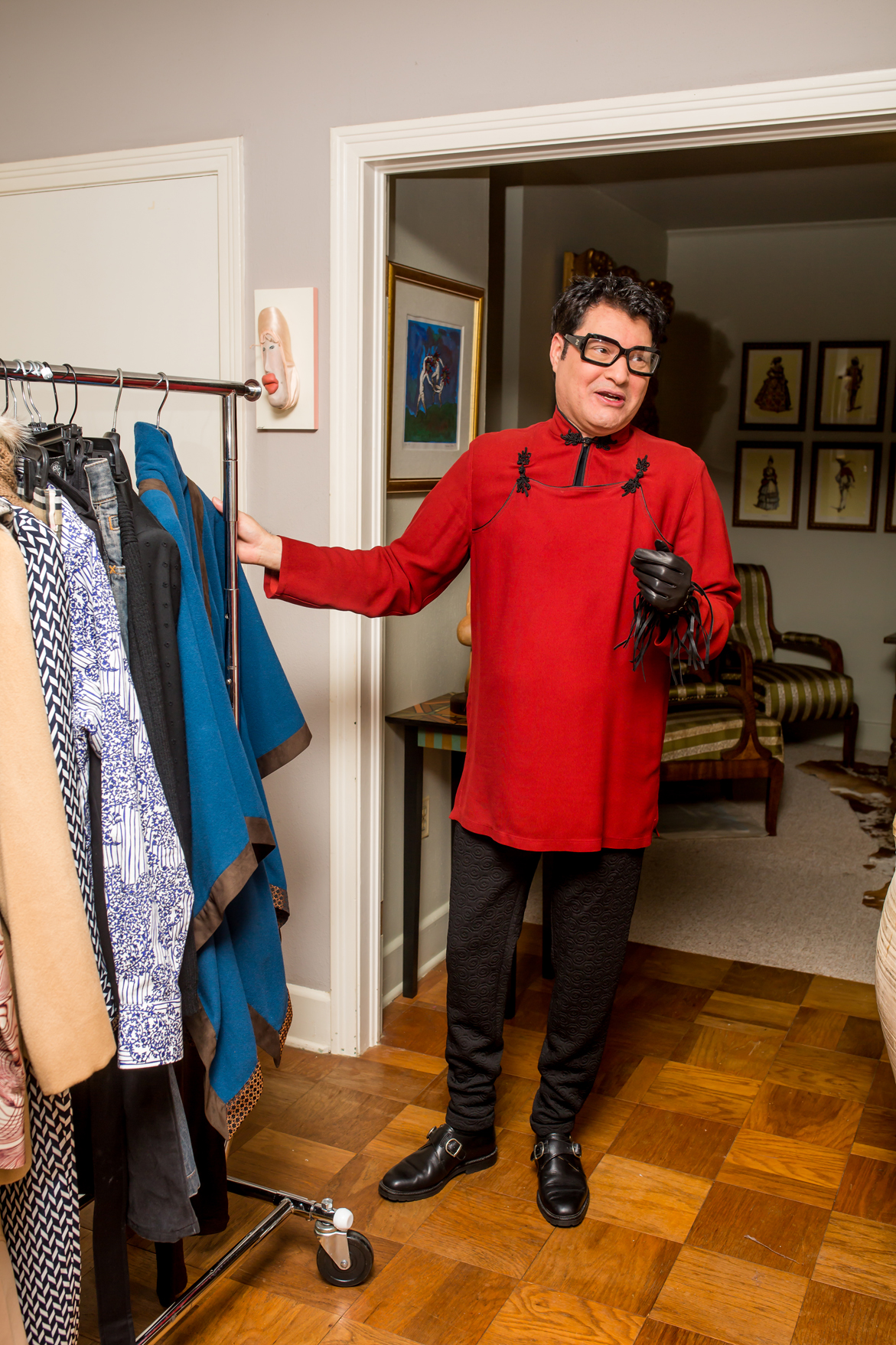 ---
Today, he is dressed in a cream long-sleeved blouse and printed Banana Republic pants—but what steals the show is a spider brooch from the '80s he repurposed into a ring.
"You do not have an outfit if you don't have a ring or a hat or some really, really great shoes," he says.
Roy is more than eager to show off his wardrobe, posing in everything from BCBGMAXAZRIA to Kenneth Cole. As an ode to Louisiana, he pairs a seersucker suit with Tom Ford glasses, a pink paisley Michael Kors tie and a colorful walking stick made by Baton Rouge artist Dab II.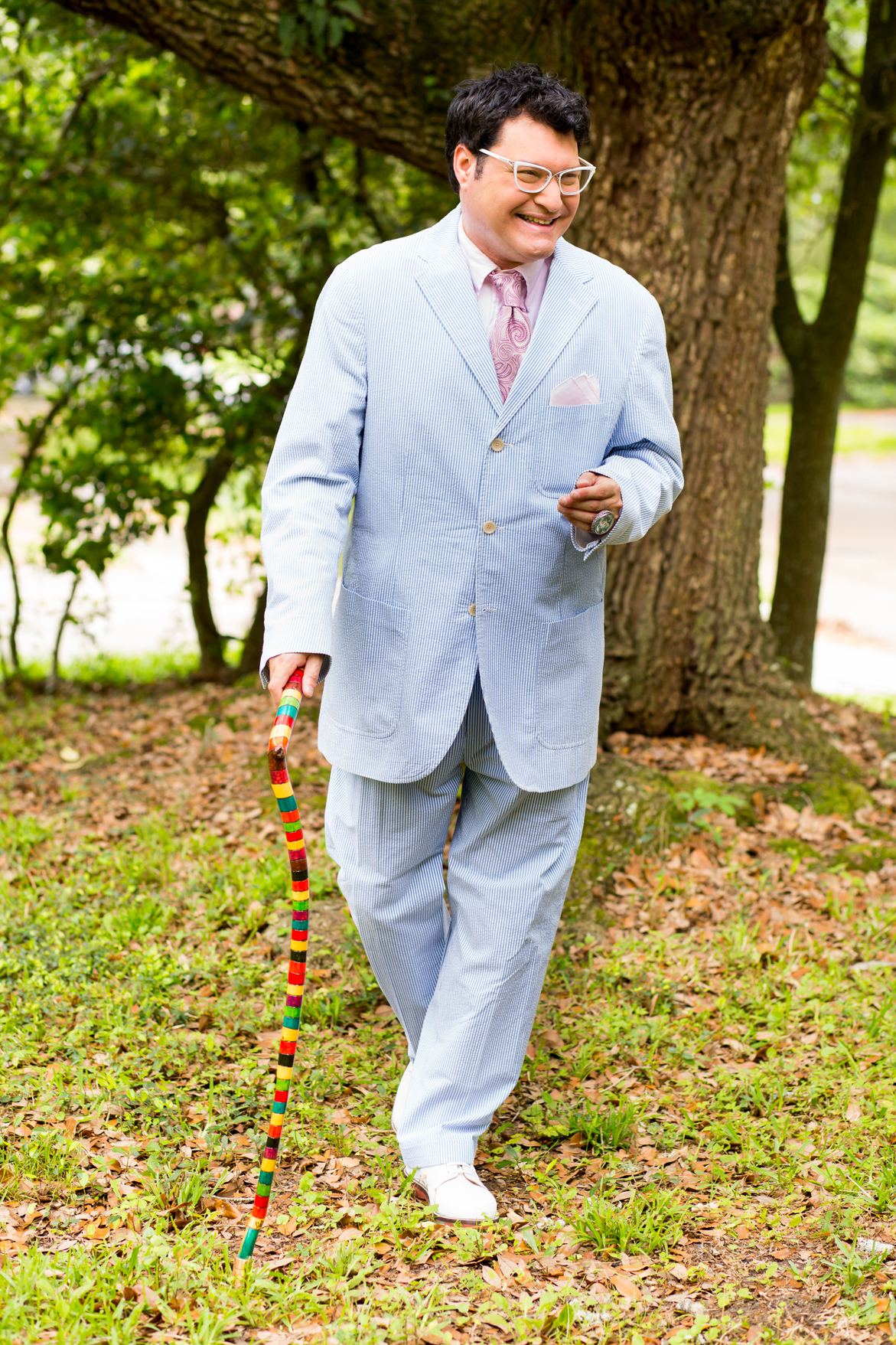 ---
"Timid" isn't in Roy's vocabulary. He knows how unique his style is, and he says that's his favorite reason to show off his boldest outfits. He regularly attends local galas, dinners and fundraisers, and he says he never leaves a party without at least one rave fashion review.
After modeling several outfits, Roy's parting words are his favorite quote from designer Valentina Sanina Schlee: "When you dress yourself, fit the century. Forget the year."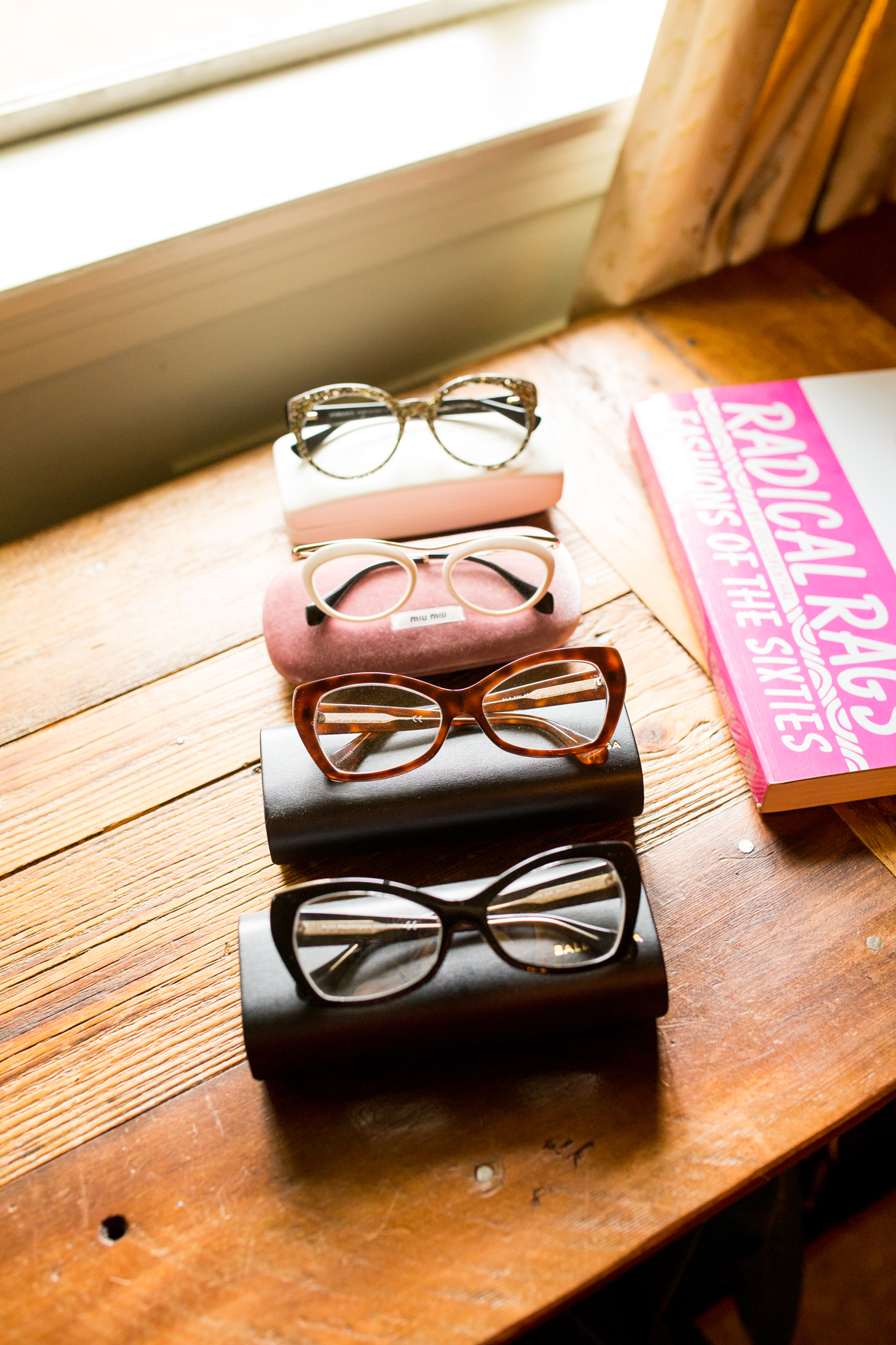 On his style
"I absolutely love mixing and matching designers. It's probably my favorite thing to do."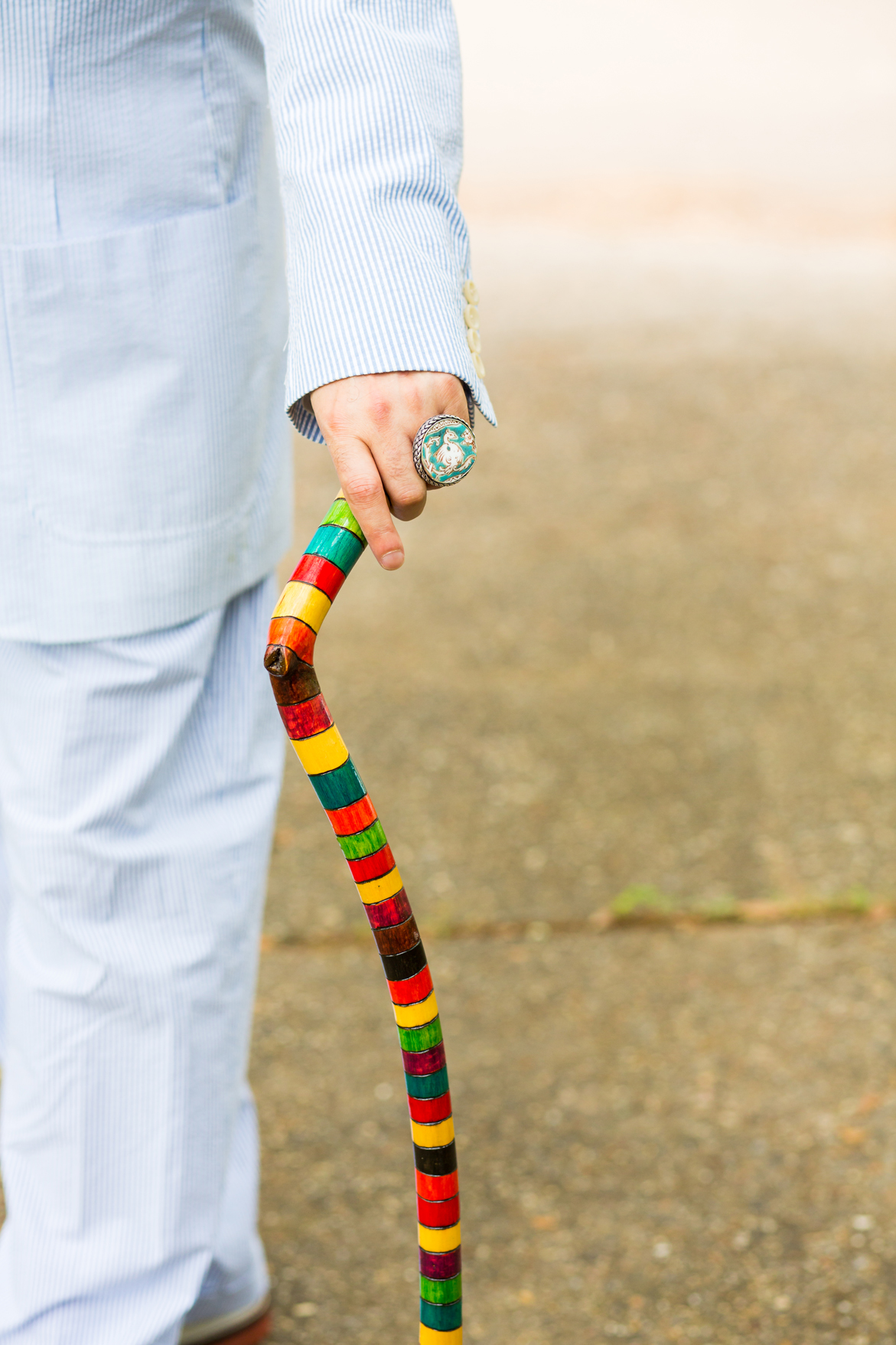 On how he shops
"I don't shop. I find. Some items I do get at 'normal' stores, like Saks. Some I get shipped to me from their original country—like this Versace shirt from Italy—and other things I thrift. Anytime [Time Warp owner] Joshua Holder has something for me, he calls me."
On his most memorable pieces
"There's a story behind all of my outfits. I don't wear just to wear."