---
KRISTEN SOILEAU
Kristen Soileau Portraits
Her photography takes a pastel-hued approach to romance, but Kristen Soileau knows when to bring in a good shadow. In a dedicated home office off her living room, the 25-year-old has styled a space with white walls, dark woods, feminine touches and organic decor. The wedding and elopement photographer likes to take risks with unexpected locales and spontaneous moments with her clients—and when it comes to the eclectically finished space from which her biz operates, her eye roves just as far.
Hover over different areas of the room to see how Soileau styled her in-home workspace:
What do you use your home work space for?
Mostly editing photos, answering emails, packaging, client relations. Whenever I'm completely over photography and computers, I watercolor a lot.
How would you describe your design style?
Simple, edgy, but also with a quirky, feminine aspect. I'm not super frilly, and I wear a lot of black, but I love florals—organic, botanic-style patterns. I would say "chill," but I'm also inspired by patterns and typography, and so in terms of decor, I look for that. The other day I called it "bohemian midcentury modern," and my husband was like, "I'm pretty sure you just made that up."
What is your favorite thing in your work space?
I'm most inspired by the typography pieces I have. I did design [in college], not really knowing what I was getting into, and found that I fell in love with the texture of typography and the shapes and silhouettes and the negative space and positive space. So, I'm always looking for interesting patterns and lettering for inspiration.
What are the secrets to keeping work and living spaces separated?
First, make sure you have a door. Then, everything in here is business stuff. I try to keep Kristen Soileau Portraits stuff in here and not elsewhere. I make that very clear, and I keep very strict boundaries with that.
---
DAMIEN MITCHELL
Damien Mitchell Designs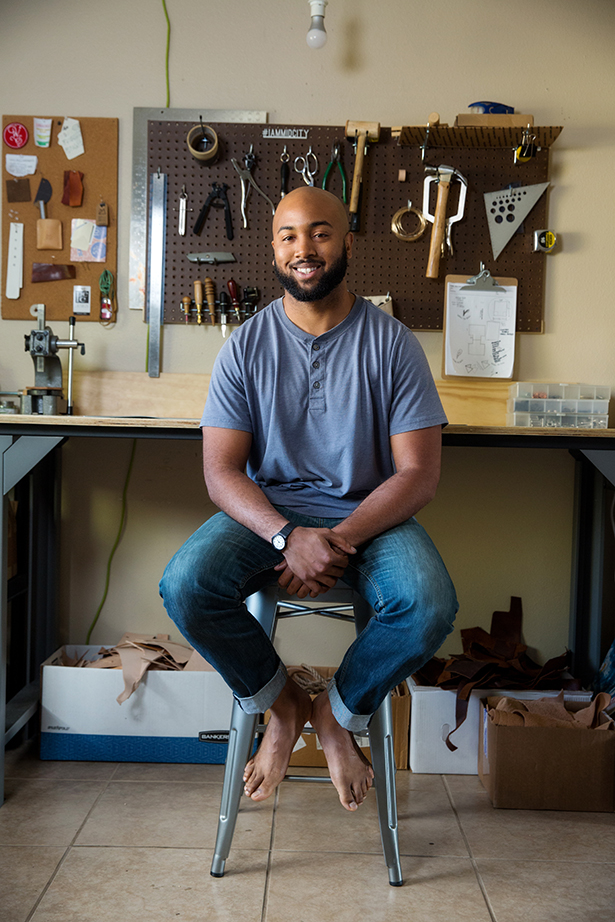 There's a simple, utilitarian slant to Damien Mitchell's handcrafted leather goods that's hard to miss. The Garden District resident favors straightforward lines, sleek silhouettes and functional design in his leather work. The 27-year-old's apartment work space has a similarly no-nonsense approach. Most of his work space items come straight from Lowe's or have been thrifted or salvaged, making for a stylishly grungy and—most importantly—usable space that flows into his living room.
Hover over different areas of the room to see how Mitchell makes this workspace his own:
How are you typically using this space?
I'm mostly sewing at my sewing machine or cutting leather fabric at my work table. It also kind of serves as a living space as well.
How would you describe your design philosophy?
I like to think that it's very minimalist but not in the typical minimalist meaning. It's very functional. It's basically everything I need and no extra stuff.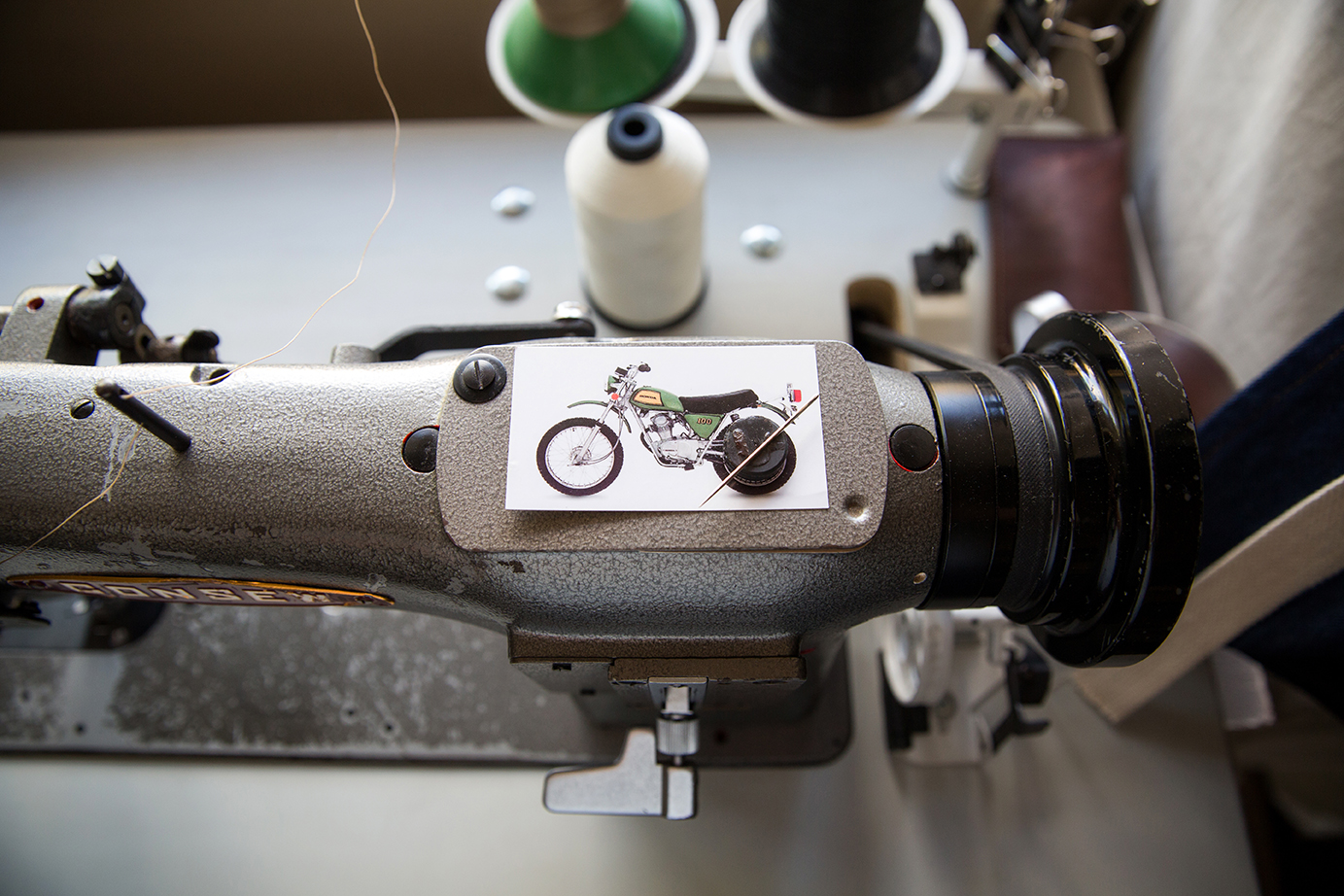 What's the story behind your favorite item in the space?
My industrial sewing machine. It's definitely the main piece of my business. Without it, I couldn't do much of what I produce. It's a '60s or '70s model console sewing machine, and the good thing about that is that back then it was made in Japan. Quality then was much better than the new machines, which are made in China.
What are the perks of having a home work space?
The perks would be that it's really difficult to procrastinate. It's hard for me to sit there and watch TV when all my work tools are hanging on the wall and my sewing machine's there. I really don't separate home living space from my work space; I work pretty much all the time. My living space and my work space just kind of merge together, like my lifestyle.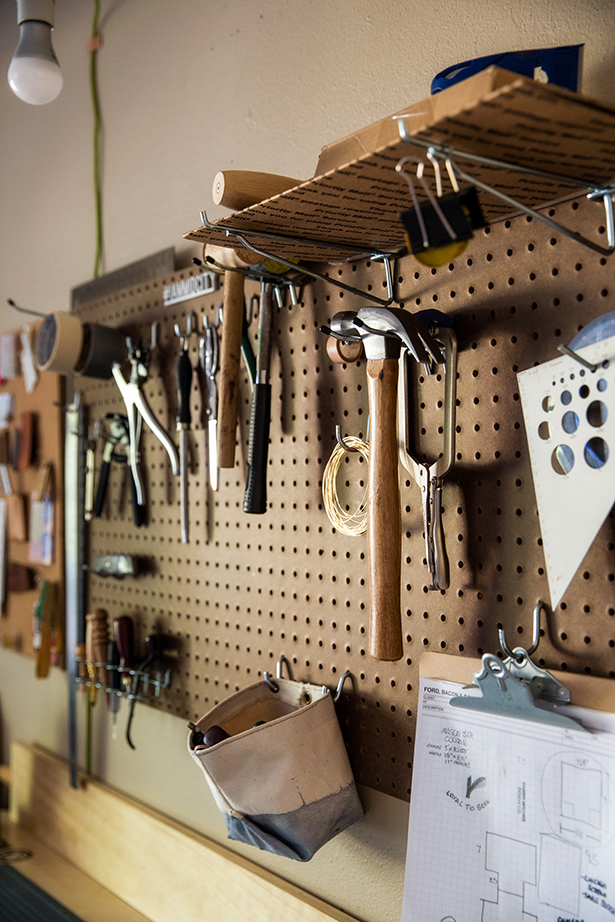 ---
JIM OSBORNE & MELODIE REAY
Rösch Bakehaus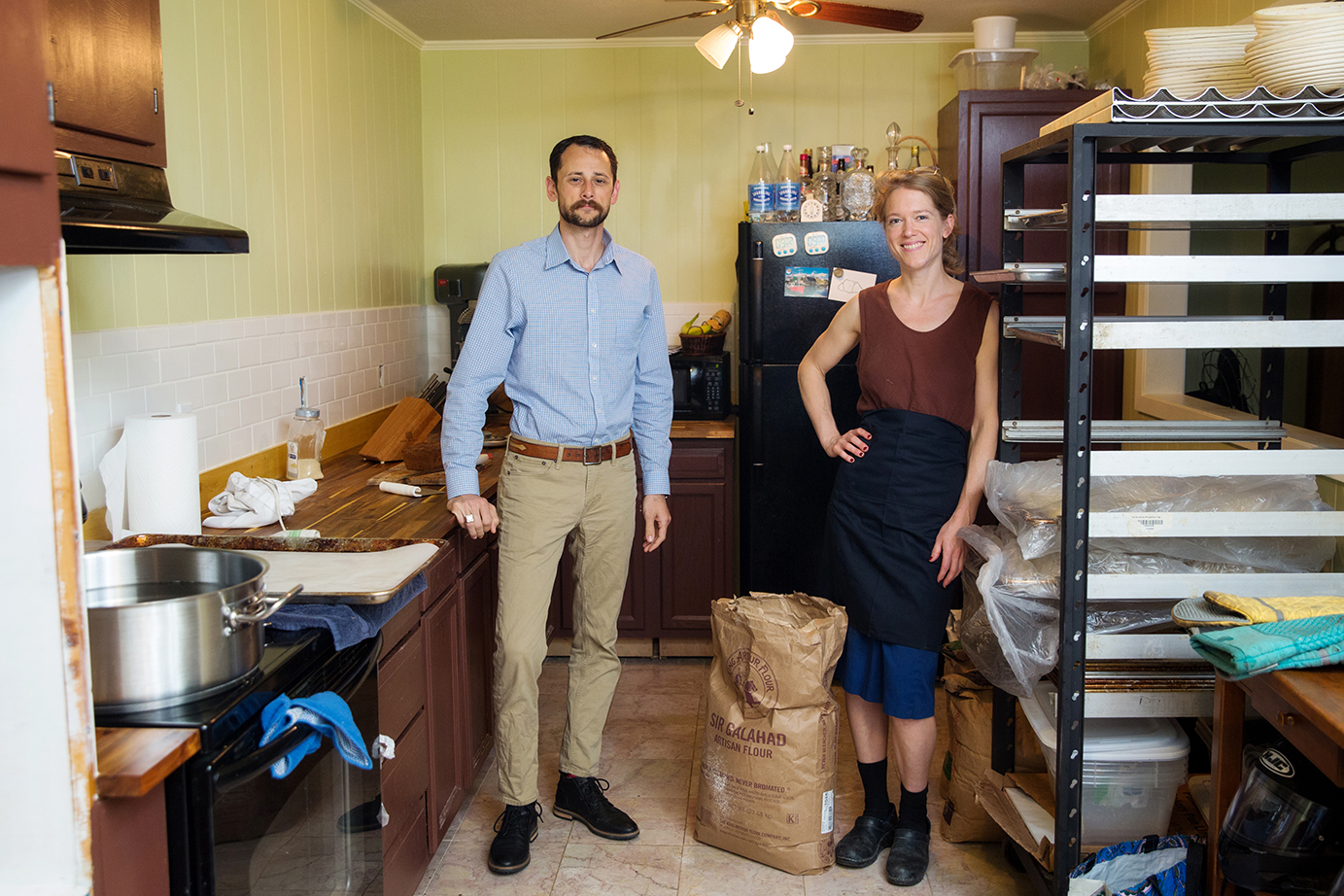 There's having a home work space, and then there's turning your home into your work space. Jim Osborne, 34, admits he now essentially lives in a bakery, as his small bread and pretzel business, Rösch Bakehaus, has taken off—and taken over. Alongside his partner, Melodie Reay, Osborne may always be at work, but he's also got the luxury to go to bed a few steps away while he waits for a long dough proof. And we have a feeling breakfast time is amazing.
How has working from home transformed your space?
What started off as a house is now two-thirds bakery. In the kitchen, we have 24-inch-wide butcher-block countertops, and that's critical for making bread. So the kitchen is in a very, very specific way built for rolling out bread. The dining room is no longer a dining room; it contains freezers and a vacuum sealing station. We quickly outgrew a regular oven that's not really made for breadmaking anyway, so we've installed a large commercial gas oven that can get up to the temperatures we need. What was a guest bedroom is now a dry storage room, so as much as 1,000 pounds of flour at a time and all of the components of breadmaking, packaging and branding somehow fit into a bedroom.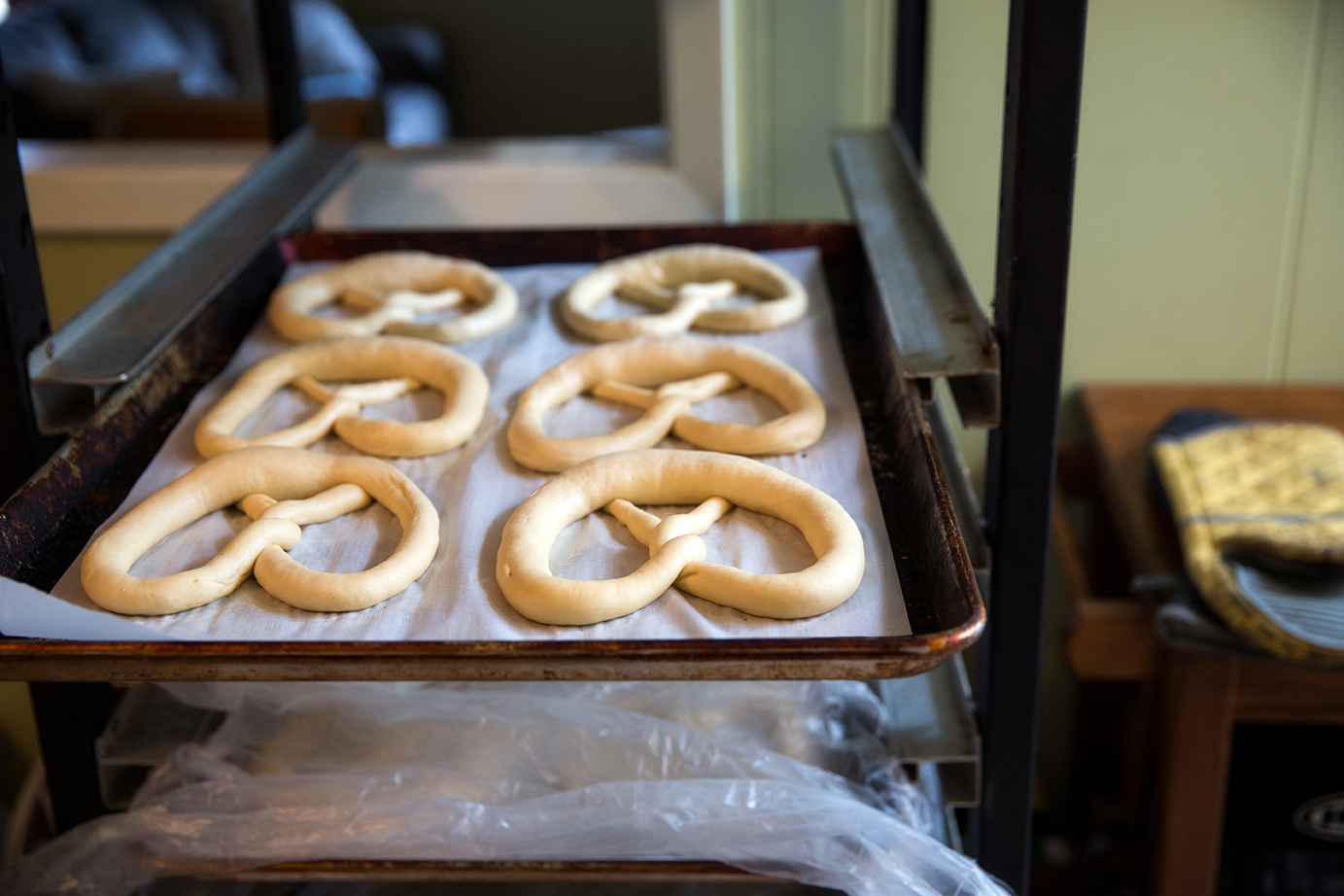 How were the countertops created?
I did the countertops myself. You can buy breadmaker's benches commercially, but they're not quite the right species of wood, they're not quite the right size, they don't fit easily into the house. So I just did that myself.
How did you approach the design of the kitchen?
Just like any chef designing a kitchen, everything is function-based. Minimizing steps when we can is important. That's difficult to do when you're converting a house, but we have racks behind the benches where the bread is rolled out for proofing and for cooling, and [you] try to keep ingredients as close to you as you can. The layout, as much as we can, follows the same rules of a commercial kitchen: Minimize the number of times you have to repeat steps.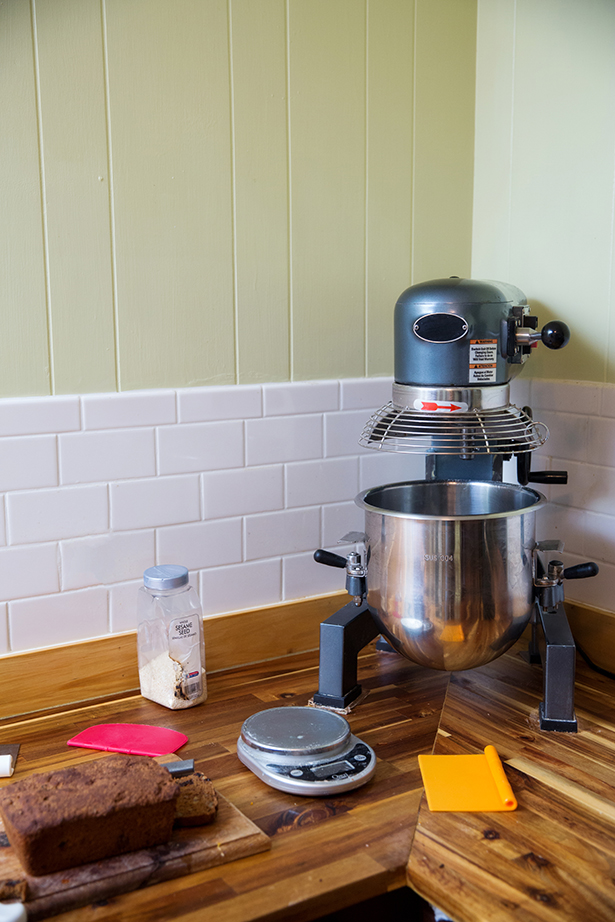 ---
This article was originally published in the 2017 Spaces & Places extra issue of 225 Magazine.
Editor's note: An earlier version of this story listed Melodie Reay's name is a Melodie Ready. 225 Magazine regrets this error.