---
Because I grew up (mostly) wearing uniforms to school, I shudder at the mention of khaki chinos. Every day for six years was enough! I remember graduating high school and vowing to never again wear the combination of a white or navy polo with khaki pants. The problem with that? They are so comfortable. And basic. And soooooooft.
This is the one pair of khaki pants I have allowed myself to purchase since then, and I rarely wear them. I teach now, so the sea of middle schoolers in khakis brings my aversion back to the forefront. Every once in a while, however, I pull them out of the back of my closet, re-iron them and figure out how to not look like I am wearing the dreaded khaki pants.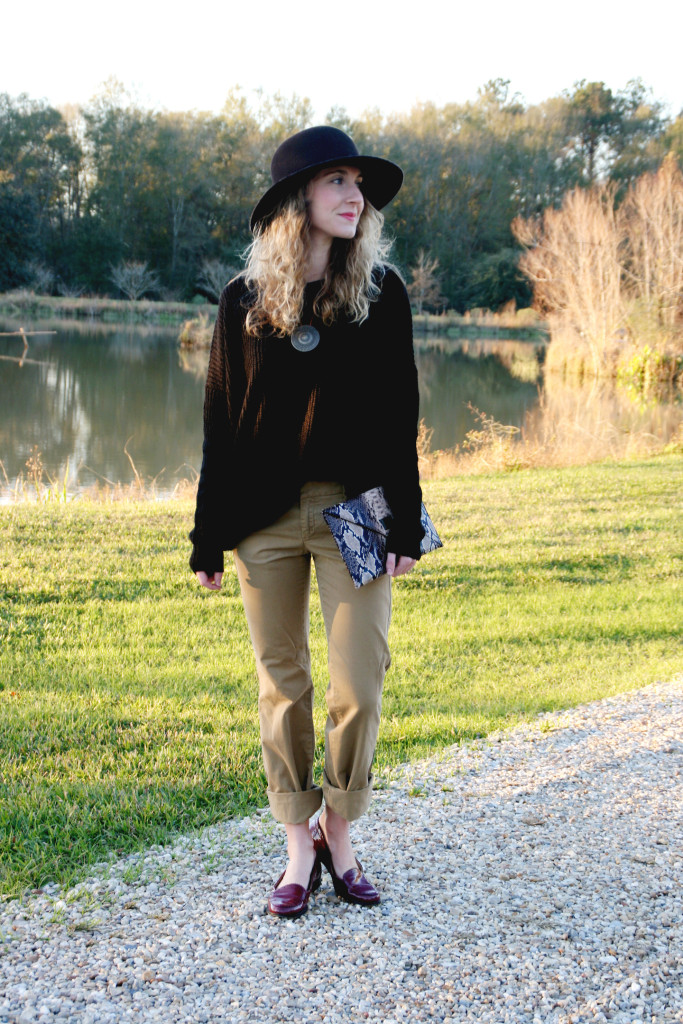 Style rules obviously do not apply here, as I am a huge fan of mixing black and brown. If cows can look chic sporting black and brown coats, then so can I! Start with your basic khaki chinos, then a chunky, oversized black sweater balances out the silhouette of the pants. It's slightly baggy and boyish, but the feminine touches come later. A half tuck on a baggy sweater is essential—it brings an element of cool and manually gives the sweater more shape. A good loafer is an alternative to flats. More masculine, but the sliver of ankle from the pant roll brings a stroke of femininity.
To accessorize, remake a broken belt buckle into a necklace with a piece of leather from a craft store! It's resourceful and no one else will have anything like it. A snake print clutch brings some pattern play against an otherwise solid look. The print brings interest, but stays true to the outfit. A hat to top it off adds a little lagniappe! Something with a wide brim is good with a slouchy sweater. As far as shape goes, that is always left to personal preference. I like this one because it is completely round and without creases.
And the creases I'll leave up to the stampede of horses on my next jaunt out West … or for the elephants on my next safari.
---
The Breakdown:
Sweater: LA Hearts, PacSun (similar)
Chinos: Gap (similar or similar)
Loafers: Via Spiga (similar, similar or similar)
Hat: Banana Republic Safari, thrifted (similar or similar)
Clutch: swapped
Necklace: thrifted remade belt buckle
test