---
Winter and I have a strange relationship. I battle the cold, but welcome it at the same time. I am that person who wants to kick up the heat so she can still wear just a tee and shorts inside. I am complicated, I know.
Logic seems to escape me in cold weather. Cover up, they say! It's cold, they scream! But if my legs spend one more day in pants, I fear that my knees will suffocate and my feet will finally rebel against wearing socks because my toes long to be free.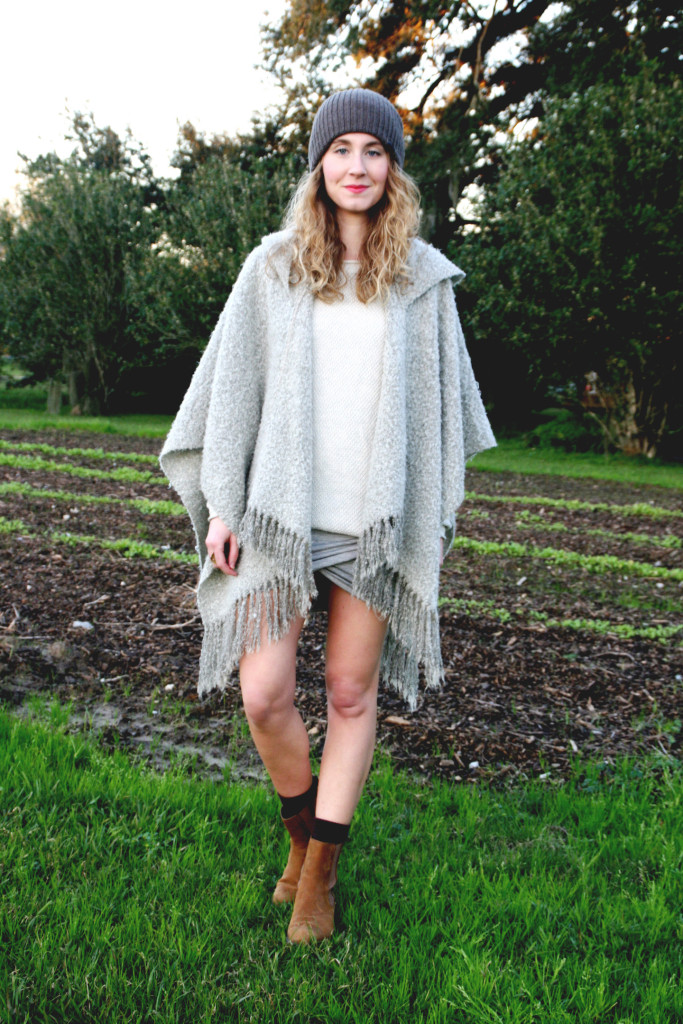 Most people hate this up-and-down weather we always have, where you wake up to a warm day and go home to freezing temperatures and blistering winds. Me? It keeps me on my wardrobe toes. It requires me to think and plan more about layering and the "what ifs." I am guaranteed to complain about it endlessly, but I secretly (though now not so secretly) enjoy it.
So yes, I am wearing a warm beanie and 2 sweaters with bare legs. Sue me. Although, if the reason for your suit is due to the fact that my pale legs blinded you, I take full responsibility … and accept recommendations for self tanners.
I will always love a cool, neutral palette. A cream sweater, a grey skirt, an almost-brown poncho … this is the stuff dreams are made of! I like the silhouette of a mini skirt with an oversized top. Something larger offsets the tininess of the skirt.
Balance is best here! I brought my giant hair back down to earth with my favorite beanie. In person, the color can only be described as "mud," and I love it even more for that. Beanies are cool, but (BONUS) they cover up bad hair days. And boy, this winter, my bad hair days have been plentiful!
When I shop for boots, I always tend to go with something more bulky than my usual taste—combat boots, buckles, laces, etc. Those details are my jam. This pair reminded me of work boots that I always saw growing up visiting construction sites with my dad. They are so utilitarian, but chic at the same time. The high Chelsea shaft is lower than a mid-calf, which I really like. It cuts at a good place with anything I wear, making them a versatile element of my wardrobe.
How do you wade between the waters of hot and cold?
---
The Breakdown:
Sweater: PacSun (similar, similar)
Beanie: PacSun (similar)
Skirt: random shop (similar, similar)
Boots: Clarks (similar, similar)
Poncho: TJ Maxx (similar)
Key ring: JoJo Rings
test