---
Whoever said white was not for winter was just wrong. It is the time of year I wear my white jeans the most! On grey, rainy January days, it brightens my mood and keeps me out of the mully grubs. Monochrome looks have been trending for a couple of years now, but it is still challenging to make them look interesting.
The key to monochrome looks, you ask? Texture.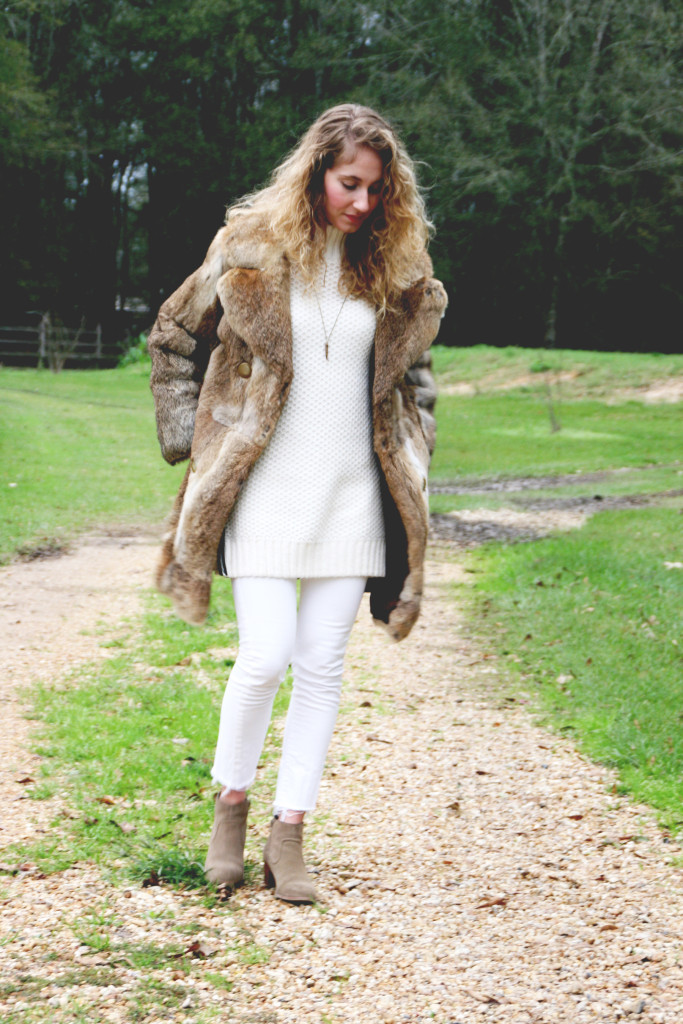 Denim is always a good place to start. I prefer a really tough-feeling denim, almost like heavy paper. This white pair has zero stretch, and as such, hasn't seen the inside of a dryer since The Great White Mistake of 2013. It was maybe a year ago that I got tired of the extra length at the hem and, being super cheap, decided to slice them up myself instead of pay for tailoring. #noregrets
With a rough texture like denim, something softer like a chunky knit is perfect! The tunic length of this one is more dramatic (bonus: built in bum warmer) than a shorter style. Because winter clothes are so bulky, I like to keep my looks significantly more dramatic than my summer style. The zipper on the side of this sweater is a cool detail that lets you customize your fit preference. Versatile clothes are always a good idea!
Normally, I would have topped this look off with a long camel coat, but I felt sassier than that, so a vintage fur it is! It is soft, warm, and creates that extravagant drama I like to tap into during the colder months. Easy booties are a must for walking around and keeping the socks option open.
I have a confess something … I am not a huge jewelry gal. Sure, I like it, but seeing jewelry hung up or laid out is extremely overwhelming for me. And I am not a huge fan of sparkle. One of my students asked me the other day, "Ms. Barnett, do you even own any other necklaces?" I guess I need to mix it up and not wear my favorite okra necklace for a while (that will not happen).
When looking for new jewelry, I always go for something dull and unique. Brass, brushed silver, something rough. This JoJo Ring definitely fit my bill! It is a key that has been made into a ring, much like one from The Giving Keys that I used to have but misplaced. Side note: The Giving Keys does not make their key rings anymore. I am SO SAD! This is a good replacement, though.
Overall, for these strange cold days we are having, remember to not sacrifice your style for comfort. The two can be meshed together with a little bit of effort! Don't slack in 2016!
---
Breakdown:
Coat: vintage (similar and similar)
Sweater: Banana Republic (similar, similar, similar and also similar)
Denim: Levi's (similar)
Boots: Dolce Vita (similar and similar)
Necklace: St. Claude NOLA
Key ring: JoJo Rings
Crown ring: heirloom
LA ring: unknown
test