---
If you're considering giving your home a facelift, make sure you're ready for some short-lived but intense changes in your life. Acadian House Kitchen + Bath Design Vice President and designer Angela Poirrier says about 90 percent of the company's clients stay in their homes during renovations. Unless there are health issues or there's no working bathroom, she says the client usually does not need to move out. But as you pack your rooms into boxes and the construction dust starts to accumulate, life can get stressful.  Poirrier offers up some quick tips to make a renovation as painless as possible.
---
Solidify your vision and plan first. Have your budget and materials selected before construction begins, Poirrier recommends. This will prevent extensions on time or budget. Acadian House uses computer software to test out materials and layouts for clients, preventing surprises or changes later on and keeping the timeline on track.
Create a makeshift kitchen. If renovating your kitchen, move your refrigerator into another room so you don't have to buy a mini fridge, Poirrier suggests. With that and small appliances like the coffee maker, microwave and toaster oven, you can still make meals and coffee. You can also create a makeshift pantry by storing dry foods, small appliances and plates on a wire shelving unit or a fold-out table. Use a table you already have for counter space. And be prepared to use a bathroom sink as your kitchen sink.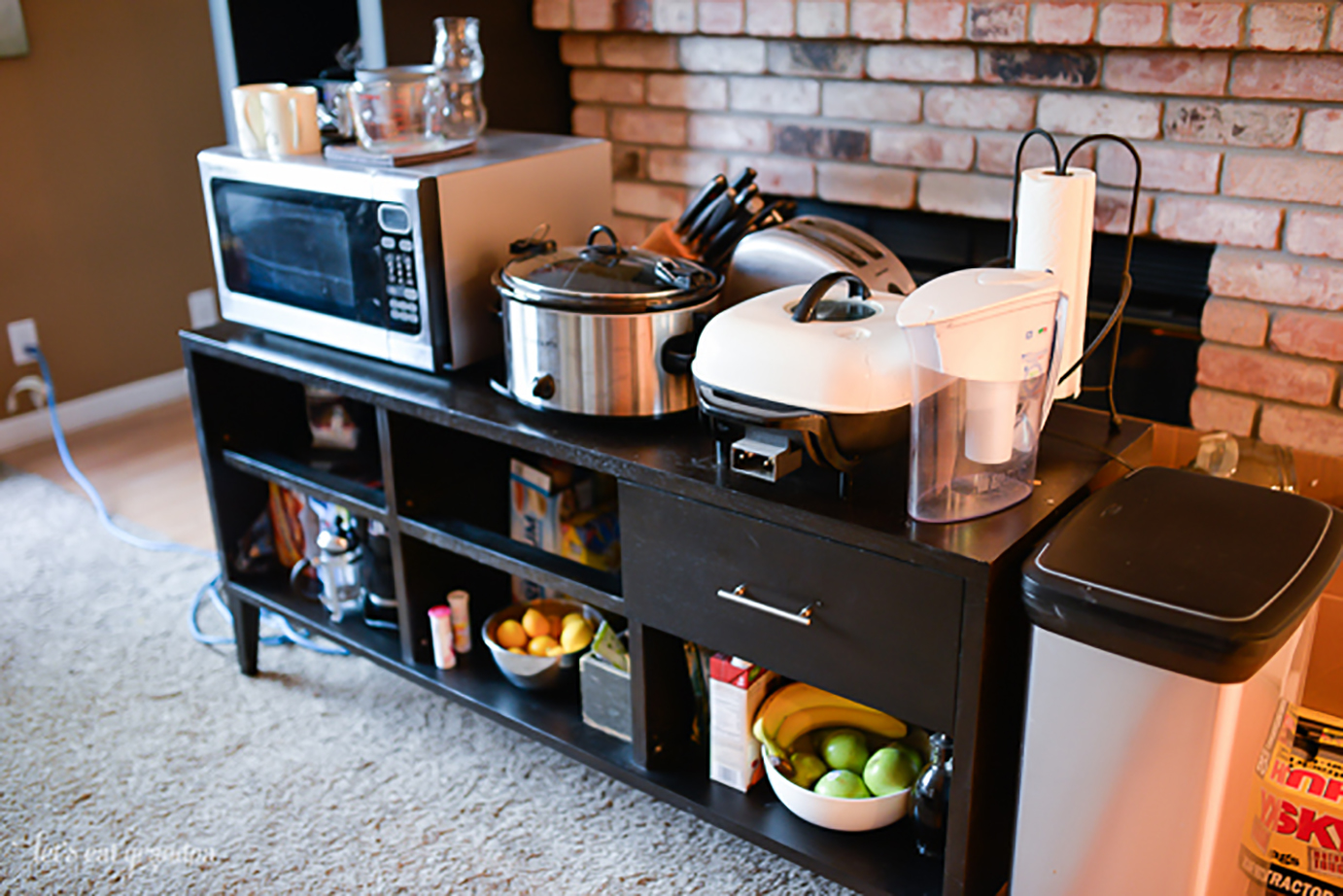 Don't pack away the essentials. When boxing items in your kitchen and bathrooms, make sure you don't pack those you use regularly. Otherwise, you might not see your can opener for 90 days. Keep your sharp knives, microwavable dishes, foil, paper towels, serving utensils and wash cloths on hand.
Keep dust to a minimum. Acadian House does its best to close up doorways to prevent dust, but Poirrier says it's still inevitable that a thin layer of it accumulates in homes due to the air conditioning. To keep this to a minimum, change your air filter once a week during renovation, she says. Try not to use doorways that go through the construction so you can avoid carrying dust between rooms. After renovations, a cleaning service that specializes in construction cleaning can help remove accumulated dust. Poirrier suggests homeowners only sweep, not mop, and to keep up with a regular dusting throughout construction.     
Remove wall hangings. Clients are always surprised what items must be removed from adjacent rooms, Poirrier says. If you're remodeling your kitchen, any pictures or mirrors on the walls in adjoining rooms should be relocated so they don't fall and break during construction.
Go with the flow. Understand that unexpected hiccups can affect your timeline. Particularly in the spring, Poirrier says sheetrock and paint need extra time to dry. While these hiccups may not back up your entire time frame or add to your budget, they do affect your stress level, so be mentally ready.   
Trust your contractor. Poirrier stresses hiring a contractor you trust and who has a strong reputation. You should not have to call your contractor constantly to make sure the job gets completed.
Get to know your renovation team. Having strangers in your house can be uncomfortable. So, make sure you get to know your contractor and his or her team. Friendly conversation and asking how the project is going is encouraged, and it allows you to feel more at ease with the people coming in and out of your space.
---
This article was originally published in the 2017 Spaces & Places extra issue of 225 Magazine.