---
Hordes of sharply dressed supporters of the 100 Black Men of Baton Rouge flocked to L'Auberge Casino & Hotel for the nonprofit's second annual Sneaker Soiree in April. The night of food, drinks and dance supported its aim to widen the resources available to local Black youth. And as the title indicates, shoes were the star of the night: from Nike to Chanel to Balenciaga, attendees sported their flyest footwear and elegant evening attire. 225 dropped in to capture some of the guests and chat with them about the organization. 100blackmenmetrobr.org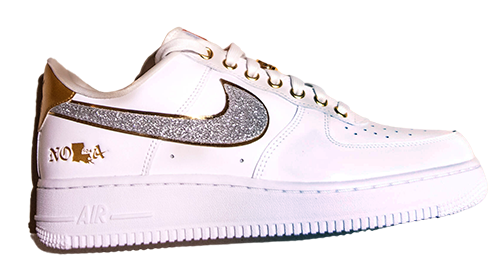 Yolanda and Don Johnson
Don Johnson is the first vice president of programs for 100 Black Men of Baton Rouge. "We've been doing a lot to try to impact kids within greater BR," he says. "We're really doing this (event) for our graduating seniors, offering them scholarships from the proceeds." He wore a tan three-piece seersucker suit from Jos. A. Bank with green- and orange-accented Nike Air Force 1s, while his wife, Yolanda, donned a floral-patterned Kay Unger dress with Nike Air Force 1 'NOLA' sneakers—an ode to her hometown of New Orleans.
---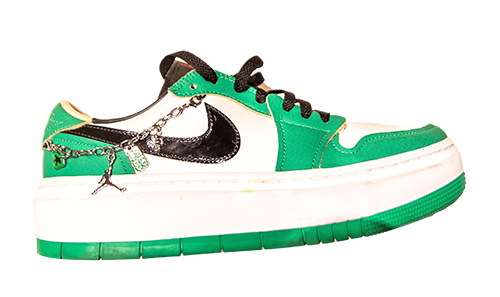 Jasmine Sampson, Chianta Harris and Tanzleda Vinnett
"We think it's a great event and we're just happy to give back to the mentees," says Tanzleda Vinnett, who attended with her friends Chianta Harris and Jasmine Sampson. Sampson wore a green fit-and-flare suit from Rose Benton and matching Nike Dunks; Harris, a tulle dress with Chanel sneakers; and Vinnett, a Rose Benton bandage dress with black-and-white Nike Air Force 1s and an Yves Saint Laurent bag.
---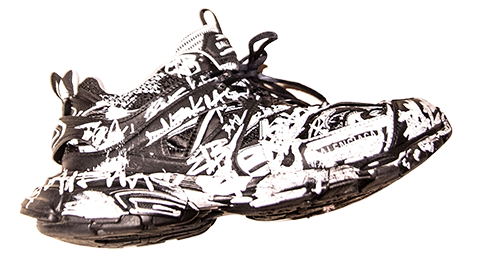 Martin Collins Jr.
A former member of the U.S. Marine Corps and current student of Southern University Law Center, Martin Collins Jr. is a cousin to the president of 100 Black Men's St. Louis, Missouri, chapter. He is a prospective member of the local chapter. "It's always a good time," he says of the soiree. He paired Balenciaga track graffiti sneakers with a simple gray suit and black-and-white patterned pocket square to complement the shoes.
---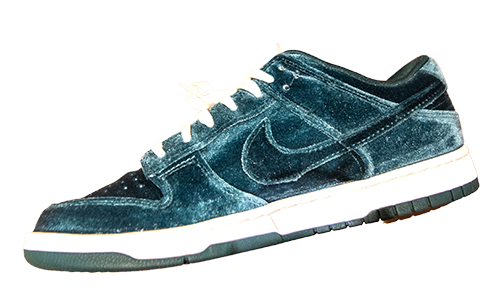 Shagari Jackson
Shagari Jackson is a member of 100 Black Men of Baton Rouge as well as a wedding photographer and owner of Achroma Studio and Fine Arts. He and two other members proposed the idea for the sneaker ball last year. "This is the second one, and it's been a pretty big hit," he says. Jackson sported teal velvet Nike Dunks and a tuxedo suit custom-made to match the sneakers by his friend Wayne Willis, founder of Well-Groomed Man, a suiting operation based in Houston.
---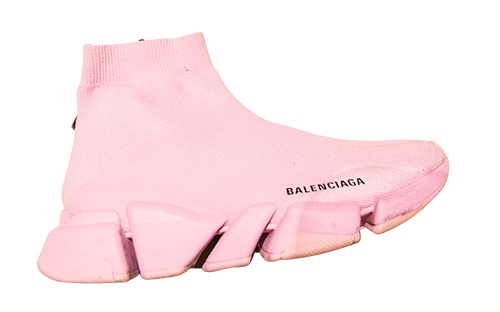 Tramell Howard, Kristen Smith and Marshall Muse III
Tramell Howard is the Louisiana state director of the Education Trust, a nonprofit dedicated to dismantling barriers to education for underserved students. Kristen Smith co-owns Tre's Street Kitchen, a food truck operation that provides event catering, including concessions at Tiger Stadium. Marshall Muse III is the director of organizing for the Louisiana Democratic Party. Muse sported Nike Dunks and a royal blue suit; Smith, a Jovani dress with pink Balenciaga Speed sneakers; and Howard, a double-breasted black and cobalt-blue suit with matching Nike Dunks and a velvet turtleneck.
---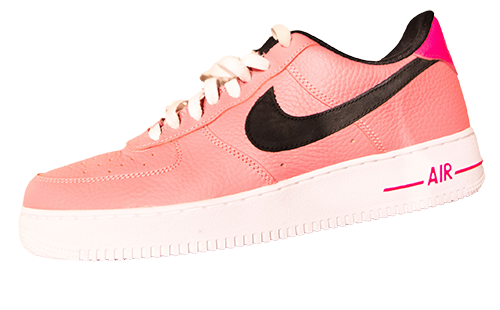 Redell Norman
The program coordinator for the Respect for Life program for the 100 Black Men of Baton Rouge, Redell Norman specializes in helping at-risk individuals. He showed up to the Sneaker Soiree sporting pink-and-black Nike Air Force 1s, black trousers and a salmon jacket.
---
April McKinley
A contact program project manager, April McKinley attended the Sneaker Soiree to support her son, a first-year member of the mentorship program. She wore a crimson ball gown from David's Bridal and glittery-gold Converse platform high-tops.
---
This article was originally published in the June 2023 issue of 225 magazine.