---
When Morgan Maughan started her jewelry brand, she needed the perfect name. Something as edgy and unique as the necklaces she made. So she totally made up a word.
Percoisa is a play on "preciosa," the Spanish word for "precious."
"It's pronounced pur-coys-uh," she explains. "I thought it was cool that there's nothing out there at all with this name."
Sitting in a coffee shop today, Maughan is shy and soft-spoken. But that's OK: Her jewelry does the talking for her. She's dressed in an easy navy tunic and jeans, her wavy blonde hair loosely grazing her shoulders.
It would be an understated outfit, if not for her jewelry. She's wearing multiple silver charm necklaces, and her fingers are stacked with eight rings. But that's nothing.
"I usually wear more," she says with a laugh. "I don't have my pinky ring on today."
Splayed on the table in front of her are six of her Percoisa brass necklaces. The necklaces are heavy, chunky and dramatic—yet still somehow delicate and feminine. They range in length from choker to lariat. The chain links and tassels are all different shapes: studs and ovals and honeycombs.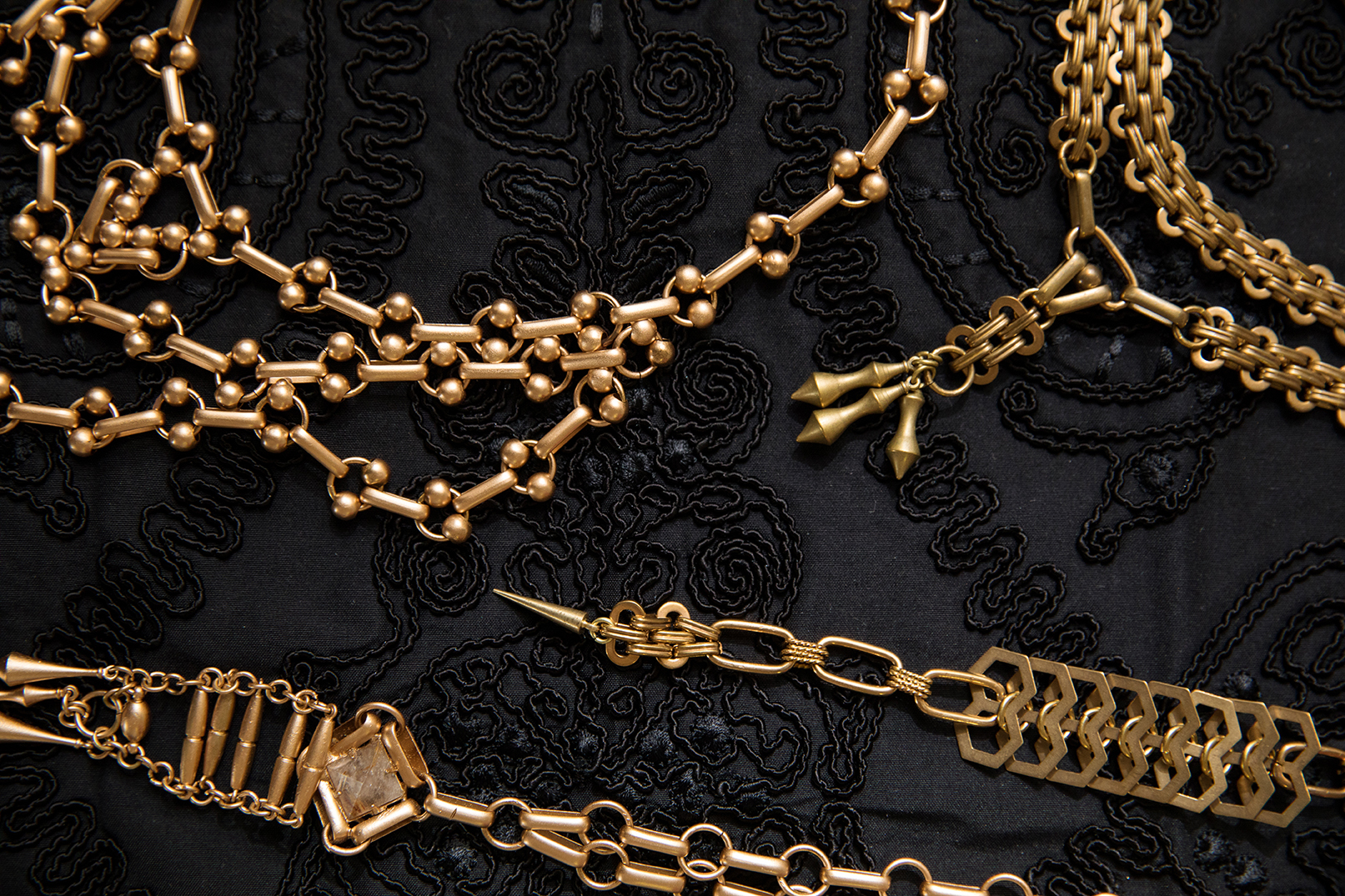 Each piece is one of a kind. Maughan makes everything by hand, soldering and shaping brass chain links, tassels and dangles.
While the necklaces are bold, she says they are versatile enough to be worn with a cocktail dress or a T-shirt. Her favorite way to wear them is with a silk button-down and jeans.
Maughan first picked up materials to make jewelry during a trip to New York City a couple years ago. When she got home, she sat on the garage floor of her parents' house and taught herself to solder, fusing and melting the pieces of brass.
Now, she's got her workflow all figured out. She'll come home from her desk job at a local law office, lay the materials on her bed, put on a flick like Mean Girls and get to work. She keeps a small inventory and fulfills orders as they come in.
She names each style after family or friends. A layered collar necklace, for instance, is called the Drew, after one of her best friends' little sister.
Her pieces retail for around $300. They're available in her online store and at Eros, where she used to work.
Back when she was at Eros, she loved to watch customers stumble upon her pieces for the first time. Sometimes, she wouldn't tell them the jewelry was hers. She'd watch their reactions from afar, or ask them for their honest opinions about her pieces, quietly enjoying the feedback.
At 24, the Baton Rouge native is ambitious and creative. But she is still learning the business side and trying to figure out how to take her brand to the next level.
For one thing, she only just launched a website, after having it on her to-do list since she started designing three years ago. "Technology is not my best thing," she admits sheepishly.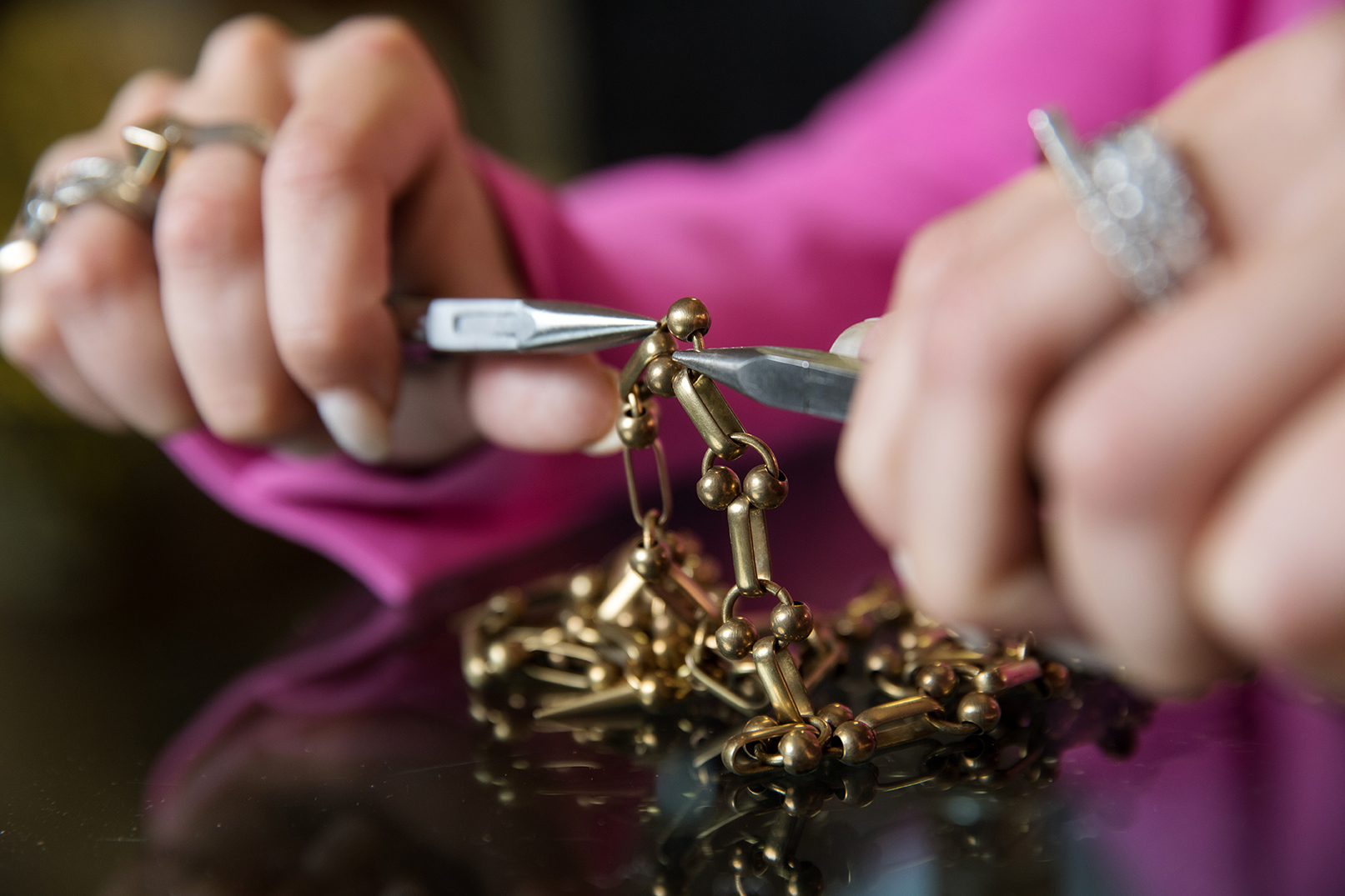 That doesn't mean she's not serious about her company, though. She has plans to expand beyond necklaces to bracelets and rings, and her eyes gloss over as she imagines some of her style icons, like Chiara Ferragni and Blake Lively, someday wearing her pieces.
When she talks about her fashion inspirations, she has to pause because she's not sure if she'll say their names correctly. She's spent so much time thinking about designers and studying their work, but she hasn't had many opportunities to discuss them out loud. She rattles off designers like Rachel Zoe, Gucci and Marchesa, and hip indie jewelry lines like Dannijo, Spinelli Kilcollin and Irene Neuwirth.
Maughan has loved jewelry since she was a kid, when she was always digging in her mom's jewelry drawer. There was one piece her mom caught her trying on many times: a silver cuff engraved with "Cindy," her mother's name. Maughan's father gave it to her mother when they were going steady in high school. After years of admiring it, Maughan's mother gave it to her.
"It's been my most prized possession in this world my whole life," she says.
And as an adult, Maughan has found a way to thank her mom: She's made her several Percoisa keepsakes as gifts.
Perhaps the most special is a vintage-inspired short necklace. It's called the Buie—her mother's maiden name.
"Clothes, you might outgrow," Maughan says. "But jewelry? You might hold onto it forever." percoisa.com
---
This article was originally published in the August 2018 issue of 225 Magazine.